We have all been dazzled by the concept of friends twinning their outfits together, haven't we? It started out with girls wearing similar or the same clothes in order to look alike and match their vibe, it further leads to the creation of the concept of twinning with your boyfriend wherein the same fabric or patterns were used to showcase a similar vibe from both males and female attires.
But we are over those twinning trends with friends and now is the time to twin as a mom and daughter duo. And the best part about this trend is that from little girls to adults all mom-daughter duos can get their outfits customized and rock the twinning look. So, taking this conversation ahead, we spoke to one of the leading fashion designers and the founder of AKS Clothings, Nidhi Yadav, who shared with us some great outfit ideas and mother-daughter twinning tips. Let's read on and see what they were.
Mother-Daughter Twinning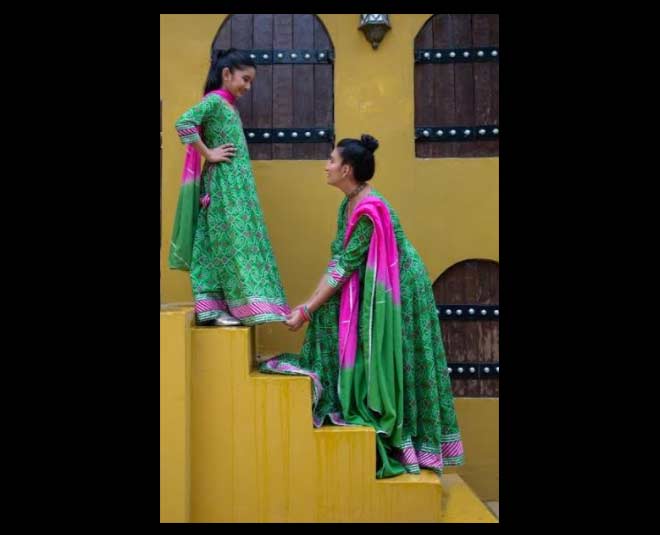 "A collection inspired by my daughter's eye for fashion encapsulates both the culture of India and sophistication of West. My little girl's desire to put on the sample designs created by me was how this beautiful collection came into being. Thereon, I made sure to cut out the same attires for both of us to don during all our vacations and festivals. An assortment of multiple colours, designs, elements and culture this mother-daughter duo collection has all the attributes to enthral the beholders.", Nidhi said.
Further, throwing light upon a few ideas while talking about what kind of looks mothers and their daughters can create together she shared the following with us:
Ethnic Looks With Heavy Embellishments
You can try a ravishing maroon suit cut out of heavy georgette fabric with gold sequins work and it will serve as a glamorous and classy choice for both larger than life Indian weddings and exuberant Indian festivities. Maroon looks great on Indian skin tones and thus you can both slay in this look together.
Go For A Pink Lehenga
When it comes to clothing, pink stands as a very safe choice. So, go for an elegant pink and blue Lehenga stitched from high standard cotton fabric, a perfect pick to embrace the occasion of Festive or wedding with your daughter. The colourful piece could also look superb with a lavish bandhani designed chiffon dupatta to go with.
A Matching Night Suit
A comfy night suit in a soothing yellow colour, made out of the highest standard cotton fabric to make you feel rejuvenated after every nap is also a must-have wardrobe dress to maintain your style quotient at home or night outs.
A Decent White Suit
Classic white and black tie-dye suit, a quintessential template of simplicity and sophistication. Stitched out of premium quality cotton, this chic look should definitely be an integral part of your day trips, brunch etc.
Don't miss: Fashion Trend Forecast: Celeb Approved Outfits To Add To Cart This Fall!
Bright Outfits
Bright yellow suit cut out of georgette and organza fabric with flared sleeves and pants. Brimming with flair and opulence, this bright attire can easily be worn on all occasions or outings with your family and friends.
Don't miss: Some Reasons Why Rental Fashion Is A Great Option
So, try these looks with your daughter and turn all heads towards you! If you liked reading this article then stay tuned to Her Zindagi for more.