We had some beautiful brides walking down the aisle and tieing the knot, this year. From Deepika to Priyanka to Isha Ambani, this was a crazy wedding season with all of them flaunting designers, draped beautifully. What is common between them do you wonder? It is the drapes! All the stunning celebs were draped by the same draping artiste! Yes! We are talking about Dolly Jain, the celeb fav who played a major role during the high profile weddings. Luckily, HerZindagi got in touch with her to get more dope on how did she pull it off, what was the idea when it came to Deepika's long pallu and how did she give a twist to Isha's mother's old saree. Read on to know more:
Recognised internationally for her work as a personal stylist for high profile clients and celebrities, Dolly Jhas also worked with other Bollywood celebs like Alia Bhatt, Anushka Sharma, Sonam Kapoor and top celebrity clients like Neeta Ambani, Shloka Mehta, Lakshmi Mittal, Sangeeta Jindal, and more.
Isha Ambani incorporated her mother's saree in her lehenga, was that a challenge?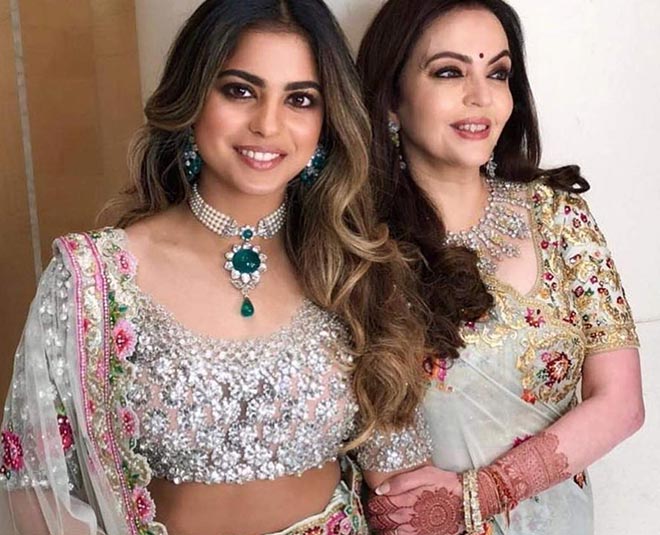 Yes, it was a challenging job to incorporate a 35-year old heirloom saree and give a drape. More than the drape, tackling the fabric was quite difficult as it was a very fragile piece. I had to be extremely careful with it, but, yes I think I did a splendid job and I am quite happy about it!
Read More: This Is How You Can Reuse Your Mother's Old Silk Saris
In an interview, you said that once a bride's lehenga was so heavy that she could not pee so you had to push a bucket...It sounds funny but it is not so much fun for the bride I am sure. So what advice would you give to avoid such a situation?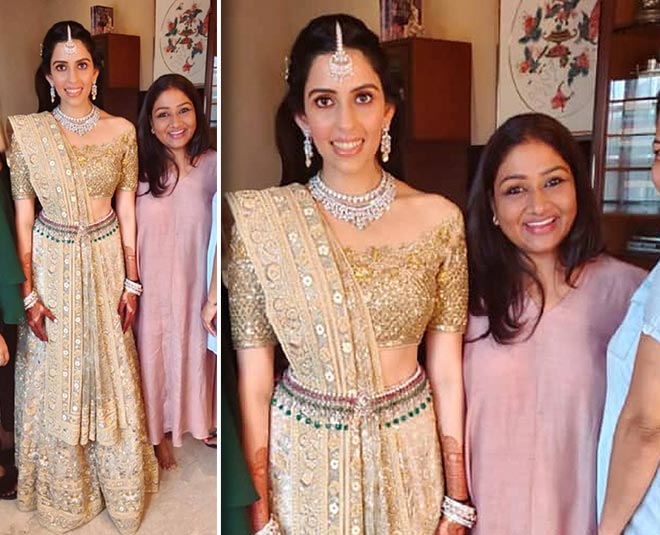 This is an extremely unnerving situation for any bride. My advice would be to avoid such heavy trails and veils, as these look very beautiful for a photo-shoot, but it's not practical for one's wedding day. Moreover, I would also like to add that go for a lighter can-can, rather than the one which opens up like an umbrella, in order to avoid discomfort for the bride.
What was the thought behind Deepika's long pallu draping?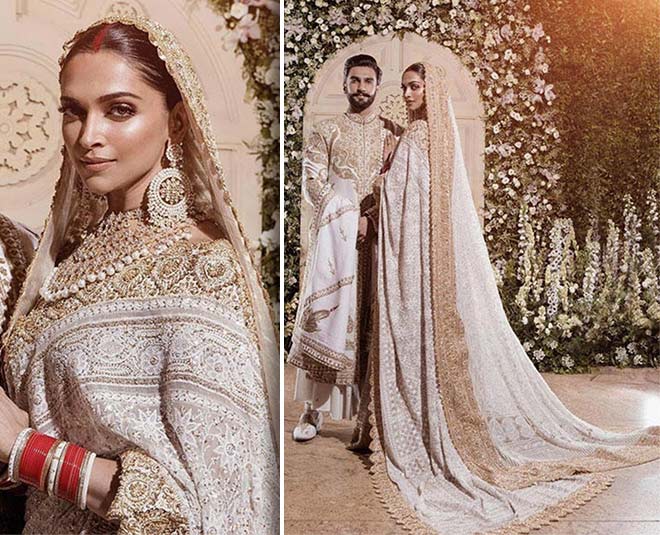 The thought behind Deepika's long pallu was that she was eager for a sweeping trail behind as she was sporting a head-veil also, which was equally long. She wanted this specific look for the photo-shoots, which I personally think, added much elegance and drama to her looks.
Did you feel some pressure while draping the high profile celebs?
All the celebs whom I have worked with, whether it be Deepika Padukone, Priyanka Chopra or Sonam Kapoor, I have always seen them as a bride first and a celebrity later. I always attend to all my brides in an impeccable manner, giving them the best that I have that is, my art of draping. So, I do not feel any pressure, whether I am dealing with a bride or celeb brides. I believe, if you know your work well and you are confident about what you are doing, everybody, including the celebs respect you for your art. What celebrities wear is always scrutinised very closely. Having someone with a discerning eye to help celebrities dress for the flashing lights on the red carpet or snapshots with adoring fans is a requirement for any celebrity wanting to stay on the A-list. I feel greatly honoured and proud when famous celebrities trust me with their styling! So, there is absolutely no pressure.
There were no specific instructions given to me either by Deepika or Isha Ambani. They trusted me blindly with their drapes. They were confident that any fabric given to me would receive full justice and I would leave no stones unturned to do a perfect job. Deepika, being an actress, was very comfortable in sporting a saree and carried it off with easy grace. On the other hand, Isha is a very 'western-garment' person, so I ensured that her dupatta was draped in such a way that it would be completely hassle-free and comfortable for her to carry the garment.
Tips on draping a saree for everyday wear? Something that encourages women to wear saree without feeling haggard?
Draping sarees on an everyday basis would be easier if one drapes the pallu and the pleats in advance, preferably the night before. The next morning it would be as easy as slipping into your jeans and a tee.
For more on celeb fashion and exclusive interviews, stay tuned to HerZindagi.