Many of us have saree blouses which are quite basic with short sleeves, or at max sleeveless, to accommodate the summer heat but here are a few simple yet trendy styles that would look summerish and stylish all at the same time.
Thin Strap Halter
This blouse style and the neckline is perfect even if you are heavily busted. Some of us shy away from wearing halters due to this reason but the neckline just has an illusion of a halter. However, you can opt for a high front or a more covered layout for more comfort. This blouse style would go with any cotton saree and you can play around with the colour, border, and length of the blouse as much you want. It all depends upon how comfortable you are. You can even put a funky border on the straps! We would suggest that you got for a strapless bra or a padded one so that the straps do not take away the attention that the halter is giving to your collar bones and shoulders. Refrain from wearing a neckpiece, go bold with your choice of earrings though.
Don't Miss: 7 Backless Blouse Designs You Can Take Your Pick From & Head To The Tailor With The Fabric
Deep Back With Net Long Sleeves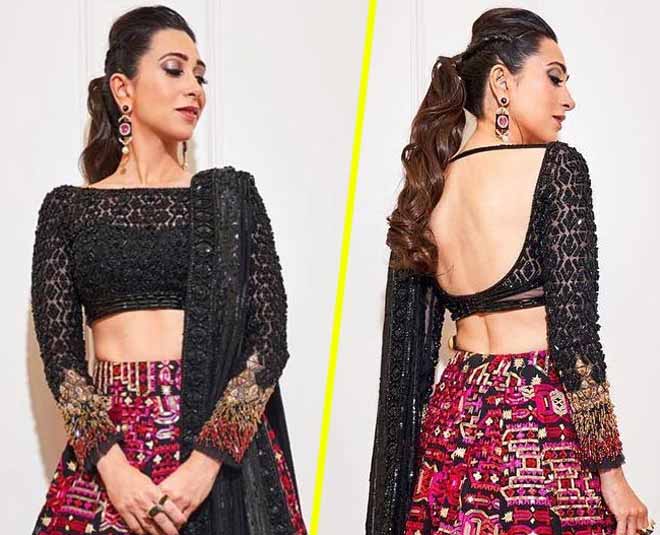 This Manish Malhotra blouse flaunted by Karisma Kapoor is a winner for a cocktail party or a night event. The black shimmer patchwork is enough to get the attention you would need. Hence you do not really need any jewellery to get the eye-rolling. However, in case you feel strongly about flaunting some jewels, then probably a nice pair of studs would be great. Keep the back really low and ask the tailor to pin it at the bottom and he or she will automatically have to add a dori to keep the shoulder from falling unless you are confident of carrying it just in a bold, fashionable way.
Tube Blouse
Though I am aware that this is not a new addition, but, it would look really gorgeous if the saree is draped just the right way. You can absolutely go all wild with your imagination when it comes to styling it. A saree can be draped in so many ways without you having to worry about the blouse design getting overshadowed. Get yourself a shimmery one stitched or one in a block colour.
Don't Miss: Getting A Blouse Stitched? From Fabric To Body Type, Keep These 7 Tips In Mind
You may even try some patchwork for extra drama. Do not forget to add pads to it. A zipper at the back would be fine or even hooks, depending upon what makes you feel comfortable. With a zip, however, you must keep in mind that it may pinch a bit, depending on its placement and your measurements. One look you can seamlessly pull off with this blouse is a Bengali style where the pallu comes from behind and the drapes are at the front. Go for a contrasting piece and a big chunk of silver or any statement jewellery. I suggest deep chained, humongous pendants and amulets and a 'no earrings' look with hair kept open or a chignon and nude makeup.
If you are on the heavier side, simply tuck the Bengali pallu across your body on the left or right side which will give it a halter look. This way you can smartly hide the tummy fat and the big pendant will take away all the attention, in case that's bothering you.
Sabyasachi's Signature Summer Blouse
View this post on Instagram
Ace fashion designer Sabyasachi Mukherjee has a few signature styles but this one seems perfect for the summer. Low V cut neckline held together by a 1-inch thick band, just below the cups. Now comes the part where you can make your own alterations. The biggest catch of the blouse is at the front but on the backside, you can keep it all covered or opt for a low V back neck as well. The important thing is that you may have to add a dori to hold the shoulders together or else it will look like a badly stitched blouse with too much cloth gathered under your arms. A fully covered back would look good and you can get a Kutch work patch stitched right in the middle of a plain back.
There are many blouse designs out there with so many on HerZindagi, ranging from designer blouses to simple everyday necklines and more. Stay tuned to keep your wardrobe updated.