An outfit that fits your body like it was custom made for you fall in the category of bodycon garments. The dress is supposed to accentuate all those feminine curves. Now that the summer season is approaching its best that you know how to style this stunning ensemble in the best way possible to up fashion game. However, do not get confused between a bandage dress and a bodycon dress. The difference between both of them is that a bandage dress acts more or less like shapewear as it hugs your body in the closest way possible, whereas a bodycon dress is a more relaxed outfit, made out of lighter fabrics. Also, it does not come with that stretch. Body-conscious women tend to avoid the bodycon dresses as it displays any bulges or jiggles of the body. But if styled right, you can don that gorgeous outfit like a diva.
Formal Occasions
The bodycon dresses can be worn at the office or at formal meetings. You just need to style them right. Choose a dress which is slightly above or of the knee-length, and sleeveless. Pair it with a contrasting blazer. A plain bodycon dress looks great with a printed blazer. Nowadays, rose print blazers are the trendiest piece you can invest in. For the footwear, you can either opt for a simple belly shoe or ankle strap heels. Since it is a formal occasion, go for a minimalistic makeup look. However, if it is an evening or a night event, don't hesitate from highlighting either lips or eyes. Keep the accessories as less as possible. The main focus should be on your dress. Go with pearl earrings and simple gold chain or bracelet.
For Curvy Ladies
First thing first, there is no such thing as curvy girls can't wear bodycon outfits. Staying confident about what you have is the best way to lead life. Besides, bodycon dresses can also motivate you to work towards attaining fitness. However, if you are shy to show your curves, go for a darker shade like black, grey, dark brown, or dark blues. Not only are these colours are extremely trendy, but will also let you flaunt your curves in the best way possible, as darker colours are known to have the slimming factor. But, if you still want to wear lighter shades, choose more neutral shades including, sand, baby pink, light browns, etc.
Belt for Bodycon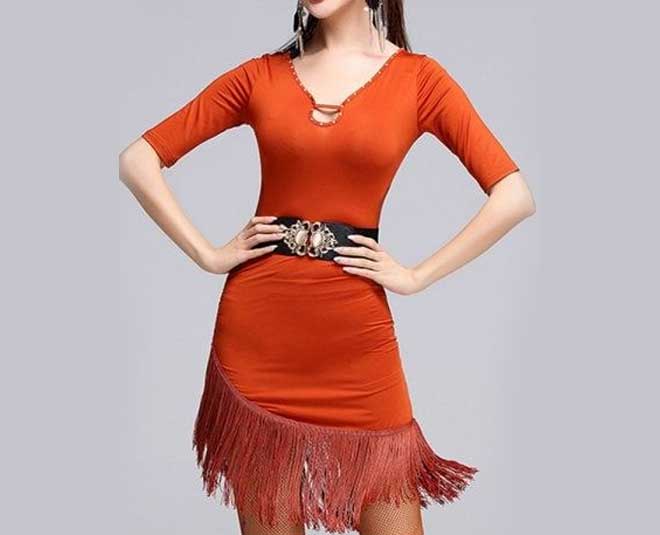 While the bodycon dress looks absolutely gorgeous on its own, pairing with a belt can give your body more definition. Also, if you happen to buy an oversized outfit, putting on a belt over the waist can keep you from rushing to a tailor. Girls who have muffin tops and want to hide it while donning a bodycon outfit, high-waist belt or a wide elastic waist belt.
Don't Miss: Don't Wear Black During Festivals, Instead Go For These Dark Coloured Outfits
Braided, knot, metal, leather, rope, simple fringe and corset belt looks great on almost all body type. If you are skinny, adding a sleek belt will make you look curvier. It's best to wear a belt over on a short bodycon dress.
Don't Miss: Your Guide To Wearing High Slit Dresses & Skirts Like A Pro
Footwear
There are several types of bodycon dresses, such as off shoulder, mermaid, no shoulder, sleeveless, short and mid-length dresses. With all these, you have several options when it comes to footwear. Starting from sneakers to the defining stilettos, there are ample of options available. On mid-length dresses, platform pumps look the best, but in for wish to ditch your heels go with a pointed belly. If you love boots, don't keep yourself from styling them with beautiful bodycon dresses. Knee boots or thigh-high boots will look ravishing along with black or neon bodycon ensembles.