Black might be your favourite colour, but it is often considered inauspicious for the Indian festivals. Be it the cultural beliefs or the traditional customs – black is listed out of the colours that bring in festive vibes. But there is no denying that the warmth, shine, and beauty that dark colours hold for the celebratory feels are incomparable. With the festive season in place, it is time to add some new chic shades to your wardrobe.
If you too are a fan of dark colors and are struggling to find festive wear 'other than black', Raisin by Bhumi Pednekar, has suggested a few dark colours suggested by that are a Win-Win for the season. The dark-coloured indo-fusion wear has made its way into festive collections to treat you with just the right mix of glamour and elegance. read on and pick a dark shade, as per your preference.
Navy Blue Embellished Liva Moss A-Line Maxi Dress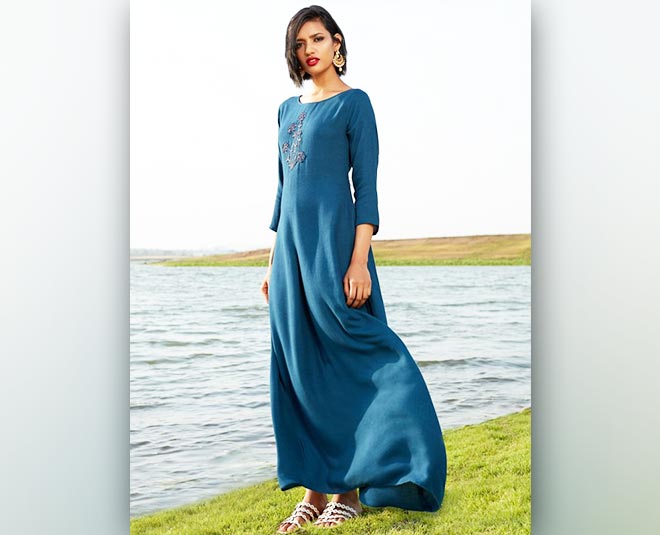 Navy Blue has a royal feel to it that is both charming and chic. The Navy blue embellished maxi dresses and Kurtis creates a magical look for the festivals with its glamorous presence. Opt for silks, rayons, and satins to hold on to the rich shine of fabrics and soft flowy silhouettes.
Rust Embellished Khadi A-Line Maxi Dress
Browns aren't boring when worn in the right shade. Most Autumn/Festive'19 collections have a lot of rust-brown in the palette to embrace this colour with charm. A lot dark but just the right brightness to lend your look a charming presence! Add in some jewelry, statement footwear, and bright sling bags to match up with the contrast. Silver jewelry add a satirical beauty to your look!
Don't Miss: 5 Things To Keep In Mind When Going Fashionably Festive This Season!
Green Embellished Chiffon Slub A-Line Maxi Dress
Certain hues of Green create an unmatchable vibe that you can flaunt with elan for the festive days. From Janmashtami to Ganesh Puja, green holds a special reverence for the days that are full of colors and celebrations. A-Line maxi dress in Chiffon and embroidery or just a silk green Kurti with stone studded details, you can embrace this color in all beauty with silver accessories, gold-toned watches, and statement footwear.
Maroon Embellished Silk A-Line Maxi Dress
Maroon is as dramatic as black or red but has its distinct presence. This super elegant but deep scarlet colour is perfect for most festivals to embrace the femininity with grace. Pair it with fusion accessories and makeup to make a revering impression.
Grey Embellished Khadi A-Line Maxi Dress
Grey, the delirious mix of black and white has seamlessly made its way into Indian Fusion Wear for easy chic styling. As you pick up on a grey, keep an eye to balance the neutrality of this colour with sparkling gold and silver tones.
If black cannot be your ultimate pick for the festive days, replace it with dark-toned colours that have made its way into festive wears. With their subtle elegance and rich presence, these colours let you own up to your definition of style with an edge!
For more such style tips and ideas, stay tuned to HerZindagi.com