If you have followed Alia Bhatt's style evolution, then you know that turning out to be this amazing fashion icon has taken a lot of work. The birthday girl's diverse hairstyles have a major role to play in this, apart from the dresses that she wears. She carries such amazing hairdos that make her go from girl next door to desi femme fatale in no time.
Apart from always being confident and smiling in every situation, there are so many things that we could learn from the beauty, especially making statements with simple dresses and stunning hairdos. As the festive season is almost here, most of us also want to make heads turn and look IG ready. What better way than taking cues from Alia and learning some of her glam hairstyles!
Double Boxer Braids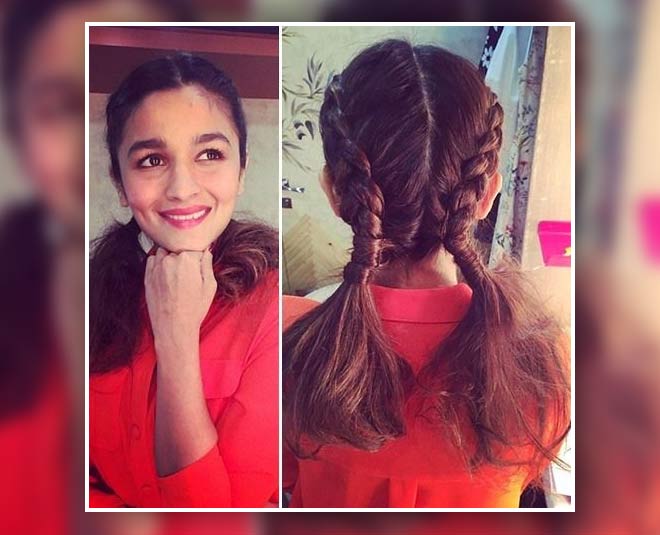 Girls with short hair often think that braids and ponytails are not for them. But, this hairstyle seems so perfect for girls with short, and even with long locks. While Alia flaunted her double boxer braids at the promotion of her film, you can try this for any simple event. Sport this on stunning western wears to ooze the oomph!
Steps
Start by combing your hair and making sure there are no tangles.
Split your hair into two equal sections.
Begin working on one side. You have to make an inverted fishtail braid.
Take a small hair strand from the left side, cross it under, and then merge with the right strand.
After making your first stitch, again take a piece from the right strand, cross it under, then merge with the left stand.
Continue making more stitches following the same procedure. Stop once you reach the nape of your neck.
Tie off the braid with an elastic band and hide it by wrapping the hair around the band.
Repeat the same on the other side to make the braid. Once done, gently brush the hair to make it look fuller.
Intertwined Heart-Shaped Mermaid Braid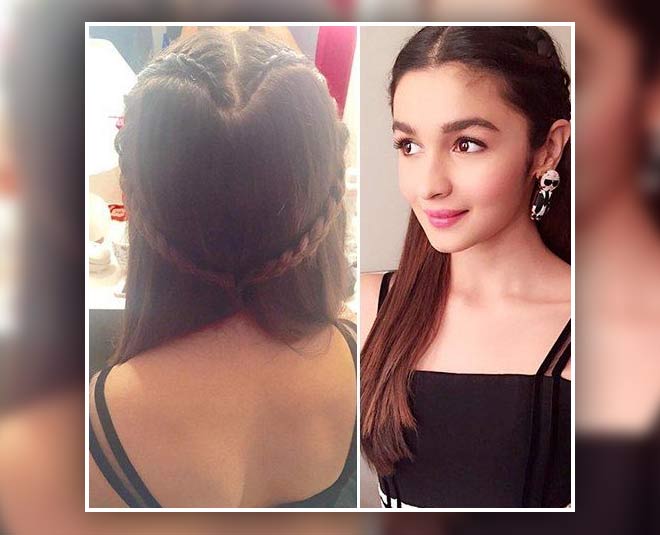 This coiffure made fashionistas sit and take notes! There are different types of braid hairstyles girls love. But, you can carry intertwined heart-shaped mermaid braid to simply any function. Also, it is ideal for that special date night with your beau.
Steps
Start by brushing your hair. Make a partition from the middle of the forehead to mid-back of the head.
Then make section off the top half in order to make the third section.
Now, gather one of the top sections and start making a simple braid. Try going slightly upward and then bring the braid down.
Also, keep the braid as close to the inner corner of the middle part as possible. Once done, tie it off the braid temporarily.
Repeat the same on the other side and secure with a hair elastic.
Use a bobby pin to secure the curve to create the right crest of the heart.
Lastly, bring the ends together to finish off the bottom shape of the heart and tie them together.
Side Fishtail Braids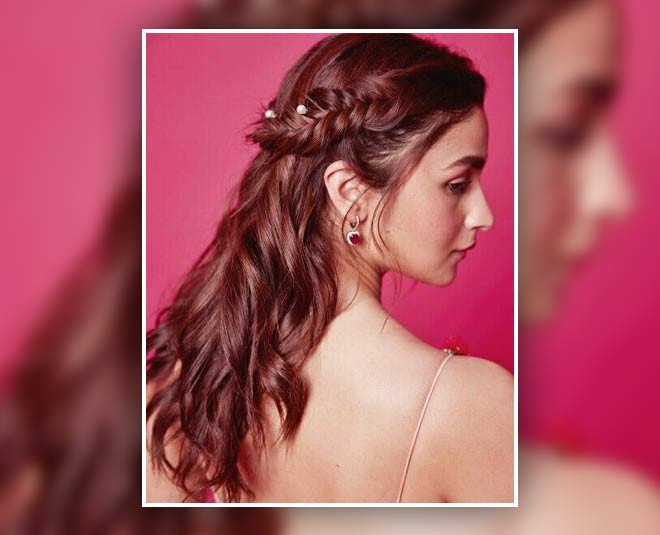 Alia Bhatt won hearts with this adorable coiffure she carried at Zee Cine Awards last year. We love how she accessorised her hairdo with beadings to match with her stunning floral dress.
Steps
Start by lightly combing your hair, you need not be very clean for this.
Part your hair from the center and then make one sub-section on either side.
Start working on one side and split the sub-section into two equal sections. Begin making a fishtail.
Take a piece from the left side and pass it over to the right side. Then, add a new hair strand from the outside of the right side and pass it back to the left side.
Keep making stitches until you reach the end. Tie off the braid with a clear elastic band.
Repeat the same on the other side.
Lastly, secure your braids with bobby pins at the back of your head.
You can also install some beads into your braids or leave it simple.
If you liked this article, do comment on our Facebook page. Stay tuned to HerZindagi to read more updates.