Summers are too hot to keep your hair open, especially while going out. Not only you will be sweating a lot, but, you will also end up damaging your hair. In the end, your frizzy mane will not exude any glamour! While messy buns are cute, some of us do want to flaunt our locks even when the summers are in full swing! Of course, we need to find a middle solution. What's better than a classic ponytail? Back in the 80s and 90s, actresses used to carry gorgeous ponytails. The trend is coming back but with lots of twists and braids incorporated with it. We have picked three most stunning yet easy ponytail hairdos. Learn how to make them with this tutorial.
Side Braid Ponytail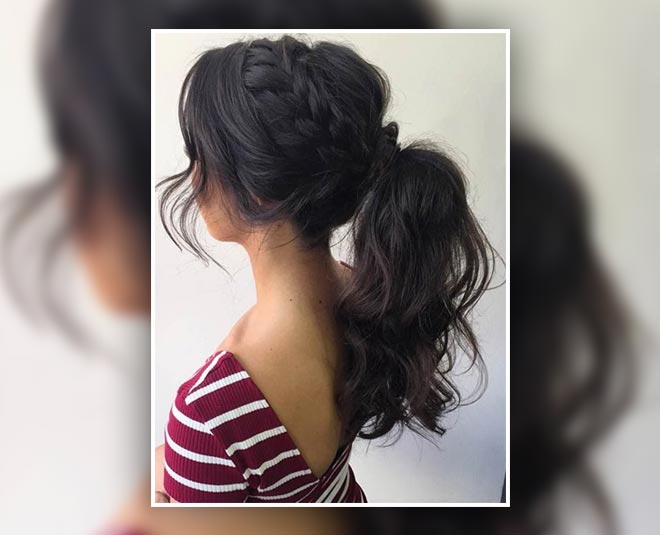 No matter if you're sporting a traditional saree or a smart formal tuxedo, this hairdo will go along with anything and everything you wear.
Steps
Begin by separating a section of hair from the area next to the crown section.
Split the hair strand into three sub-sections and start weaving together to make a braid.
Cross the left hair strand over the right one and keep going until you reach halfway.
Using your hand, gently stretch out the braid to make it look fuller. Secure the end with a clear elastic band.
Keep it aside and now gather all your hair in the center. Backcomb it from the bottom to create volume.
Along with the braid, tie your hair into a ponytail and secure with an elastic band.
Take the elastic band off the braid now that it is tied in with the ponytail.
Lastly, grab a small piece of hair and wrap it around the hair tie. Pin it under your ponytail.
Low Dutch Braid Ponytail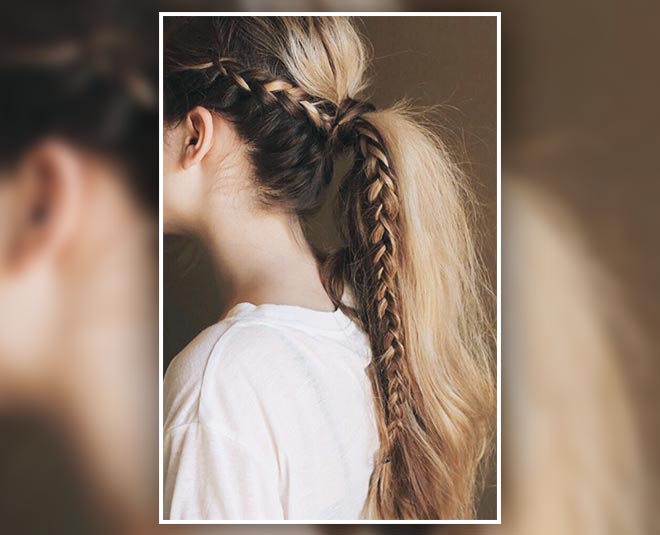 Do you like donning most of those indo-western or bohemian outfits? If yes, try this edgier yet simple coiffure to add that oozing factor to your look.
Don't Miss: Easy Tips To Rock Puff Hairstyles For Different Types Of Hair
Steps
First, gently detangle your hair from the roots to the ends. Simply use fingers to part your hair from the center.
Begin working on one side, take a two-inch section of hair close to the hairline.
Divide into three sub-sections and start weaving inverted Dutch braid. Cross the first hair strand under the third section. Keep adding hair from your hairline. Braid until you reach the end. Repeat on the other side.
Gather all your hair at the bottom, tie both the braids along with loose hair together with a clear elastic.
Pull gently on the edges of the braids to give them a thicker, messier look.
Take a small piece of hair and wrap it around the hair tie. Lastly, pin it under your ponytail.
Voluminous Ponytail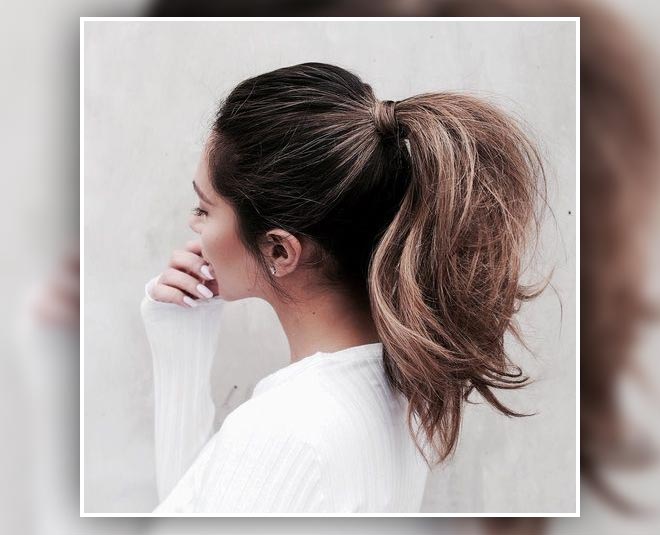 From Priyanka Chopra to Deepika Padukone, you must have seen most of the leading ladies sporting this hairstyle at several events. This is a versatile hairdo that can be sported along with any kind of attire.
Steps
To create this look, spray a generous amount of setting spray close to your roots.
Part your hair horizontally and spray in each section. In order to create a lifted look, backcomb your hair with a teasing brush.
Once done, create a half ponytail by taking hair from the crown section and sides of your temple. Secure with a strong clear elastic band.
Slightly pull your hair from the front using your hand or a tail comb.
Gather your hair from the bottom and try covering your first ponytail with it.
Tie it along with the existing ponytail.
Lastly, grab a small piece of hair and wrap it around the hair tie. Pin it under your ponytail and you're done!
If you wish to know more trendy hairstyles, stay tuned to HerZindagi.