Learn How To Wear Skirt-Suit Like Your Favourite B-Town Celebrities
Want To Rule With The Ultimate Girl Boss Outfit? Take a Cue From Our Bollywood Divas
A Suit has always been considered as the pinnacle of power-dressing. It is usually called the ultimate girl boss outfit. Even our B-town celebrities, whom we consider as our Fashion Gurus, are inspired by this trend.
However, the Bollywood queens are ditching the basic old ways of power-dressing. They are taking inspiration from the 2022 spring runways where skirt-suits are making a comeback.
Skirt-suit is an iconic outfit that was seen during the 90s when Chanel gave it a makeover for the MTV era. This chic outfit made quite the trend when Princess Diana was captured wearing it various times in that era. In the modern era, global icons like Michelle Obama, Oprah Winfrey, the Duchess of Cambridge Kate Middleton have donned this outfit several times.
Our Bollywood Divas have also seemed to pick up this trend as most of them are captured in their own rendition of this classic outfit.
So what are you waiting for? It is time to get rid of the same old pants and for blazers to set in some new standards! Check out how the B-town divas' style this iconic kind of power dressing in a new manner.
Crop It Out!
Janhvi Kapoor is a rising star of Bollywood who is trending on social media because of her dressing style. She is bringing us a dose of sunshine with this look. For an event, she was spotted in a Bright Yellow crop blazer skirt set by Riti Rahul Shah and was styled by Meagan Concessio.
The look is just perfect for her body type. You can also pull off a look like this! If want to go for a party look just follow Janhvi and complete the look with a pair of metallic gold boots. However, if you don't want to go OTT, add some contrast with subtle coloured footwear.
Asymmetrical Neckline For The Win!
Everyone knows that Priyanka Chopra Jonas loves a tweed look. She has donned a skirt-suit on a number of occasions. She wore a grey Ralph & Russo Couture skirt suit with an asymmetrical neckline during an outing across NYC.
You May Also Like:Priyanka Chopra's 5 Best Looks In Sabyasachi Mukherjee
The outfit also featured lapels, buttoned-up, and slit details. To amp up the look, she added black miniature sunglasses and a metallic Fendi handbag. She paired her outfit with clear pointed-toe pumps with metallic detail.
Are you pumped to try this look?
Pick Contrasting Hues
When it comes to suiting your bubbly nature and funky style with a lot of contrasting hues, Sara Ali Khan comes to the rescue! She was spotted in a bright coloured skirt-suit. Her colour block outfit with a light blue crop top, pink blazer, and cute yellow skirt just go with her personality.
The actress paired it up with yellow strappy heels giving OTT vibes. You can also slip into this look when going for a brunch with your girl gang.
Timeless Black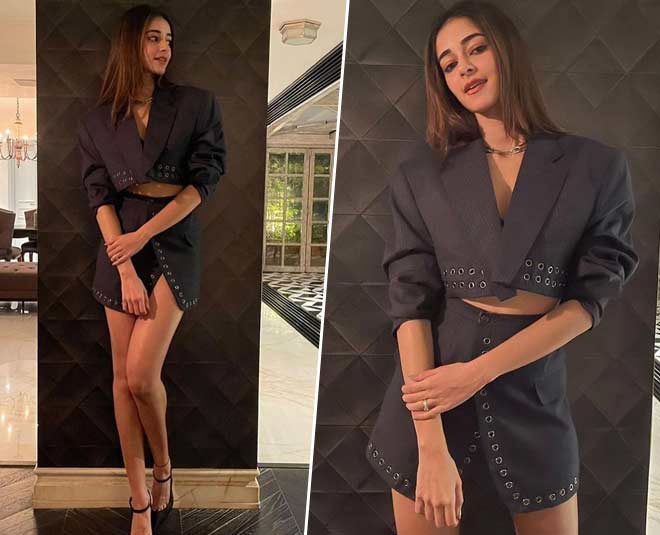 Upping her fashion game, Ananya Panday is also setting goals for the weekend dressing by wearing this all-black look. While being a monochromatic look styled by Laksmi Lehr, the designer label Bodements added metallic eyelets to the blazer and the draped mini skirt which took our heart.
Here, the actress added a bold element to the look by pairing it up with a lacey bralette. Following the rule of less is more, she completed the look with black pumps and minimal silver jewellery. The overall look is giving us the inspiration to change the style for the Gen-Z.
You May Also Like:Look Appropriate, Make An Impression, Wear The Right Shoes While At Work With These Tips
Earlier, the skirt suit might have been limited to certain events but our B-town celebrities are taking it up a notch higher and slaying the looks that can be worn anywhere from a girls' night out to a weekend brunch with BAE!
Recommended Video
If you liked reading this article, do share your feedback with us. For more such fashion tips and insights, keep reading HerZindagi!