Most of us feel underconfident about one or the other part of our bodies. While being curvy is a blessing, dressing up to look best with limited options can turn out to be a challenge. If you are conscious about your thighs for some reason, you can take the help of some clothing hacks to ooze the oomph. The happy news is, it is not tough to make your fuller thighs look proportionate with the body. All you need to do is invest in:
A-Line Skirts
You will see a wide variety of skirts available in the market, among them an A-line skirt can be an ideal pick for you, because its built will make you look slimmer and taller. Go with thick fabrics and solid colours, such as cotton, corduroy, jeans clothes. And try darker hues, such as, brown, black, navy blue, maroon, algae green, and so on. Pair such bottoms with light tops to create a fabulous look.
Vertical Stripes
People who are conscious about their lower bodies are generally petite, if you are one of them then go with vertical stripe dresses, skirts, palazzo pants, etc. This will create the illusion of longer and slimmer body. Not just this, but longer and straight strips will make your thighs appear thinner. Try not to go overboard with prints. The closer the straps, the slimmer your things are likely to look. One of the best options is to buy palazzo pants, that are tight around your thighs and flowy at the bottom.
Don't Miss: Kiara Advani's Effortless, Cotton Suits And Kurtas Are A Must-Have This Season
Low Waist Bottoms
Not every fashion trend suits everyone. Just like crop tops and high-waisted bottoms don't suit girls with short torsos, high-waist attires simply do not look very much balanced on girls with bigger things, as the attention gets drawn towards your thighs much. Wear clothes that won't make your hips look broader than it already is. You want to create the illusion of a tiny waist, so invest in different types of belts and accessories that will solve this purpose.
Dark-Coloured Pants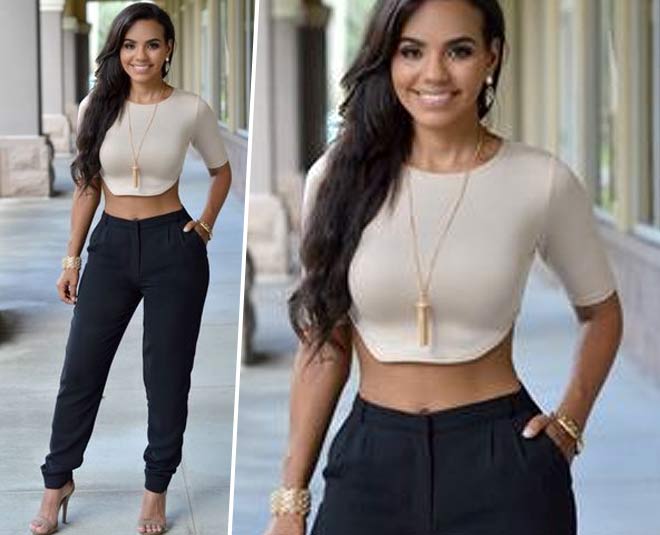 After this, you're more likely to fall in love with your blacks. Solid colours make you look thinner, unlike light colours. If you want to make one of your body parts look slimmer, try covering that area with dark clothes. You can play around with colour blocking or simply go with one solid colour. Try not to buy jeans that are faded on your thighs, you don't want to draw too much attention there. Also, never buy jeans that have smaller pockets in the back, it will make your hips look wider, which you definitely don't want.
Don't Miss: Vidya Balan's Sustainable Picks For Shakuntla Devi Promotions Are Impressive And Affordable
Dresses
Make dresses your best friend, especially the one that has a flowy lower body. It will give the illusion of a balanced curvy body. Also, all the A-line couture are a big yes, be it maxi or a short dress. Pair them with denim jackets, charm necklaces, heels, celebrity-inspired hairstyles, beautiful bags, basically with anything and everything you want!
If you liked this article, do comment on our Facebook page. Stay tuned to HerZindagi to read more such articles.