Actress Vidya Balan has a huge fan following and she has garnered respect from most of us women. She is among the few women in the Indian movie industry who can carry a film solely on their shoulders. Even when she is in a multi-starrer, she has a number of times overshadowed other stars with her acting prowess and screen presence. Not just her work but even her unconventional looks that broke the size zero and petite figure mentality in the industry which gained her a lot of respect and much love from us Indian women who are blessed with curves. Well known for her sarees and the way she carries them, after Kirron Kher, it is her wardrobe I schemed through on her Instagram. So here are a few blouse styles of Shakuntala Devi actress that I definitely dig and you will too if fusion and "kuch different" is what you are looking for now.
Plain Purple Contrast
Agreed it is a plain blouse but what I want to show here is the contrast carried off so beautifully by Vidya! Normally you and I would wear something subtle as a blouse with a golden saree. We would head for a black or an off white, anything less eye-catchy, but Vidya Balan has worn a bold purple number. Also, for jewellery she has gone for silver ornaments whereas we would go for a kundan or a golden look in the antique gold shade.
Don't Miss: Vidya Balan's Sustainable Picks For Shakuntla Devi Promotions Are Impressive And Affordable
Contrast Print
Not so much of a fan of this saree but when you look at the entire styling at large, she looks nice. Perhaps it is the attitude that makes anything look good on you. Vidya is wearing a saree that has vertical lines, a different pallu print but the blouse is a total contrast. It has a diamond-shaped design in deep blue on a white background. If you too can carry off this look which has a contrast print then go for it! Just be confident!
Crop Top Look Blouse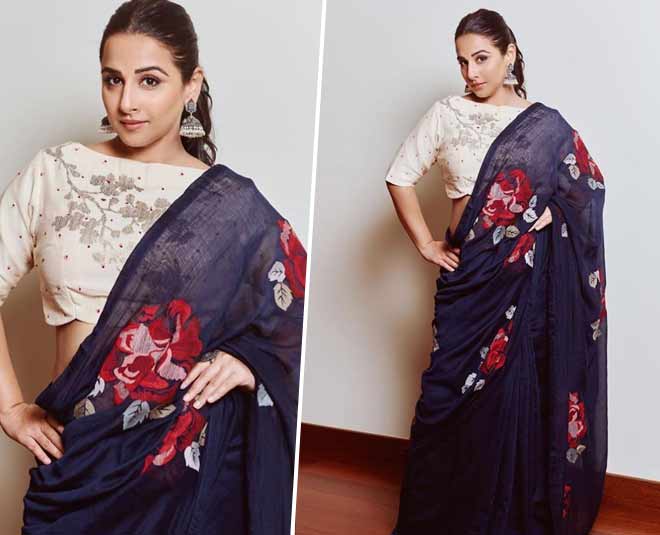 A bold printed saree and a blouse that has the finish of a crop top looks really cool! The actress looks stunning and really artistic in this look where the blouse has silver foiling work, pink embroidered polka dots all over, on an off white base. The saree is a chiffon number while the blouse is mull cotton. It is a modern touch to the traditional ethnic wardrobe. She wore this half.full.curve creation for an interaction with the students of Harvard.
Stripes
Blouses with such bold stripes are not a very common sight especially when worn with a dual-toned saree. But it sure looks good on her. You can also wear a blouse like that and pair it with a plain nine-yard. Keep it simple because if you wear a print with another print, it would get too busy for the eyes. Some statement silver jewellery pieces with the look will complement the look for sure.
Don't Miss: Meet The Female ISRO Scientists Behind The Success Of Real 'Mission Mangal'
Madhubani Print Crop Top
This blouse style and print is proof that blouses do not always have to be super short and prim and proper like the traditional ones our mothers wore. This box crop top blouse would look good on anyone, especially our busty ladies. Vidya has got the curves so you can see how the saree has been draped. She looks comfortable yet stylish in this interesting drape. The saree has been tied like pants and the pallu has been draped over the shoulder to give it that saree look. You could also wear jeans with this kind of top and wear a lengthy dupatta for a drape by tucking it into your jeans. Add some more drama with a silver jewellery belt.
For more blouse styles and saree looks flaunted by celebs, stay tuned to HerZindagi.