There's something about the air every shaadi season! I can already feel the excitement thinking about all the food, dancing and friends and family to catch up with. To me though, there's added excitement in seeing different generations coming together, swapping everything from clothes to jewellery to footwear to put their best foot forward. Laksheeta Govil, Founder of Fizzy Goblet has 5 recommendations of ethnic footwear that will be a perfect addition to your closet this wedding season.
Bejeweled Juttis
Have you ever heard that phrase, "shoes make the man", well with women its "Give a girl the right shoes and she'll conquer the world". Marilyn Monroe said it, so you've got to believe it's true. Just like jewellery, you can't go wrong with your footwear. To go with your Indian clothes, juttis will be a great pick. Nothing like a jutti with detailing and sparkle all rolled into one. Bejeweled Juttis are super versatile going easily from the simple kurta or lehenga outfit or a cocktail outfit.
Buy Phulkari Ethnic Jutti here for INR 2299.
The Gold Jutti
You need a pair of trusty gold juttis for every wedding. Every one of us is already juggling a career with a social life and family. Throw a shaadi season into the mix and suddenly 24 hours just isn't enough. For those of you, who are like me, forget half a detail every now and then - like finding the perfect shoes for that perfect outfit- nothing comes to your rescue faster than that perfectly fitted gold jutti. It's dressy, it's a solid colour. Also, failing memory or not, gold juttis are great to pair with an outfit that already has a lot of colours in it, this shade is great to tie it all in and complete an outfit.
Buy Golden Juttis here for INR 525.
For Ambanis Diwali bash, Sara Ali Khan wore a stunning red outfit with heavy embroidery. She carried the set with golden juttis. If you are carrying a suit set like this one then take cues from Sara.
The Open Back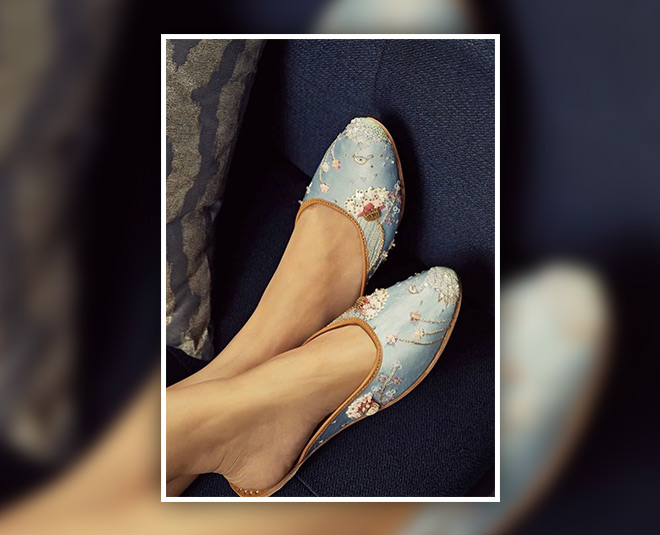 In cholis and footwear both, nothing's as playful as an open back. An open back jutti, in particular, is great for day wear- a pooja, mehendi function or event that pool party on the itinerary. I mean really, this is an Indian wedding, and all eyes are most definitely on you so you can't go wrong with your footwear. Buy open juttis here for INR 499.
Kolhapuris/Flats
There's a reason that shoe cabinets are filled with flats. Kolhapuris are meant for dancing, mixing and matching and for good vibes only! Also, they are perfect for an Indian wedding.
Don't Miss: Juttis Are Back In Trend! Head To These Streets For A Reasonable Buy
Jutti Heels
To add to your look this wedding season, you can pick a jutti heel to round off your look. These gorgeous heels are great with dhoti pants or lehengas for that oh-so-divalicious look for the Sangeet/ Mehendi/ Cocktail!
Which one is your favourite pick? What are you carrying this wedding season with your traditional looks? Share with us!