Are you someone who loves hosting parties? Organisation, food, getting together with friends, excite you? If your answer is yes, then you certainly love themed parties! If you are out of themes to give for your party and are looking for something exciting, you have landed yourself in the perfect place! Let your friends know the theme for your next party is Bollywood Retro and read this article to pick your look!
Juhi Chawla, Darr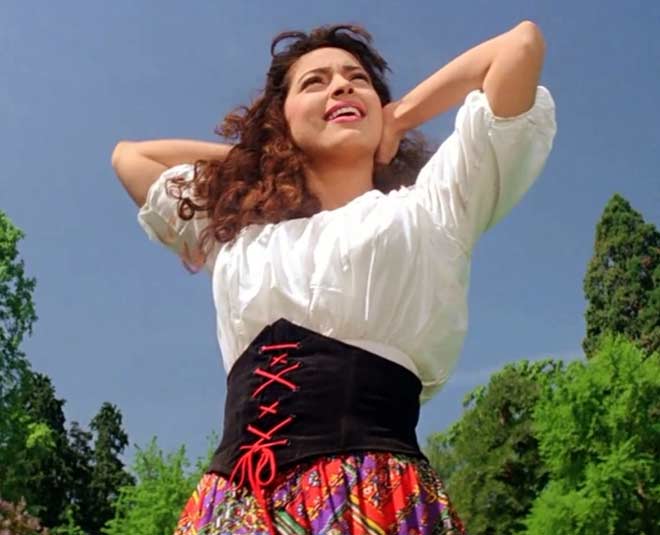 Image Credit: 1.bp.blogspot
Starting with the easiest re-creation. You will most probably have everything that is needed to recreate this look right at the comfort of your home. All you need is a white top, preferably off-shoulder, a red skirt(though the actress wears a longer length, you can add your own touch to this by wearing a short one that is solid red), and a corset. You can wear a wide black belt as well to give a similar look in case you don't have a corset. Curl your hair to make yourself look exactly like Juhi Chawla and don't forget the most important element, a charming smile.
Rekha, Umrao Jaan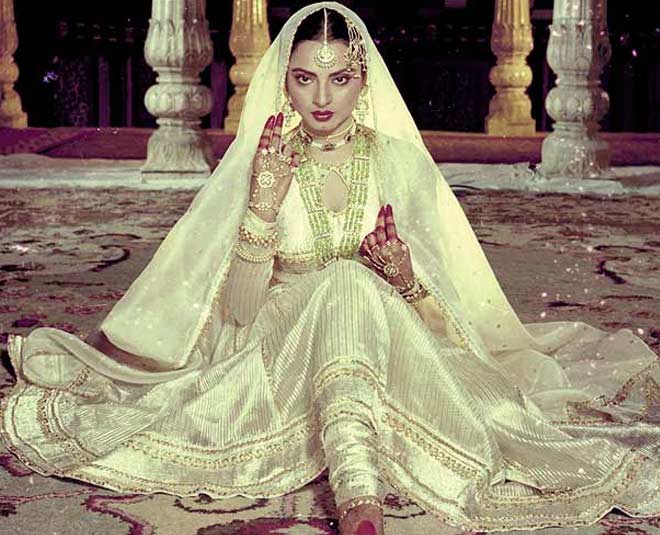 Image Credit: hdhindisongs.files.wordpress
You will need a little effort to pull off the famous 'in aankhon ki masti mein' look but it is going to be worth it. Arrange a gaudy Anarkali in the shades of silver and gold. Wear a maangtika and big earrings. For the side, you can take a chand-bali(type of earring) and hook it to your hair. Put aalta(red colour) on your palms and feet, and crowd your fingers with several rings. Top your look up with the gesture of Adab(greeting)! This look will be the show stopper for sure.
Sharmila Tagore, Kashmir Ki Kali
Image Credit: i.ytimg
A gorgeous look yet extremely easy to re-create. First, get yourself a red kurta and leggings and make two braids on your hair. After this, tie a red cloth on your hair. On top of the red cloth tie a translucent white or silver cloth. Now if you don't have the cloth that has designs and hanging elements like the one in the picture, that is absolutely okay. Take a few necklaces of the same pattern, or even kamarkand(waist band) would do. Tie it from one end of your head to another. Even if you don't have the jewellery in the same pattern, even the ones with the coins would do and since that is very trendy right now, there are high chances you will be able to arrange it easily. Hang fancy ribbons down your braids, wear jhumkas, and voila! You are nothing less than a 'Chaand sa roshan chehra'!
Read More On Recreating The Look Of Bollywood Divas!- Recreating Taapsee Pannu's Russia Vacay Looks Under A Budget Of 500 Rupees
Mumtaz, Brahmachari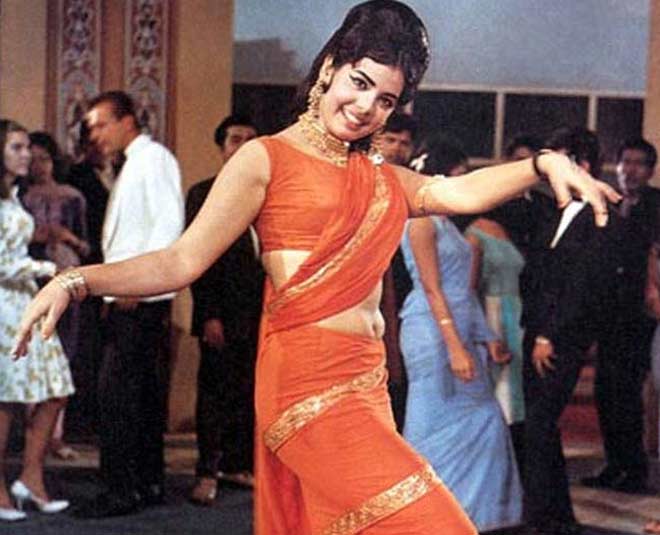 Image Credit: dvibgyor
This is the most iconic look when it comes to recreating a retro Bollywood look, probably even the first one that pops up on google when you type 'retro Bollywood looks'! This may look a little complicated but is pretty easy to pull off. Take an orange saree with a border(preferably golden). Tuck one end of the saree inside the petticoat and make one round around your waist like you wear a normal saree. Make three-four pleats and tuck it in your petticoat and take the remaining saree around your waist and get it in the front. Take the rest of the saree in your hand and make pleats in such a way like you are making your pallu. Take the entire pallu that you have made and wrap it around yourself till you reach the waist and then put it over your shoulder like you normally wear the pallu of a normal saree. Put your hair in a bun and put thick winged liner and kajal. Top it all up with some light jewellery and you are done!
Learn More About Recreating Bollywood Look- Recreate These Casual Looks of Alia Bhatt From Dear Zindagi
Saira Banu, Padosan
Remember when Saira Banu went "Main chali main chali dekho pyaar ki gali" on her cycle? This is an absolutely adorable look that will make you look extremely youthful. Wear any dress and put a bubbly colourful hairband on your hair. If you don't have a hairband like that you can also take a red scarf and make a bow around your hair like a hairband! This look will definitely make you look sporty, childish yet extremely beautiful!
Do try these outfits at your party and make your 'old is gold' statement look with them! For more such content, stay tuned to Her Zindagi!