The latest is in! Check out Priyanka Chopra's latest looks in the hot new September issue of cover shoot. The brand shared few images and video of the actress wherein her look has been styled by our very own Sabyasachi Mukherjee and Mimi Cuttrell. She is hot, exotic literally and now will soon be seen on the stands of the popular magazine. Let's take a look at what she wore and how!
Oodles of attitude which is perfect for a shoot, perfect for inspiring women around the world.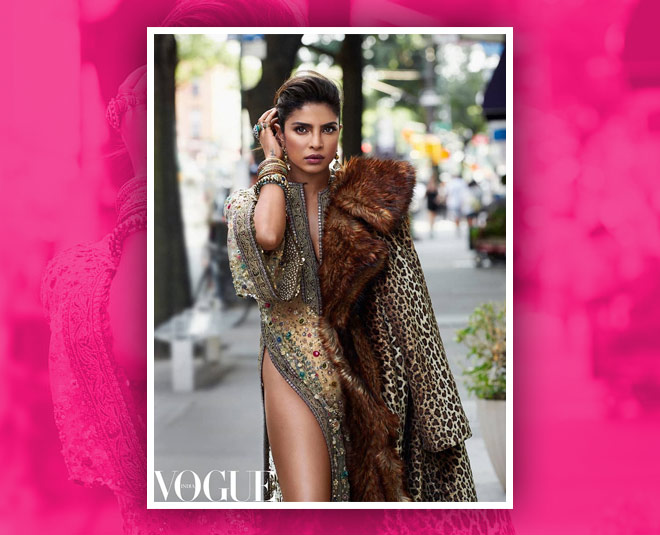 Gems, glitter, faux animal fur and leaopard print coat with all those beautiful bangles, wearing a high slit ensemble... Priyanka is a vision to behold!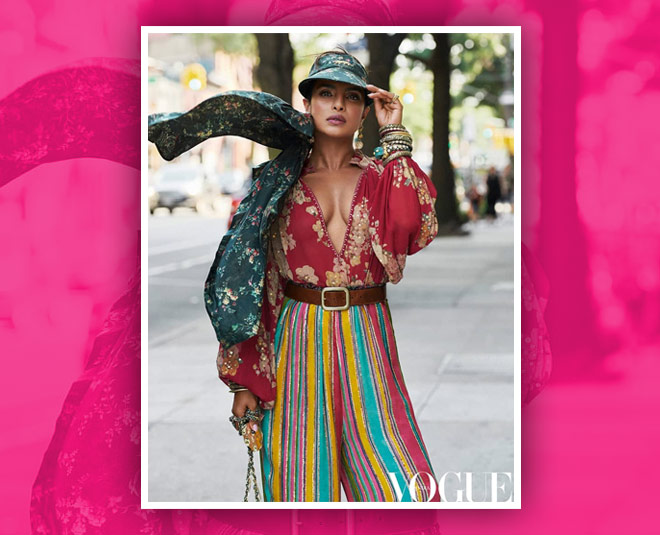 Sabyasachi and VogueIndia shared this image on their Instagram handle and we are loving the colour combination!. The visor hat looks hot on her and so does the low V-cut neckline! As my colleague called her bomb when she saw this pic, Priyanka definitely justifies the adjective, if I may say so. Not everyone can carry off balloon sleeves and a belted ensemble like that. The makeup here is all about bronzing with a rosy lip shade.
A power pantsuit it is! All green with puffed sleeve coat and the cream-hued shirt is what only Priyanka can carry with attitude. The high bun is what you need to command attention right?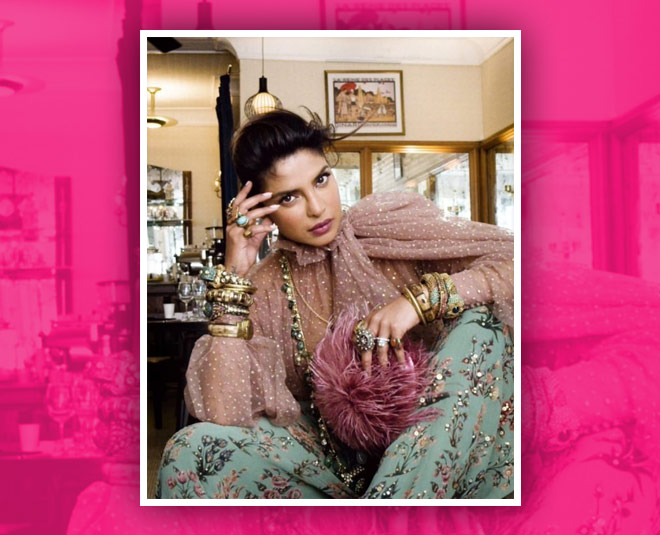 My favourite, this one is rustic and wow! The powder pink and bluish-green blouse and pants, the furball in her hand, those chunky bracelets and rings are a perfect combination. For her lips rose fresque shade has been used with a light blush and shimmer in the corner of Priyanka's eyes. Her jewellery is a part of Sabyasachi jewellery collection while the earrings are by Jacquie Aiche. The hair is by Peter Grey using Shu Uemura /Art of Hair/ Home Agency, makeup by Morgane Martini using Marc Jacobs Beauty/ The Wall Group.
View this post on Instagram
View this post on Instagram
Sabyasachi also shared some images on his Instagram and shared that it has been guest-edited by Sabyasachi himself. The location of the shoot is Le Mistral, Brooklyn, New York.