Pantsuits are no more limited to the super busy corporate honchos. Over the past few decades, Bollywood beauties have opened to the idea of trying pantsuits and their varied versions. What makes them one of a kind outfit is their strong appeal. If styled the right way, they can surely elevate your fashion game. Be it wearing just over a t-shirt, shirt or even a bra-let, a pantsuit oozes power, confidence and great taste. Indian designers such as Ashish Soni, Gaurav Gupta and Monisha Jaising have time and again showcased a variety of pantsuits and Bollywood has surely abided by their rules. If you are still not over the sexy white pantsuit worn by Priyanka Chopra at the Times Magazine gala in 2016, you need to up your game.
Here some of the hottest ladies and their hotter pantsuits that will bowl you over.
Shilpa Shetty In Aruni Designs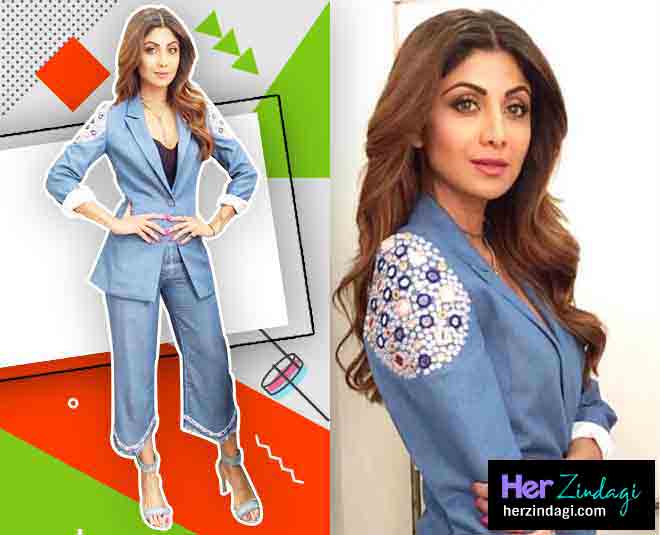 One could have never imagined denims being a part of some one's formal wardrobe. But defying conventions, here is Shilpa Shetty doing a quirky denim suit with short pants. For women who want to experiment with it can always mix and match their denim lowers with a white blazer or even a classic black jacket.
Sonal Chauhan In Bench
Stripes are here to stay and who better than Sonal Chauhan to seek inspiration from. For all those ladies who are a little tired of their boring formal wardrobe, stripes in muted colours are a great option to experiment with. We love the shape of cigarette pants worn by Sonal.
Read more :- This Sexy Trend Is Catching B-Town Diva's Attention
Surveen Chawla In Raw Mango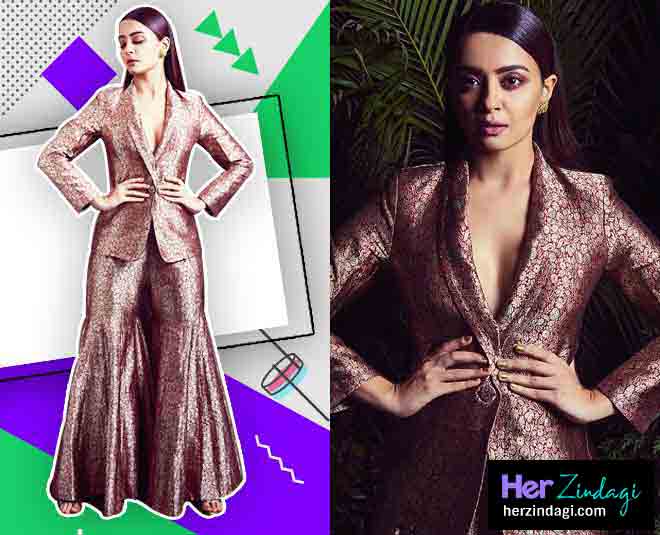 There are hardly any actresses in Bollywood or even in the television industry who carry anything and everything with equal style. Surveen is surely a rarity. For an event in Mumbai, she chose this beautiful metallic brocade work pantsuit by designer Raw Mango. We love the fitted jacket and the sharara inspired pants.
Aditi Rao Hydari In Anjali Jani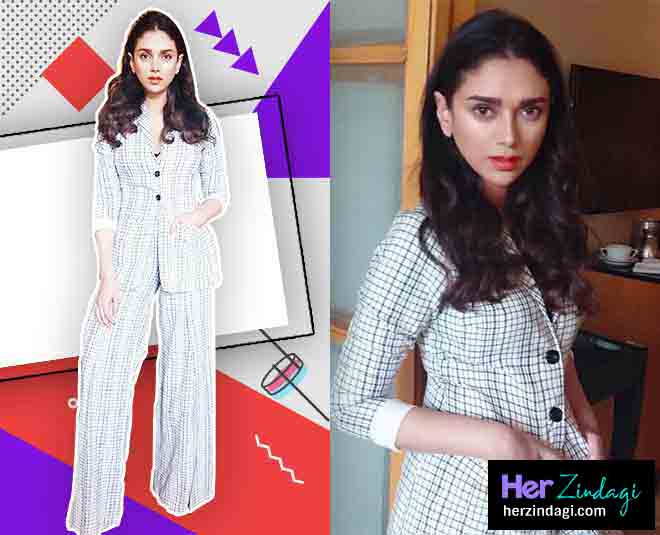 Prints are always fun to experiment with and Aditi does it pretty well. She somehow manages to balance that typical 'boss lady' look with an undertone of casual fashion. We love the colour of black and white on her.
Yami Gautam In Intrinsic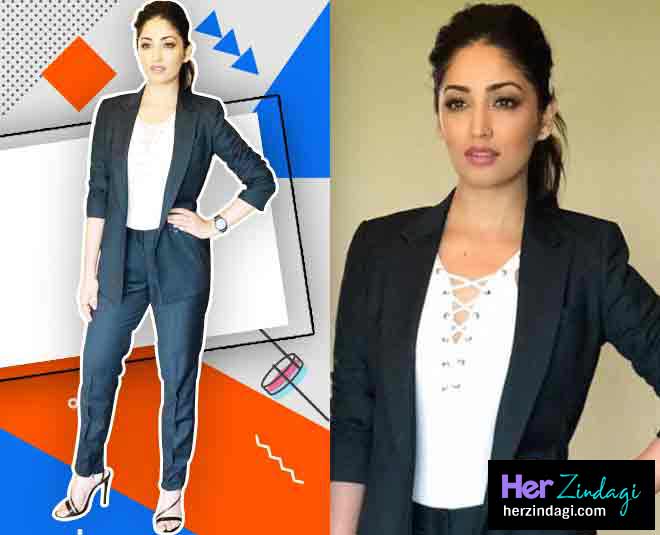 One can't stress on the importance of a classic black pantsuit. Not only is it a sign of power and makes you look structured, it is something very classy. Many might argue that it is boring but at the same time it is up to you, how do you plan to experiment with it. We love the cool shape of the pantsuit and the harness top that Yami has paired it with. What do you think of the look?
Sonam Kapoor In Kojak Studio
Speaking of suits, most of us imagine them in being very boring shades. However, if you seek something unconventional, there is nobody better than Sonam Kapoor. She has worn a number of pantsuits in the past but this one so far stole the prize. We love this bright red pantsuit from the house of Kojak Studio. We do not recommend this look for a typical board meeting, but balancing it out with other muted shades would do no harm.