With the advent of technology and machineries, things around have changed drastically over the years. Where earlier people only used to wear custom made clothes, now they are into readymade outfits. However, this didn't stop women from being picky about the fabrics and designs. Depending upon the purchasing power, style, weather, comfort, and occasion, choosing the best type of silhouette is the ideal thing to do when it comes to fashion. But, most people are not aware of the wide variety of fabrics that are available in the market. They only keep circling around silk, cotton, chiffon, and georgette. That's why we have curated a list of lesser-known but amazing fabrics you can buy a little more often!
Damask
The jacquard-patterned fabric, Damask is one of the most stunning reversible cloth. Since it comes with an outstanding intricate satin weave work that is woven into the fabric, it is ideal for blouse making. Depending on your need you can pick between multi-coloured or single coloured patterns.
Don't Miss: Soak In The Royal Vibes With Sabyasachi's Latest Wedding Lehenga Blouse Collection
Crêpe
While it is not hard to find pure silk clothes nowadays, crepe, which is a type of silk fabric is also a great option. It comes with a distinctive wrinkled and bumpy texture, with a subtle shine of silk. It usually comes in a light-to- medium-weight and is heavily used to make red carpet-worthy dresses, gowns, suits, blouses, pants, and much more. You can also use it to design your house. It looks gorgeous on curtains, window treatments, and pillows.
Jersey
Jersey can be named as one of the most comfortable fabrics out there. While it was originally made using wool, nowadays, it is weaved from cotton, cotton blends, and synthetic fibers. Most of the t-shirts, sweatshirts, or bed sheets are made using light-to-medium weight fabric.
Don't Miss: With The Onset Of Wedding Season Flaunt Those Golden Sarees Taking Inspo From Rekha, Deepika, Madhuri
Modal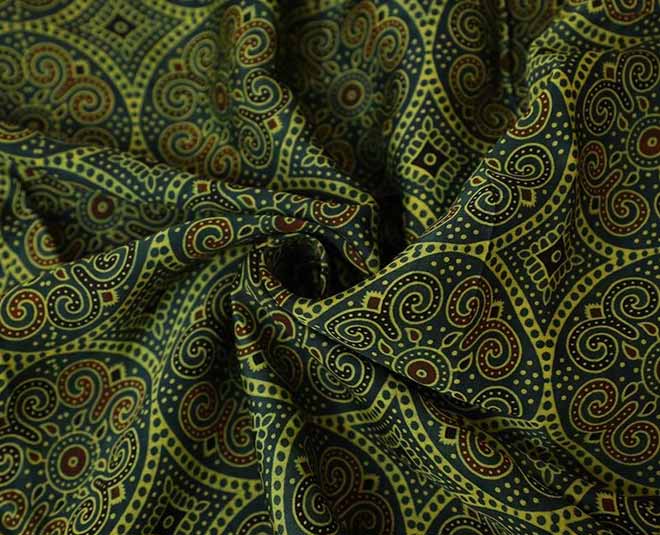 A semi-synthetic fabric, Modal is created from beech-tree pulp. If you notice most of the underwear and pajamas (celebrity pajama styles), and some of the household items, like bed sheets and towels, are modelled out of it. It is one of the highly used plant-based textiles, which garners much appreciation because of also being more durable and flexible than many other cloth options.
Organza
Another fabric that resembles silk, Organza comes with a sheer texture. It is a lightweight piece, which can be made from silk and also from synthetic fibers, such as polyester and nylon. The one that is made from synthetic fabrics are slightly more durable, but one needs to be very cautious while wearing clothes made from it as it is a very delicate piece. Organza is widely loved by designers. Most of the evening gowns are made with this shimmery and translucent silhouette.
Taffeta
Looking for a crisp, plain-woven fabric? Taffeta can be the ideal choice. This cloth comes with a lustrous, shiny appearance and its weight can vary from light to medium, depending on the sheerness. It is a highly decorative silhouette, which is also popular for being super soft. Taffeta is used for designing evening wear and home décor items.
If you liked this article, do comment on our Facebook page. Stay tuned to HerZindagi to read more such stories.