A staple of working women around the globe, the pencil skirt is chic and classy in every possible way! Be it summers or winters, you can don this piece throughout the year. However, clubbing it with the right ensemble to let your personality shine can turn out to be tricky sometimes. Need not fret, because we are here to help. No matter what the occasion is, these styling tips will resolve your fashion emergencies quickly!
Pencil Skirt With Denim Shirt
Denim shirts are versatile pieces that go almost with everything. Try a fitted denim shirt and pair it with a plain black or a printed pencil skirt to create an amazing look. This style is perfect for girls who want to flaunt not just their lower body, but the whole frame. When pairing with printed pencil skirts, make sure that the denim shirt has uniform hues, instead of being faded.
Pencil Skirt With Crop Top
Want to dress for a simple date night or an outing with your girl pals? Pencil skirt with a simple cute crop top will help you make a statement! Go for something simple yet sleek, such as a leather pencil skirt. It has a subtle shine that gives oozing vibes. Wear it with a matching plain leather black crop top, or with a neutral piece. If you don't want to show off your belly, wear a baggy crop top, which will act as a peek-a-boo piece. You will be just giving an illusion of showing off your belly, without actually showing it!
Pencil Skirt With Halter V-Neck Top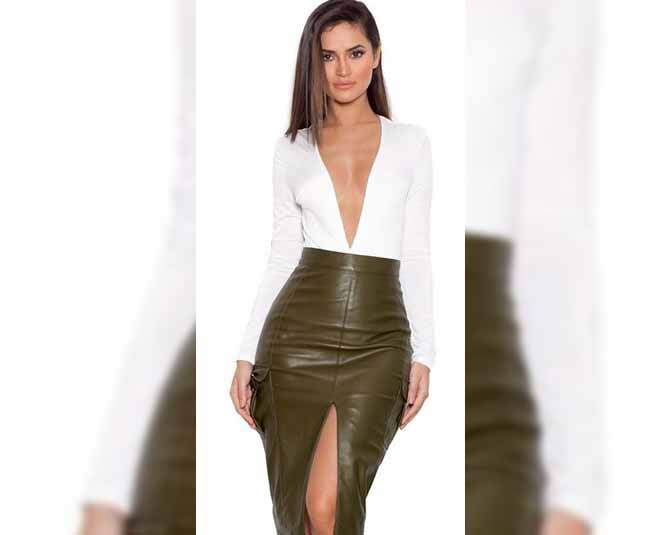 For all those petite girls, who think pencil skirt is not meant for them, this is the style you want to follow if you feel self-conscious in it. The halter V-neck top will make your upper body look longer. Make sure the skirt is of a solid colour and probably plain. Also, the skirt shouldn't be below your knees. Pair these two items with a pointed toe heel and you will be making heads turn.
Don't Miss: Soha Ali Khan's Top Looks For You To Check Out
Pencil Skirt With Peplum Top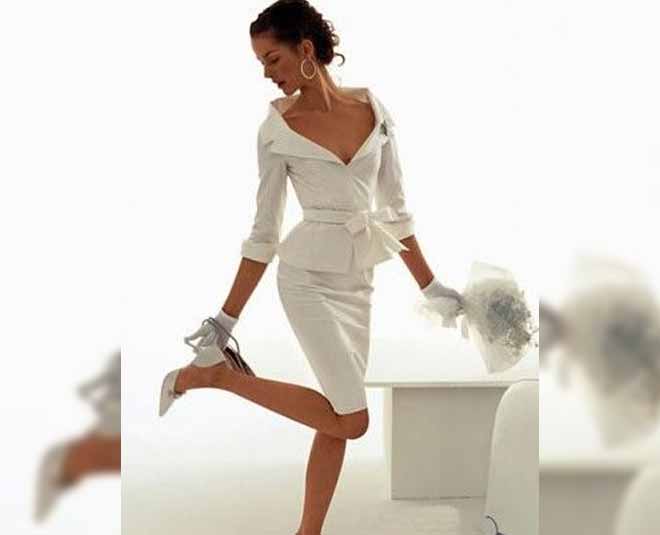 Do you have a round or a rectangular body type and you think pencil skirt will not look flattering on your figure? We have something for you too. All the types of outfits can suit anyone, you just need to identify the ideal style for your body. Clubbing pencil skirt with a peplum top will give the appearance of a curvy body. Just make sure the peplum top is not too long or short, the ruffle should fit right at your waistline to create that perfect look.
Pencil Skirt With Blazer
Winters are just around the corner. This doesn't mean that you need to put away all your skirts in the trunk. Smart pieces like a pencil skirt can be styled with a blazer and turtle neck top. This look is perfect for the office and parties. Try wearing a nude or a skin colour stocking along with your pencil skirt to not take away the attention from the main element.
Don't Miss: Check Out these Ravishing Celebrity Inspired Dresses To Impress
Pencil Skirt With Printed Shirt
Printed shirts are love, especially checkered shirts (ways to style checkered shirts) during winters. Club your favourite piece with a plain pencil skirt to stand out. Do not pair two printed ensembles together, otherwise, you will create confusion for the onlookers. Even if you do, separate the two pieces with a simple plain belt. The whole idea is to create a balanced look that would allow you to shine!
If you liked this article, do comment on our Facebook page. Stay tuned to HerZindagi to read more such stories.
Picture Courtesy: Pinterest