Summers are here and so is the hot and humid weather that compels us to skip our outings. Unlike winters we hate putting our hair open in summers, and often tie them up in a bun. Not only our body sweats a lot, but our hair also goes through harsh conditions extensively. So if you have been looking for a reason to chop off those manes, but are worried about styling then we urge you not to. We have come up with some amazing styling ideas that you can follow to rock that short hair look.
Get Your Hair Accessories
Image courtesy: Unsplash.com
One of the best ways to style your short hair is to get your hands on some hair accessories like hair clips, bands, threads, scarfs. Hair accessories do not only elevate your looks but also look super cool with almost every outfit. It requires minimalist efforts and looks stunning without any doubt.
High Pony
Image courtesy: Unsplash.com
On days when you do not feel like doing anything to style your hair, just tie them up in a high pony. Never underestimate this style statement when it comes to giving a new look to your hair. This simple trick can instantly upgrade your look for any event. You can go ahead and experiment with your accessories like adding metal hair bands or silk scarfs.
Don't miss; Here's A Step By Step Guide To Do Scalp Treatment At Home
Carry Your Dry Shampoo
Dry shampoo can be helpful to you on days when your scalp is feeling oily. An oily scalp makes your hair look flat and dull and you can't shampoo every day as it's not good for your hair. So, it's always better to carry your dry shampoo with you and just spray it when you feel your hair needs some boost and volume.
Try Half Bun Style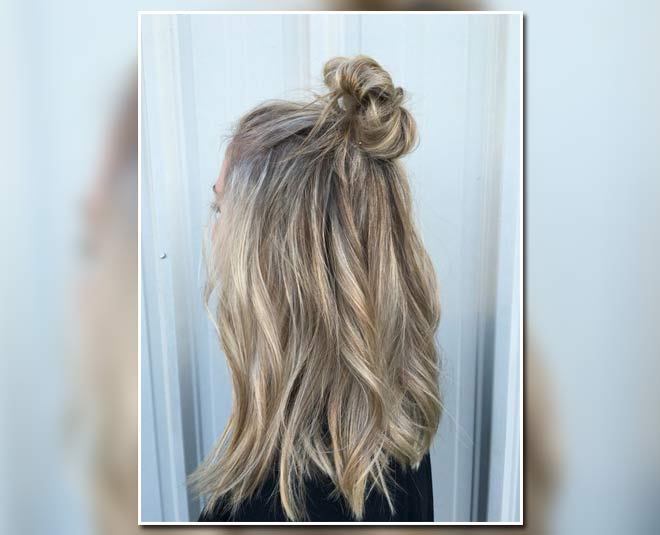 Image courtesy: hercampus.com
If you do not like to pull up your hair in a pony then half-bun style is perfect for you. This is one of the most loved hairstyles that go amazingly well with your summer dresses, off-shoulder tops, and cotton shirts. To achieve this look, simply comb your hair, take half of the section from the front and tie them in a knot or a bun. It will instantly make you look glamorous!
Don't Miss; Just Got Your Hair Coloured? Here Is How To Prevent Them From Fading
Top Knot Hair Band
Image courtesy: Shinecoco.com
If there is one styling accessory that you need to have this summer then it's top knot hair bands. It is one of the trendiest hairstyle looks of the season that looks classy and chic at the same time. To get this style right, you need to comb your hair and place the headband on the center of your hair. You can even slide the headband sideways so that the knot will fall on your life or right side. There are so many patterns of these bands in the market you can choose from floral to solid colors, completely depending upon your taste.
Style with Hair Pins
Hairpins have been used for styling for ages it not only holds up your hair but also adds that oomph factor too. Gone are the days when you only used to style your hair with bobby pins, you can now experiment with floral pins or snap clips too.
Don't Miss; Some Reasons Why You Should Start Using Microfiber Hair Wraps
Try Choppy Pixie Cut
Image courtesy: thehairstyler.com
If you have been looking for a cool yet low-maintenance hairstyle then this one is for you. The pixie cut has always been in the trend and looks ultra-cool. This is an effortless style that works wonders to uplift your overall personality. Plus, this does not require too much styling so it's perfect for the lazy girls as well!
Try these styling tips to rock the summer Look. Stay tuned to Herzindagi For More.