Are you looking to amp up your saree collection? Take a look at these different types of sarees.
1Mangalagiri Cotton Silk Sarees
Meghams
Where are Mangalagiri sarees made? Originating from the Mangalagiri town, Andhra Pradesh, Mangalagiri sarees are made by handicraft weaving. Its fabric is the result of the weaving using pit looms from combed yarn. The material then goes for dyeing.
One of the most common characteristics of the Mangalagiri fabric is the Nizam design. Its border has zari work. The beautiful tribal art on the saree is for every casual occasion, gathering or outing. The material is durable, trendy and ideal for every season.
2Bhagalpuri Silk Sarees
Bengal Looms India
Bhagalpuri sarees come from the state of Bihar. Their niche is quite famous among the women of the country. They have crossed borders and are made from one of the finest-textured silks. Their grandeur and sheen make them ideal for wear for every small to large gathering in personal or public spaces.
These sarees originate from Bhagalpur, renowned around the country for its skilled craftsmen. Is Bhagalpuri silk good? Yes, it is environment-friendly and use a limited number of silkworms during production. These sarees are among the oldest artworks and are exported even outside the country.
3Nauvari Sarees
WeddingWire.in
What is special about Nauvari sarees? These sarees originate from Maharashtra and stretch to nine yards. They are also renowned by the names like Kasta Sari, Nauvaree, Lugade, Nav Vari and Sakachcha. Most women in Maharashtra wear this type, and they have become a part of the modern culture.
They are mostly available in cotton fabric, and women wear them without a petticoat. The fabric and draping style of these sarees was developed keeping in mind the comfort of women of the Maratha Empire who assisted their fellow male warriors to wars. The drape also provides free movement of legs.
4Kosa Silk Sarees
For Sarees
What are Kosa silk sarees made of? Derived from Antheraea mylitta, an Indian silkworm, Kosa silk sarees are a speciality of Chattisgarh. Korba and Champa are renowned for producing their fabric in maximum number with optimum quality. This type of silk is exported to various parts of the world.
The silk of these sarees is durable, soft and pure. It is highly popular among Indian women and has a golden-brown texture, which is its special trait. You have to take care of the fabric and get it cleaned with care. However, it is among a few types of sarees that will make you look elegant with minimal effort.
5Tussar Silk
Sareeka.com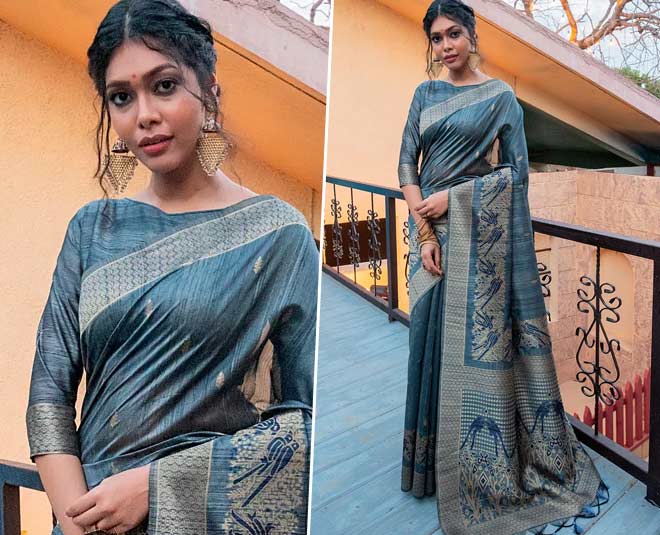 Consisting of short fibres, Tussar silk sarees are famous all over India. The fabric is prepared using several species of silkworms. What is the cost of a Tussar silk saree? It has a high value in the market because of its natural weaving, rich texture and deep golden colour. India, Sri Lanka, Japan and China produce the Tussar silk fabric.
In India, tribals are involved in a large number of its production. It is produced in West Bengal, Madhya Pradesh, Jharkhand, Chattisgarh and Bihar. You can wear this handloom saree to a wedding or an upscale event.
6Patan Patola Sarees
SurfnSwipe
Patan Patola sarees have originated from Patan, Gujarat. Their high price has restricted their use to aristocratic, rich and royal families in the state and around the country. The weaving of these sarees is done in Patan, Ahmedabad and Surat.
Why are Patan Patola sarees famous? These sarees are famous for geometric style prints and vibrant patterns. It takes somewhere between six months to one year to prepare one saree. The dyeing process includes colouring every single strand of the saree before weaving everything together.
7Madhubani Sarees
Weavers India
Where did Madhubani art originated? From the state of Bihar, Madhubani sarees have become popular among Indian women. Its signature feature is the folk art prints on the fabric. In the past, the design included motifs like the moon, sun, peacocks, trees, parrot, turtle, etc.
The artisans use block prints on the fabric to make remarks on the entire saree. The design has a sharp finish, and miniature paintings add elegance to the piece. You can pair them with oxidised jewellery to complete the stylish look.
8Ikat Sarees
Tjori
Ikat sarees are prepared by dying cotton or silk fabrics in colourful patterns. Where are Ikat sarees from? Orissa is widely famous for this kind of saree. The threads are dyed before weaving and finishing the saree. This technique is famous in South America, South-East Asia, West Africa and Central Asia.
The traditional patterns on Ikat sarees include flowers, plants and the bark of trees. Meher community of the state is widely indulged in the making of these handwoven sarees, and the style is prevalent among women of Gujarat, Orissa and Andhra Pradesh.
9Kota Doria Sarees
The Loom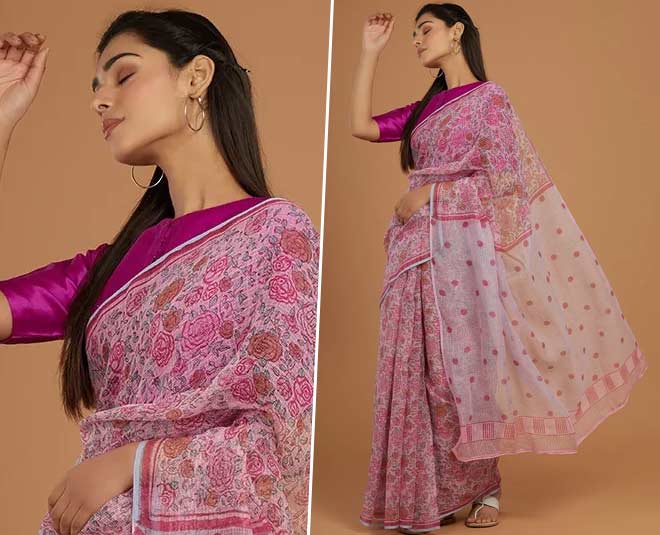 Originating from Mysore, the Kota Doria saree is a piece of elegance and grace. White and beige colours are the most common hues in which the six-yard fabric is available in the markets. Is Kota Doria pure cotton? Initially, the sarees were available in cotton fabric only; however, these days, silk is also used in weaving to enhance the appearance.
The three different styles of Kota Doria saree includes printed basic and zari. Therefore, it is a versatile choice for a casual or plush event. In recent years, block printing is also used to create eye-catching patterns on the fabrics.
10Ilkal Sarees
Utsav Fashion
The name Ilkal is derived from the Bagalkot district in Karnataka. Why are Ilkal sarees famous? The saree uses cotton fabric for the wrapping part and silk fabric to create chic borders. It also uses art silk or pure silk wrap for the pallu part of the saree.
Its distinct feature includes creating a joint between the body and pallu wrap as if the two parts have been created from the same fabric. The traditional colours in which the saree is available are parrot green, peacock green and pomegranate red.