We all know that weddings are an expensive affair. Many people dream of lavish marriages for which they start saving from years. But if you are on a budget, and still want to have a grand wedding, you can plan smartly and save a lot of money.
After the wedding venue, the most expensive part of a wedding happens to be the bridal couture and jewellery. Girls dream about their D-day appearance for years if not months. You can complete all your wishes on a budget if you rent your wedding jewellery.
It is an easy way to get the trendiest pieces without spending oodles of money. Especially if you are someone who doesn't wear ornaments that often and knows your wedding jewels will remain packed in your closet, this is a great option for you. Read on to know the tips and benefits of renting bridal jewellery.
Benefits Of Renting Bridal Jewellery

You Can Save Money & Buy Jewellery May Wear Daily
Wedding jewellery are every bit gorgeous, but can they be sported daily? No! The marriage ceremonies are hardly three-day-affair. If you are on a budget, it might not make sense to spend lakhs on things that you just wear occasionally. Instead, spend the same money on buying earrings and finger rings that you may carry daily. You can get rented pieces starting for Rs 20,000 to Rs 1 Lakh.
You Will Get The Trendiest Options
It often happens that things we like are mostly not in our budget. Hence, we settle for things that are under budget, even though we don't like them much. If you are renting pieces of jewellery, you can pick anything and everything. This is because you will anyway remain in budget, as renting is cheaper than buying.
Where To Rent Bridal Jewelleries From?

This is one of the most commonly asked questions. Renting jewellery is extremely easy and you can get it from several places. Many bridal beauty salons give wedding and jewellery on rent. However, they may lack variety. You can also check out retail stores. You can go to the store, try the pieces and book your favourite jewellery for your wedding day. Another option is booking bridal jewellery on rent online. However, don't keep this a last-minute option. Order the jewellery in advance to avoid mishaps.
Tips For Renting Bridal Jewellery?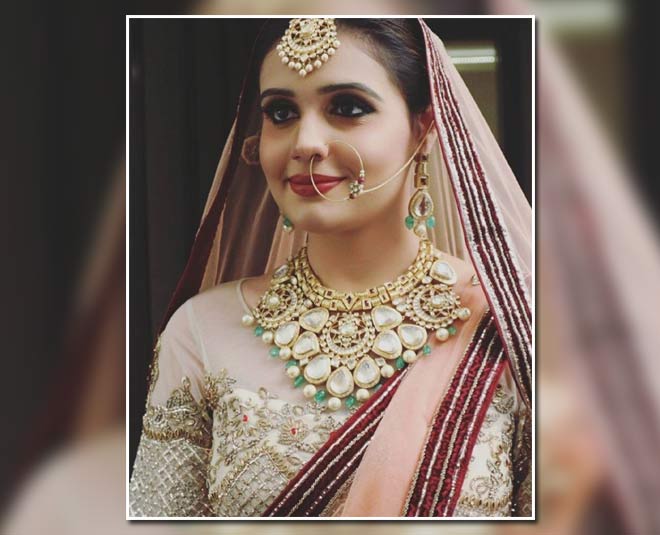 Don't Just Go For Design, Also Check Durability
Yes, we know your top priority is the design of the jewellery. But, if you don't want to get embarrassed on your big day don't forget to check the durability of the jewellery. Make sure that the hooks and chains of the earrings and necklaces are not broken. There are backing of the earrings in both the pieces and see closely if any studs of the ornaments are not missing.
Don't Forget To Bargain
If you are renting from an offline store, do ask for discounts. Remember that these are used items, on which depreciation can be charged. So, do bargain and save money.
Don't Miss: Expert Reveals Top Bridal Jewellery Trends You Must Follow In 2021
Return On Time & Don't Damage The Pieces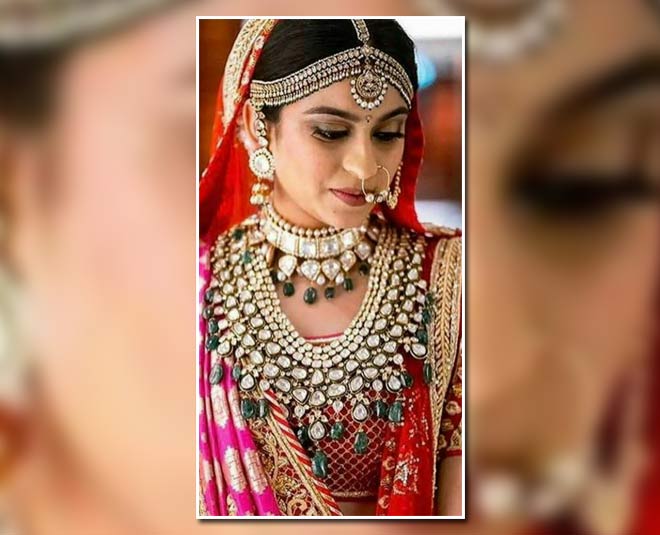 Returning the jewellery on time is essential. However, some brides forget it as they get busy with their new lives. So, take the help of any of your bridesmaid (bridesmaid dresses from Anita Dongre's latest collection). Allot her the duty to return the pieces of jewellery. Also, be very careful with the pieces that are not broken. Otherwise, you might end up paying for the ornaments you rented.
Don't Miss: Here Are Some Cross-Cultural Bridal Jewellery To Make Fashion Statement At Mixed Marriages
Do let us know about your experience of renting your bridal jewellery by commenting on our Facebook page. Stay tuned to HerZindagi for more such stories.