All women have bras in their lingerie collection, be it padded, laced, underwired, or sports. But the new thing we have started investing in or considering, are bralettes. But what is confusing for many is the difference between the two. So here is a low down on what the two are and how are they different.
Structure Difference
Bralettes are very different in structure and even design. They have soft cups and are never wired. Bras are the opposite as they generally have wires and come with a structure as per type. Bralettes are more about the design and their appearance. Bras are about support and mostly worn under the garments unlike bralettes which are either peekaboos or shown off. The latter is worn for aesthetic purposes or simply just comfort.
Material
Bralettes and bras come in different materials today. The fabric can be cotton, lace, silk or satin. Bras however have a technology-induced in them as they are more for the support and they cannot have a toxic element in them. Bralettes can be made of unconventional materials as they are more about the show. They are available in a variety of textures and have exotic designs as well.
Lining
Bras have cup sizes and paddings which range from soft to thick including push-ups. They help in the shaping and add volume. Bralettes, on the other hand, have strategic linings which are generally for design purpose.
Don't Miss: Tips To Buy The Right Lingerie For Best Comfort
Variety of Styles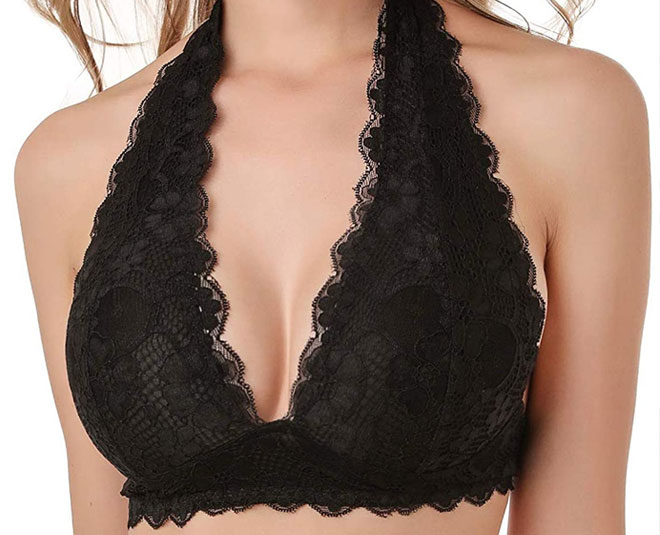 This topic is a rather debatable one and the list can be extensive for some. Both come in many styles and countless materials.
Bra Styles
Balconette
Strapless
T-shirt
Plunge
Push-up
Bandeau
Stick-on
Maternity
Minimiser
Sports bra
Bralette Styles
Longline
Racerback
High Neck
Strappy
Halter
Triangle
So pick your style and keep the comfort factor in mind. Invest in good lingerie as it clings to you like second skin.
Stay tuned to HerZindagi for more on lingerie and comparisons for a clearer picture.