Red is one of the most basic colours that there is. Though it is not new in the fashion world like pastel colours, it never gets old. Be it dressing up for a traditional function or opting for a sultry look, red is the go-to. We get it, the craze behind black colour has been growing unconditionally. People have even started saying, "black is the new red". To all those people, please work on your fashion sense because no matter how good the colour black is, red is always going to be the new red. The colour is so versatile, it can never get old. Can you wear black at your wedding? Well, you can wear red! Coming up with counter-arguments of how black is the perfect colour for party wear? While everyone is flaunting the same old black, the person who walks in a hot red colour will not only stand out but even overshadow many people at the party! Still not convinced about the prominence of red colour in the fashion world? Here are a few actresses that wore red and left several jaws dropped!
Aishwarya Rai Bachchan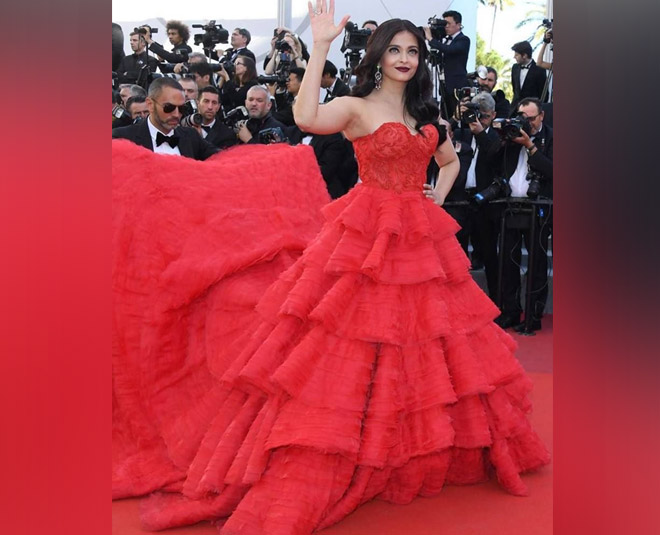 Image Credit: i.pinimg
From wearing red while dancing for 'Dola re Dola' to flaunting a red dress at the Cannes 2017, this actress has always been faithful to red. Wearing a dress like this in any other colour would have made her look like a princess, and gowns in black are overdone. The red gown is giving her the perfect combination of hot and beautiful. The combination of the gown with dark red lipstick needs no other elaborate makeup. That is the beauty of this colour, you do not need anything else to make it work. Now you know what you have to wear if you are going to any prom or evening party where you are expected to wear gowns!
Kareena Kapoor Khan
A colour that Bebo validates, is the colour that we can blindly wear, and rest assured that we are very much adhering to the fashion trends. Kareena Kapoor has worn red on several occasions, her movies and her own wedding! She flaunts the colour red like no one and the hot red lipstick that she pairs along with most of her outfits, complements all her pout poses. Next time you wear the colour red and someone says you look too 'extra', what they really mean is that you look like our fashion queen Bebo who is unapologetically stylish(have a look at more red outfits of Kareena Kapoor)!
Sonam Kapoor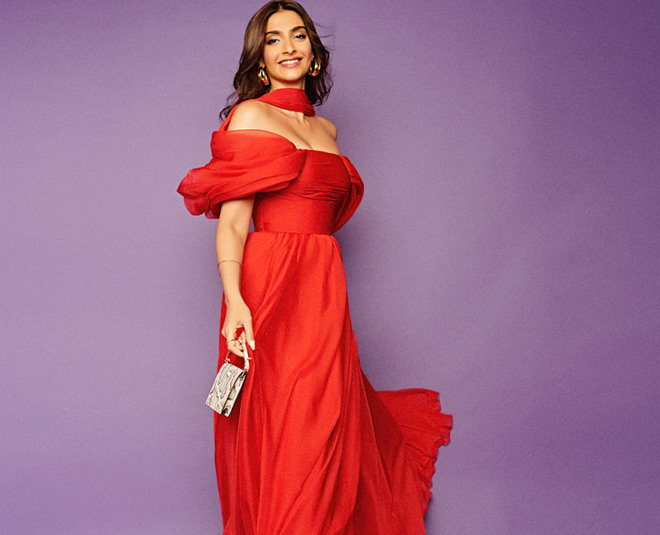 Image Credit: redcarpet-fashionawards
Always at the top of her fashion game, Sonam Kapoor validates the colour red like no one! In fact, the actress wore only red outfits for the promotion of one of her movies 'The Zoya Factor'. If an actress like Sonam Kapoor who only believes in making and breaking trends chooses to wear a colour repeatedly, there sure must be something about the colour that never makes it look overworn and boring. So, if you have too many red outfits in your closet, you are not monotonous you are just more like our fashionista Sonam Kapoor.
Check Out Some Red Wedding Outfits- Feel Like Wearing Red This Wedding Season? Here Are 5 Best Red Suit Sets Donned By Bollywood Divas
Alia Bhatt
Image Credit: i.pinimg
If you doubt the magic of the colour red, look at it this way. The actress who looks cute no matter what she wears manages to look hot in the colour red! The baby face and innocent-eyed actress Alia Bhatt can look absolutely stunning and fierce in the colour red. If you are one with a babyface, you know which colour you should immediately switch to!
More Actresses Flaunt Red- Sara Ali Khan To Katrina Kaif, Bollywood Actresses Show You How To Carry Red This Wedding Season
Rekha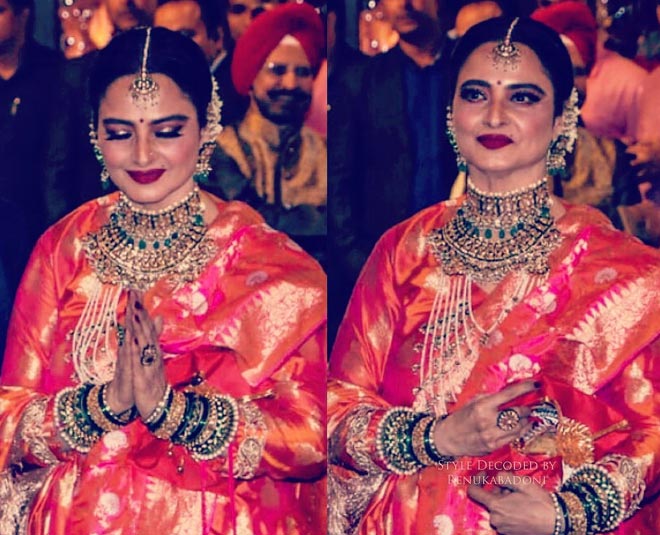 Image Credit: pbs.twimg
All hail the queen because we have a winner! This is for all of you who feel you are 'too old' to wear red and 'what will people say?', please take some inspiration from Rekha. This actress not only turns up at award functions with the gaudiest sarees but has a special liking for the colour red! She does not shy away from red lipsticks and red sarees! Rekha is all about fearlessly living life and she chooses the colour red to do it, guess we know what the colour is a metaphor for!
We hope you liked this article and are soon going to indulge more in the power of red because apart from the actresses mentioned above, actresses like Kiara Advani, Sara Ali Khan, Katrina Kaif have all flaunted red!! Stay tuned to Her Zindagi for more such content!