Bipasha Basu and Karan Singh Grover are currently chilling in Maldives and we just can't get over their amazing pictures on Instagram. The two set off on the vacation in order to celebrate Karan's birthday and they definitely are rocking their vacations to the fullest.
Bipasha has been a stunner and her movies are testimony to but after she took a break from Bollywood, we definitely get to see her enjoying her life with her hubby and spending quality time with him.
But as it goes, 'Once a fashionista, always a fashionista', and one thing is very clear, we can't stop drooling over her impeccable vacation outfits. So, we thought of breaking the looks down for you so that you can take the inspiration you need for your vacation from Bipasha's incredible outfits.
The Green Bodysuit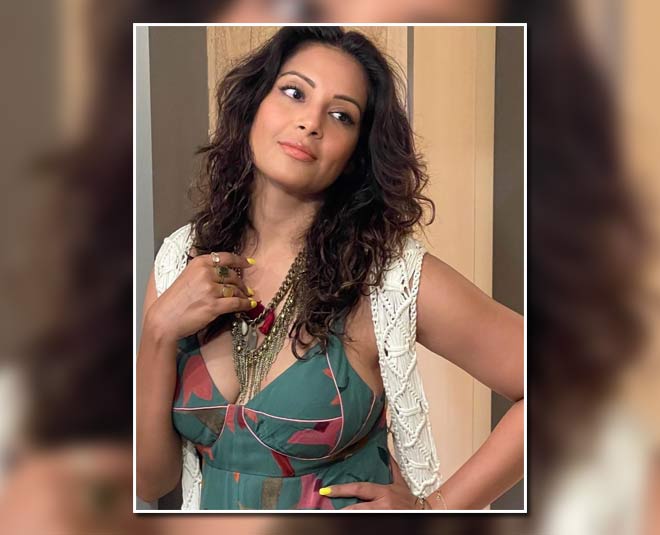 In the first look, Bipasha Basu looks like a classic boho girl with a dark green bodysuit that features pink and maroon abstract prints. Further, the outfit has been paired up with a knit shrug in the white colour and has been styled with multi-layers of neckpieces in the shade of dull gold. The neckpieces also have red tassels to go with the outfit. For the makeup, Bipasha is seen wearing a light peach lipstick with a nude-toned makeup look. Her hair has been left in curls naturally. Moreover, she is also seen styling the outfit with a lot of rings and yellow nail paint. You can also customize this look by layering your bodysuit with a black shrug and tie a waist belt around it.
Blue Green Beach Dress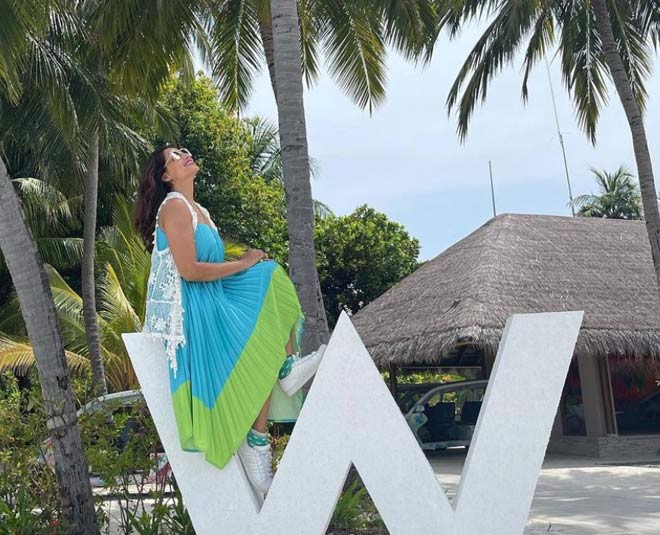 Another beachy fresh look that we saw on her profile was this one where she is seen wearing a sky blue and green midi dress, paired up with a white knit shrug. She has taken the look even further by styling it with white goggles, red makeup looks and matching socks with white sneakers. This is a very pleasant outfit and similarly, you can also wear a loose maxi dress and pair it with matching accessories to make yourself look perfect.
Printed Off-White Shirt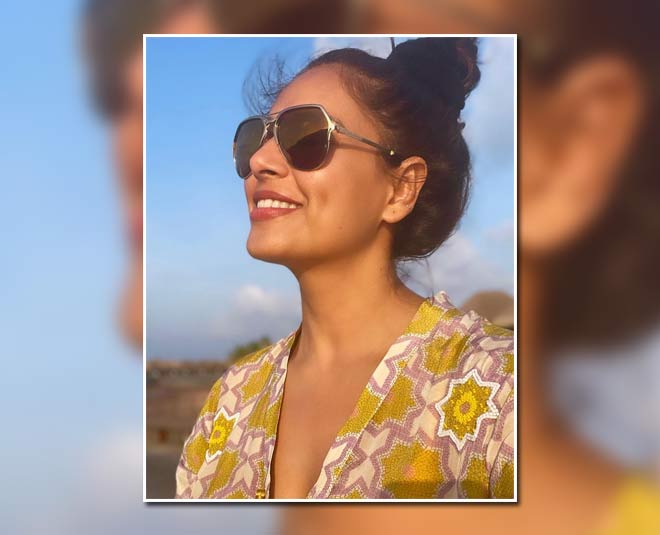 In yet another look, we can see the vacation glow on Bipasha's face. Here she is seen wearing an off-white shirt that features prints of green, yellow and purple. The shirt is designed with minimal collars and Bipasha has opted for a natural makeup look with pink lipstick and black pair of sunglasses. To complete the look Bipasha has tied her hair up in a bun. You can pair this shirt up with denim flared jeans, a lose straight pant in the shade off-white or with your favourite shorts.
Fruity Print Bodysuit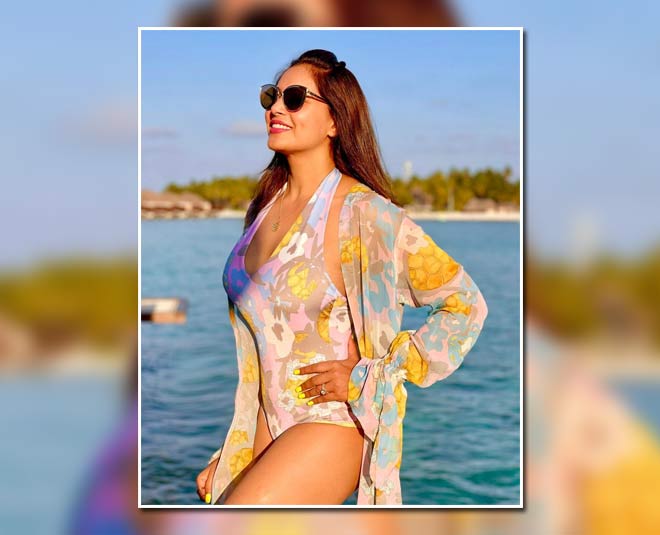 This look is absolutely the best out of all. The beautiful bodysuit that is paired up with a matching flowy shrug is designed with abstract fruity patterns that resonate perfectly with the beach vibe. To go with the look, Bipasha has meticulously done her makeup in light pink tones with a natural pink lip colour. She has also worn a cat-eye frame black sunshade and done her hair in a straight style. Such looks can go very well with kaftans(celeb-inspired kaftans to have) and you should definitely try one for yourself.
Don't miss: Bipasha Basu Shares Her Secret 3-Ingredient Homemade Face Pack Recipe For Beautiful Skin
Yellow Bodysuit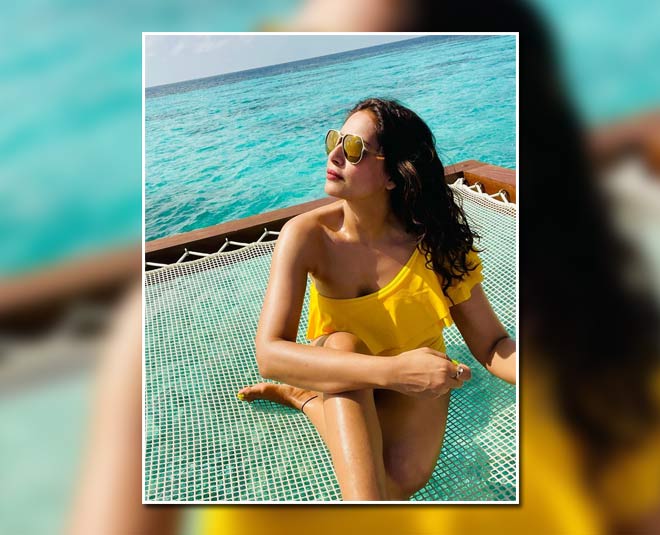 Last but not the least, this yellow one-shoulder bodysuit with ruffles is just the pop you need. The yellow bodysuit is perfect as it contrasts with the turquoise waters of the beach and makes you look super trendy. To style this look Bipasha has opted for a curly hairdo, natural pink-toned makeup look and added a yellow reflector frame to match the outfit. When donning bright outfits one should keep in mind to accessorize minimally. This will enhance your outfit and will make you look very cool.
Don't miss: Planning A Trip To Maldives Like Bipasha Basu And Karan Singh Grover? Here Are Things You Need To Know
If you liked reading this article then stay tuned to Her Zindagi for more articles like this.
(Image Courtesy: Instagram Bipasha Basu Singh Grover)