How To Choose Colours Of Saree According To Your Skin Tone
We have got the styling tips to choose a saree colour according to the dusky, wheatish, dark and fair skin tones of women. Read on!
Are you planning to buy a saree but confused about the colour that would blend impeccably with your skin tone? Well! This article will help you choose a perfect saree according to your complexion. Let's start!
Best Saree Colours For Dusky Skin Tone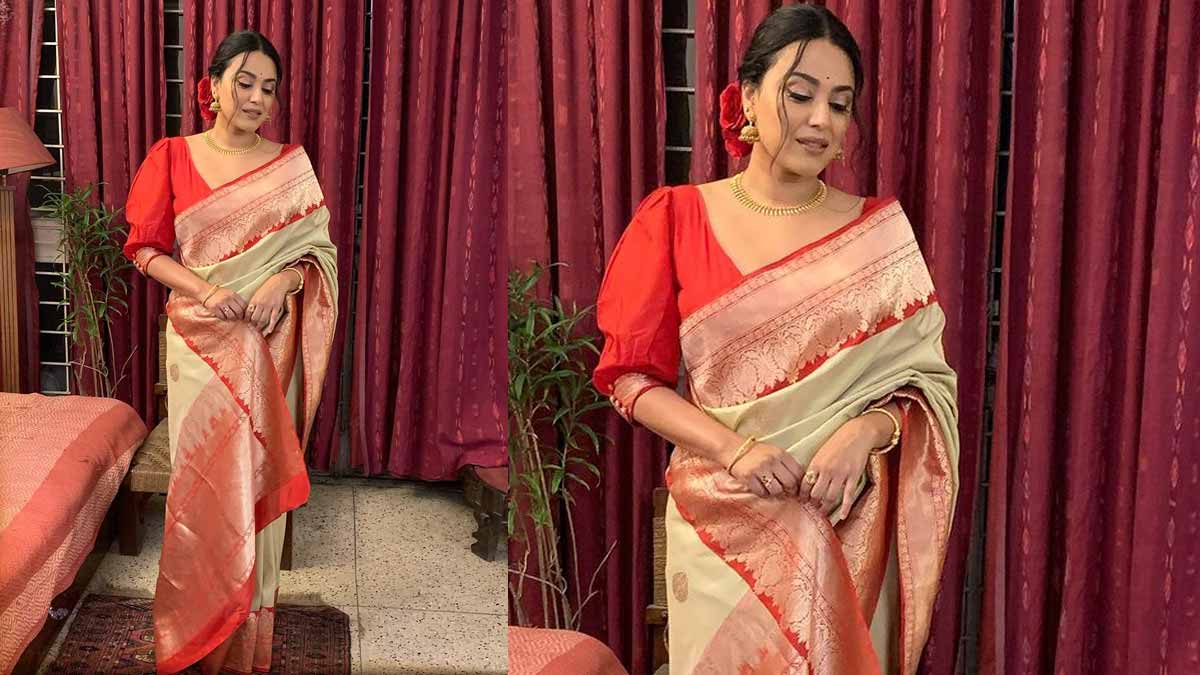 Image Courtesy: Swara Bhaskar/Instagram
The dusky complexion is one of the most common skin tones among Indian women. If you boast a skin tone similar to Priyanka Chopra Jonas or Swara Bhaskar, they are the perfect diva you must look up to when buying a saree.
Most of us think that dusky or brown skin tone does not blend with light or dark colours. And we end up filling our closet with a few colours. Instead, a dusky complexion can don several colours and tones of a saree or any other couture.
Which Colours Are Best For The Dusky Skin Tone?
A few colours that you must try include carrot red, orange, brick red, peach, bottle green, olive green, maroon, orange, mustard, mint green, sky blue and baby pink. Shades of blue, green and pink are perfect to try when draping a saree for a special occasion. These colours will surely make you stand out among your peers.
What Not To Do?
Women with dusky skin tones must avoid metallic shades. Not totally discard them but ensure that the colour does not make you look pale or duskier than before.
Brown women must also avoid neon colours as those hues do not make you pop. Instead, such tones can make you look dark.
Be safe when trying black and white. Women with dusky skin colour must experiment with the black and white contrast and patterns before making a purchase.
Best Saree Colours For Dark Skin Tone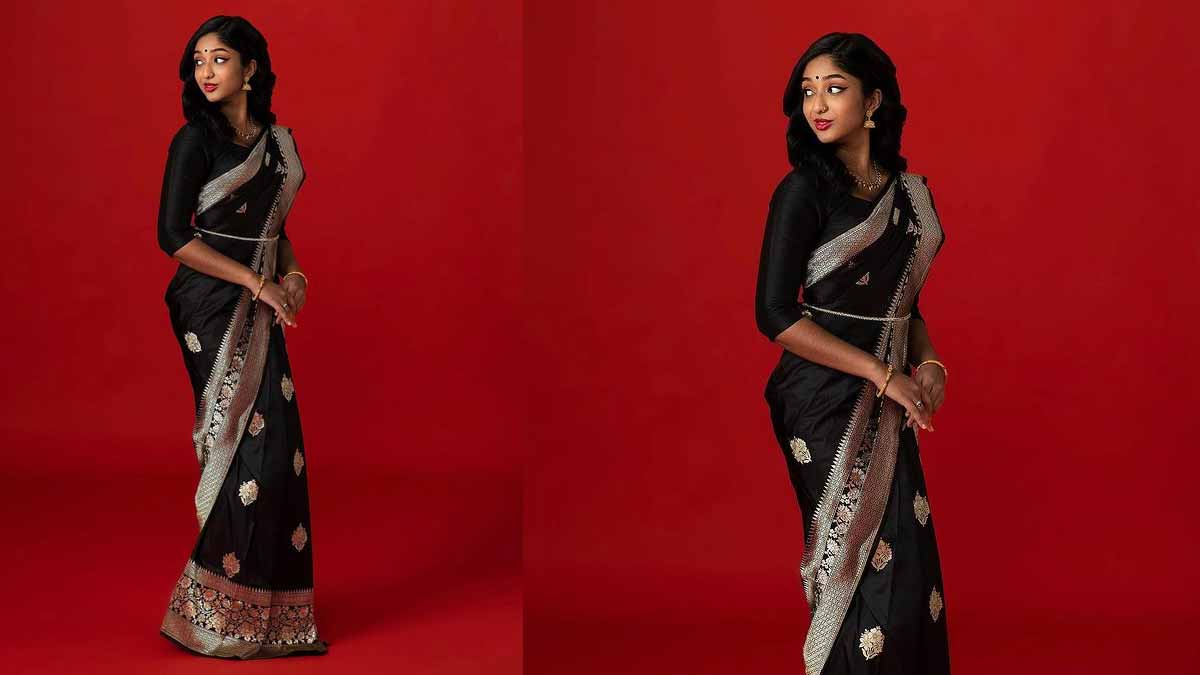 Image Courtesy: Maitreyi Ramakrishnan/Instagram
Do you remember Frieda Pinto or Maitreyi Ramakrishnan? The gorgeous ladies boast a dark skin tone. If you have a similar complexion, then we have got the tips for you to choose the best saree for any occasion.
You need colours that do not blend with your complexion but make your flawless colour pop. Instead of choosing hues that match your skin tone, you must try bright and pastel shades. You can also experiment with khadi.
Which Colours Are Best For The Dark Skin Tone?
The colours that women with dark skin tones can try include grey, green, royal blue, teal green, mauve, golden, maroon, sea green, magenta, beige and cream colour. Black is one of the few colours that will accentuate your features and curves. You can wear it for a gathering or an official event.
What Not To Do?
You must avoid wearing white colour. It almost works like neon and hides the grace of your complexion.
You must also avoid wearing a saree in blended or light shades of brown and grey colours. Such shades blend with your skin tone.
Women with dark complexion must also avoid darker or pale hues.
Best Saree Colours For Wheatish Skin Tone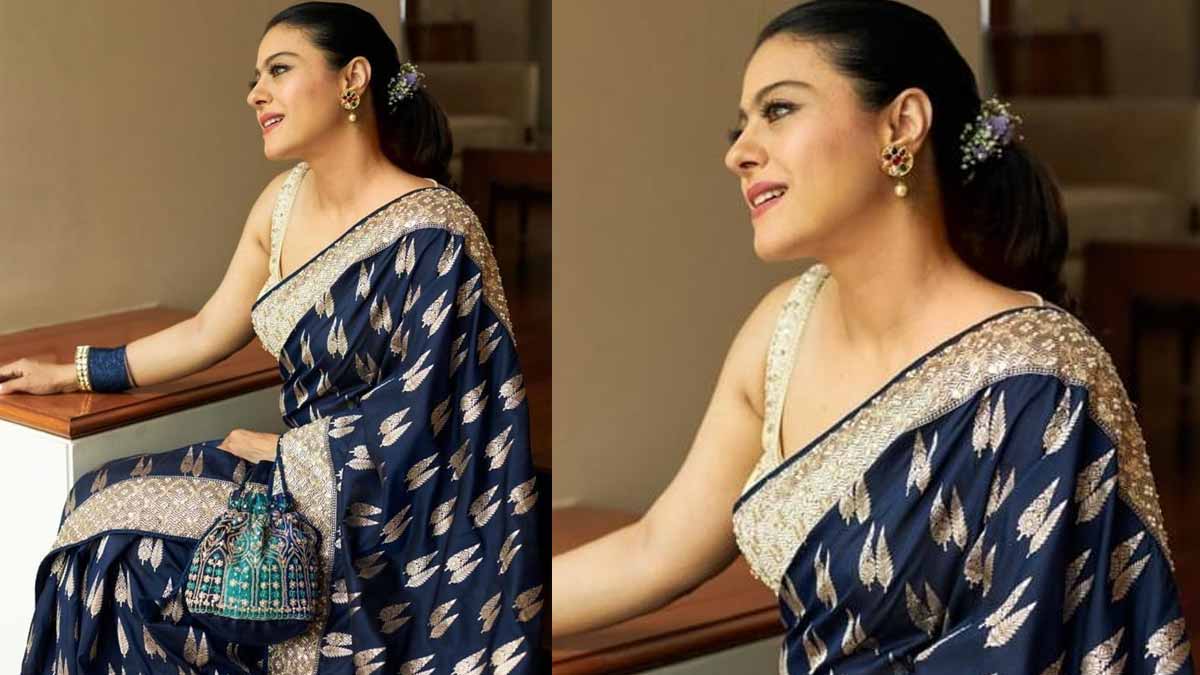 Image Courtesy: Kajol Devgan/Instagram
Wheatish skin tone refers to women with a light brown complexion. It could also be a little mix of yellow with brown. Many women in Northern, Western, South-East and South-West India have this colour.
You can take saree style inspirations from Genelia Deshmukh, Janhvi Kapoor and Kajol Devgan. Women with light brown complexion can try neon colours and metallic shades. Such colours will help to accentuate your features and make you go from simple to wow in a moment.
Which Colours Are Best For The Wheatish Skin Tone?
Women with wheatish skin tone must try tangerine, pink, maroon, mustard, white, fuchsia, cobalt blue, emerald green, magenta and sky blue. The shades of blue work wonder for women with light brown complexion.
Don't Miss: Choose Saree According To Your Body Type
What Not To Do?
You must avoid camel, orange and peach shades. Pale colours will make you look tired.
You must also wear brown, beige and black after trying them on. If any of the hues bring your complexion down or make you look pale, you must avoid them.
Not all shades of grey are meant for women with wheatish skin tone.
Best Saree Colours For Fair Skin Tone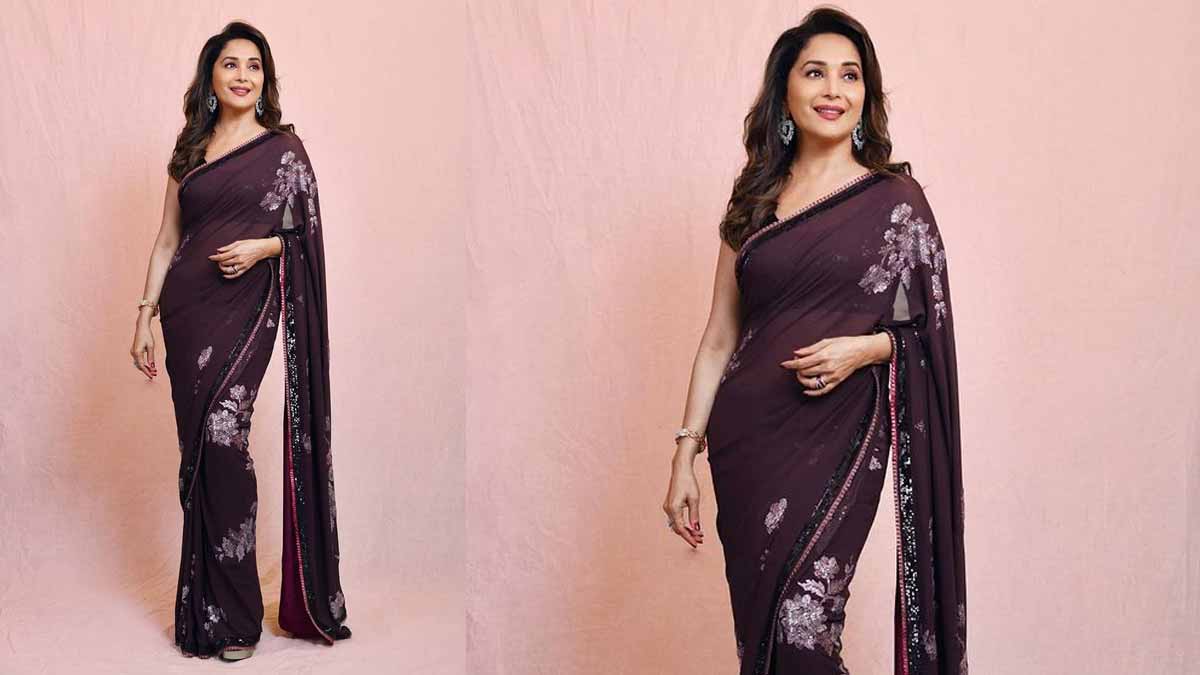 Image Courtesy: Madhuri Dixit/Instagram
If you are fair like Alia Bhatt, Kiara Advani and Madhuri Dixit, you have got to follow these ladies on social media to get tips for styling a saree. Warm tones go perfectly with this complexion.
Beige and tan colours will blend impeccably with your personality. You can experiment with dark and light colours and see which colour can accentuate your features.
Which Colours Are Best For The Fair Skin Tone?
The top colours that women with fair must try for saree include yellow, dark grey, maroon, green, brown, light pink, red, turquoise, brown, peach, blue and lavender. Wine and royal blue colours will highlight the complexion of your skin. You can try these shades for weddings and other parties.
Don't Miss: Saree Draping Tips For Short Women
What Not To Do?
Women with fair complexion must avoid sarees in neon colours as they can make them look pale, lethargic and tired.
Also, avoid colours that add to the brightness of your complexion. They could make you look white in images.
Stay tuned with HerZindagi for more styling tips!