Here's Everything You Need To Know About Plus-Size Fashion
While the fashion industry has also started celebrating body diversity, it's a must that we know about plus-size apparel, its sizes, availability, and cost. Check it out!
With increasing awareness about body diversity, the plus-size clothing has now turned out to be one of the fastest-growing segments in the apparel industry. For some reason, everyone including the fashion industry kept neglecting the plus size girls for years. Walking in shopping malls and stores to buy a piece of clothing seemed impossible because there was nothing for plus-size women. Sadly, the last resort used to be the men section.
Where earlier there were hardly any options, currently at least some retailers and designers have launched stores and websites specifically for girls who have a larger body than an average person. While for general people the specific term for plus size divas can vary from country to country, in the fashion industry, the over-size is defined as any model who wears sizes 18 or over, according to PLUS Model Magazine.
Who All Can Wear Plus-Size Clothes?
In a country where the fashion and film industry is constantly portraying thinness as beauty, it can be hard for girls to understand the concept of plus-size. So, let's get into the bottom of this. If you wear large clothes, that is US size 12 and above, then you come under the category of the plus size women. Wondering what is US size 12? It means that you have a chest or bust that measures 46 inches and shoulders around 18.5 inches. The oversized apparel's waistband is made in a way that it fits any size.
Where To Find Plus-Size Clothes?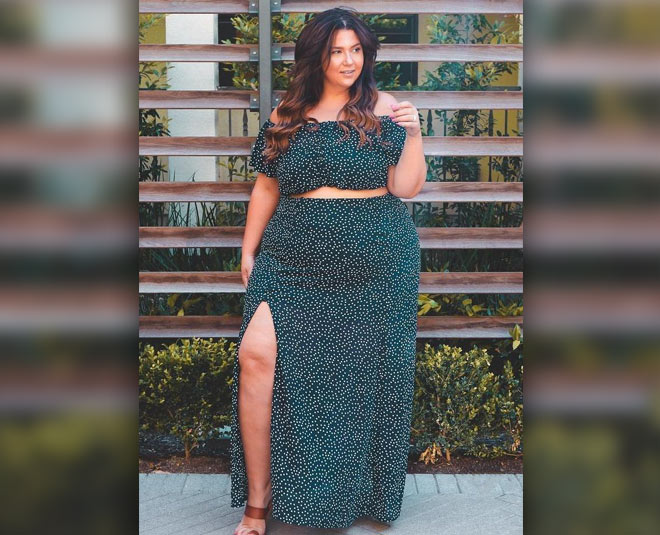 No, you don't only need to wear baggy plain tees and trousers, there are stores in India too that want you to accentuate your curves. While brands like Forever 21, H&M, Pantaloons, Shein, Lime Road, Amydus, and Lifestyle, etc have a good range of fashionable dresses, there are also local stores that can help you find day-to-day cute clothes. Nowadays, even stores are offering a considerable variety of bridal lehengas and dresses.
Is Plus-Size fashion Expensive?
Unfortunately yes! Some brands charge you more for buying XXL size. This happens not only in retail stores but also on websites. Over the years a lot of women internationally questioned this faulty practise on social media. While they received reverts, such as plus size clothes take more fabric, etc, none of them felt reasonable or valid enough. Haven't we seen brands who don't charge men extra for buying plus size clothes?
Don't Miss: Catch The Plus Size Collection At LFW With Delnaaz Irani As Showstopper! We Couldn't Be More Elated!
Don't Miss: Pick The Right Swimming Suit As Per Your Body Type With These Tips
Why Is Plus-Size Fashion Important?
As per the media reports, the plus-size segment summed for around $5-6 billion markets by 2020, so there is no possible way this segment can go unnoticed. With the growth of e-commerce, the awareness and demand for plus-size apparel have increased gradually. During an interview, the Sr. Vice President (Marketing) of Lifestyle International emphasised on the importance of the plus-size segment and said, "The plus-size fashion segment has immense potential but is currently under-serviced. Our plus-size brand Nexus addresses the growing segment and offers contemporary fashion choices. The collection is trendy, globally inspired and embodies our belief that real fashion is not limited by size."
Recommended Video