Neena Gupta is not just a brilliant actress, but also a fashion icon with great looks and a healthy body. She never fails to prove that she a mother of an ace fashion designer, Masaba Gupta. Check out her fashion statements ranging from her saree look to her airport look and more.
This "Badhaai Ho" actress hit 60 last month and we were shocked! Her attitude is so down to earth, she is uber chic and so cool that now we understand what makes fashion designer and her daughter Masaba Gupta so chilled out! The daughter gets it from her mom in every sense.
Neena Gupta impressed cinema lovers with "Woh Chokri" in 1994 and also won a National Award, and then what made her a household name was her powerful performance in an equally powerful TV show "Saans", which broke a lot of barriers as well. I really hope that era comes back when we did such open-minded shows and movies and turn the time around, ditching the regressive 'chudail' and whatnot shows gaining TRP's off late, but again this is another debate altogether so let's go back to Neena.
So, before we dive into her looks that I am sure will influence you to help upgrade your mother's looks as well in some or the other way, here is a cute video of Neena singing & dancing.
View this post on Instagram
Isn't she adorable? Now that you have a smile on your face, we plan on widening your eyes with a wow factor as well. Here you go.
Don't Miss: Pair Pastels With Pastels, Try Ombre, Mix N Match Your Wardrobe With These Tips For A New You
London Bar Gets Colourful
In a strappy, deep neck orange blouse and the orange saree with a pink border is a refreshing sight caught in a London Bar!
Neena In Chiffon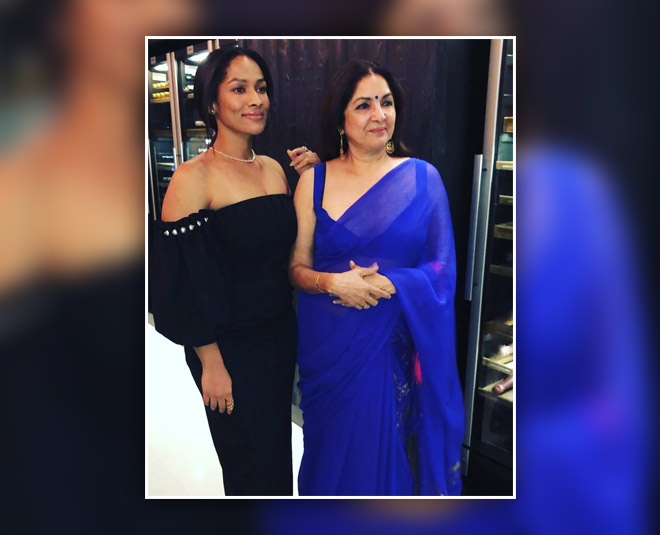 Damn, she looks hot! She looks so nice in this monochrome blue chiffon saree with a strappy blouse and deep neck! You can look like this as well if you have the right kind of attitude. What is refreshing is that she is just wearing simple earrings, blue bindi with some kohl and that is it. Nothing on the neck. If you have distracting collar bones and are confident with your neckline then go ahead with this look.
White Shirt
Uber chic is the word! She looks amazing in this white outfit which is a long shirt dress teamed with a white cotton lower. What we love are the interesting sleeves. She looks elegant with that golden choker and golden studs and just a small clutch to go with it. For her hair it's simple and straight.
Don't Miss: Karisma Kapoor: Learn How To Ooze Glamour In Silk Ensembles From The Actress
Floral Monsoon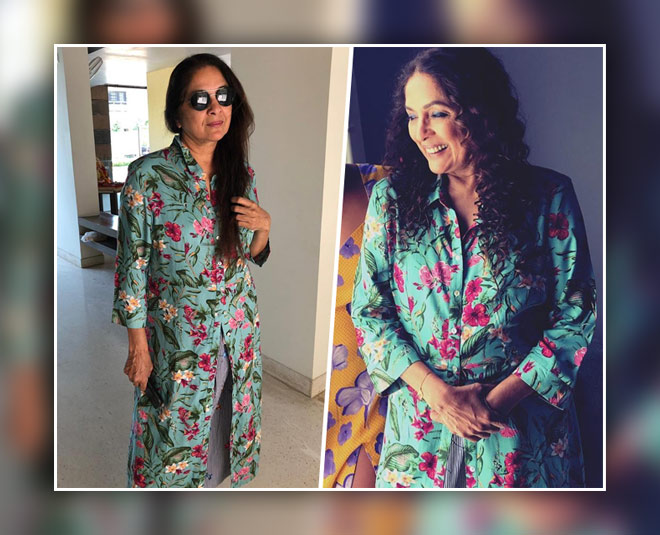 She looks amazing in this floral kurta doesn' she? The kurta with slits looks beautiful on her as the colour play is in sync with the monsoon season. The sea blue background shade is super soothing to the eyes. After getting ready... she wore this for a shoot which also features Masaba... her hair looks so nice. All curled and left open. With not much accessory, Neena has her eyes done, which basically is all about her matching blue eyeliner.
Neena's Airport Look
Now, this is what I call STYLE! If you have the confidence, you can slay whatever you wear. Checkout Neena in these military green shots and t-shirt. How to amp up this casual as an airport look? Learn the art from Neena. Her golden hoops, bracelet, watch and that plush bag and those round sunglasses say it all. She has worn white sports shoes which are comfortable especially when you are travelling and then they also look good.
Slay That Halter
Yes, it is possible and you can do it too. Wear a halter blouse in the same print as Neena has. Her accessories here are a contrast pink bindi, her few rings and your dangles. You do not need anything for your neck here.
Neena In Shirt Dress
Slay a shirt dress like her. You just need to have toned body like her or the confidence to pull it off. Pair your white sneakers with it and leave your hair open. Voila!
Contrast Saree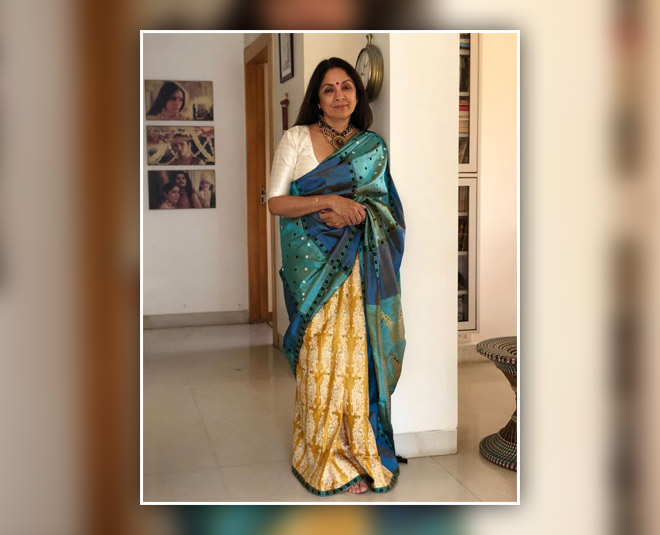 This look of Neena's is ethnic of course but it stands out as she sporting a contrast saree. The blouse has been kept simple -- a plain white short sleeves blouse. Her accessories yes here includes a necklace with many layers and a bindi. I think she loves her bindis whenever she goes for ethnic... what about you?