Love silver? Love silver earrings? Wear nose pins? Looking for amazing designs say... something hatke? Well I too am one junkie and have been able to collect some beautiful pieces from different places in Delhi. No none of them bargain as it is real pure silver jewellery we are talking about, but if you are smart, there is no written MRP remember? Also check the rate of silver before you go shopping. I will start with my favourite here:
Dariba Kalan Market

Chandni chowk is one world you cannot get enough of. It is not just a hub of some amazing, delectable heritage food but also home to markets that are dedicated to weddings, clothes and most importantly, jewellery. There is a whole lane which stretches for quite a bit and has only silver jewellery, called Dariba Kalan. Shop owners have been selling their antique pieces here since decades and the price range is very affordable.


They have everything for everyone which includes daily wear pieces, heavu stuff, bridal stuff and oh the options drive you mad! You get your hand painted jewellery there aand you even get the simplest of anklets which look oh so sexy on pedicured feet. You can even make your owwn necklaces by buying the beads and pendants and give it to the 'pirone waala bhaiya' who sit right outside some shops. You will see them when you get there. Okay I will give you two more reasons to go there if this was not enough: You will find the daulat ki chaat waala there as well as a namkeen shop which sells everything including banana chips and they are delicious. You also get lassi and lemon drinks in between the crazy shops. So it is a win win situation here!
Siloffer- Greater Kailash


If you are a Delhi girl, Siloffer in GK-1 M Block market is one store you are well aware of! This store is amongst the first ones which became a rage in the capital for nose pins. They are still very famous but I kind of find them over priced. However, the options here are nice too. You get your ear, naval and nose piercings jewellery and the necklaces here are impressive. If you do not want the crowd and want a simple place to go to then this is the one for you.
Don't Miss: Unravel The Indian Diva In You With These Nose Pins
BG's

These guys have amazing collection and their stores are not just in Delhi and NCR but in the whole country! This is a one-stop shop for all your jewellery needs. Be it imitation jewellery, silver jewellery, pearls or kundan sets, this store has something to offer everyone. You can walk around the store and try on what you like. No body will be hovering over you.
Janpath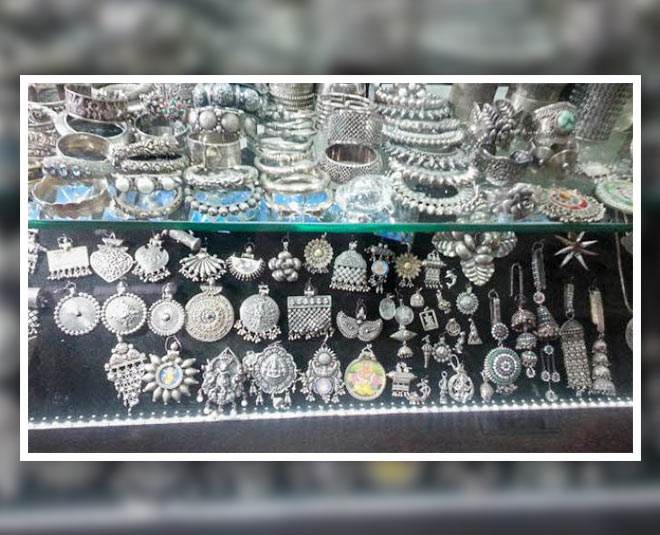 The street shopping in Janpath is something that should top your to-do-list while you are in Delhi. This place has everything from clothes to home decor to books to bags to jewellery be it junk jewellery or pure silver. And a plus point? They have momos and also the famous cold coffee at Depauls! The talent you need? BARGAIN! you got to do that a lot and really be aggressive. Certain things are at a fixed price which you cant bring down but rest... Go further ahead where you will find tribal stores. That is where you get the real silver. You need time to dig in there as there is a lot of stuff.
Paharganj

This is my favourite place but it does have limited options. This is where I get my nose pins. They are super cheap and have beautiful designs.