Who says that you can't style with your cute bump? Bump is the new trump of fashion today! So, eat healthy, look pretty and be happy mom-to-be, we are here for you with best maternity looks to pull off this winter season. Pregnancy is a beautiful gift which would be mother can adore about. According to the chartered psychologist and trained stylist, Dion Terrelonge, a dress affects our cognition and behaviour. It is said that maternity garments are required to accommodate changes in the body from the second trimester of pregnancy. Maternity clothing is mostly worn for comfort, not for camouflage.
Rajat Kapoor, Master Franchisee India, Seraphine told HerZindagi that mothers must avoid unnatural fabrics like synthetics, elastin, chiffon and georgette. "It may overdrive your hormones and you sweat more. Wearing these materials would be not a good choice, wear clean and comfy clothes during pregnancy, that perfect phase of your life. Bodily satisfaction, perception about the shape of your body, your physical appearance, evaluation, and orientation is necessary for your little one. Be proud of your body curves and smile with our fashion trends inside-out."
Here are a few looks listed by Rajat Kapoor that will help you make your maternity closet stylish yet comfortable.
Multi-Tiered Dress
Instead of wearing tight torso dresses in expected phase go for mid-length Blush lace maternity dress. It will keep you warm and elan your cute bump and prevent you from stretch marks to a certain extent. Multi-tiered dresses will not only help in loving your over-weight during this phase but also adds an eternal love for yourself. Grace yourself with floral lace!
Dungaree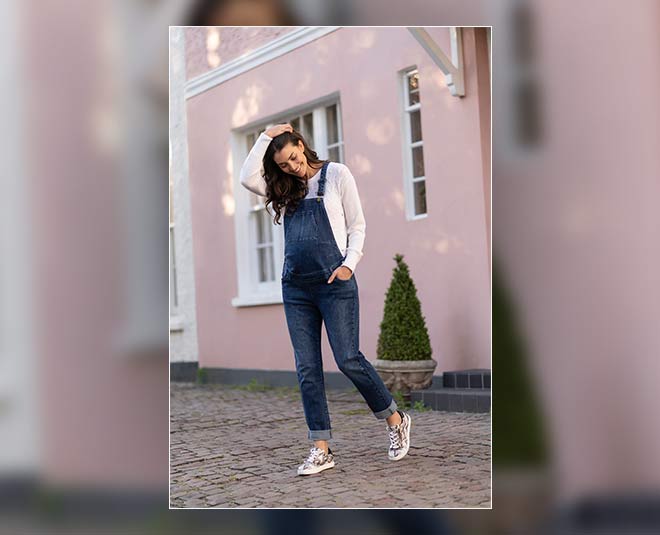 Which is that thing on which your comfort and style agree? It's a dungaree! Dungaree is a cool look with comfort for the bumpy belly and for breast-feeding as well. It provides additional support to your baby bump.
Woollen Accessories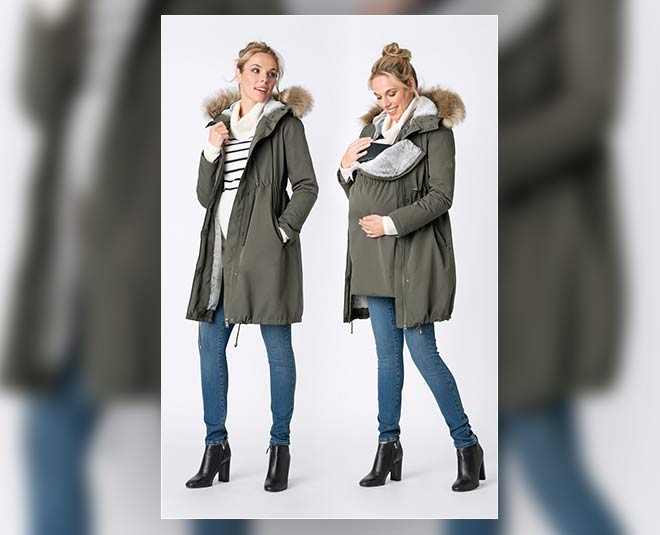 Style your bump with the warmth of woollens. Shearling boots which not only keep you warm and comfortable but also help in avoiding the mess of finding matching pair of socks from piles. A trio of a cellular knit shawl, cute cap and stylish gloves adds an astonishing star to your style.
Don't Miss: Pregnancy Fashion: Anita Hassanandani's Maternity Maxi Dresses Are Fashion Goal For Every Expecting Mom
Polka-Dot/ Stripes
Polka/ strips are never going old, the trend of all the seasons and days. This season also polka dots and stripes are in trend like forever! Colour your happy moments with colourful polka and strips. Race up heartbeats with your ravishing curvy looks!
Don't Miss: Mom-To-Be? Take Pregnancy Style Inspiration From Celebrity Mothers
Layering With Leggings
Empire belt cardigans along with shirt give stunning look. Cardigans are warm and by pairing it up with stretchable leggings are not only comfortable but also add a speculating charm to your pregnancy phase. Layering is no more boring!
Pregnancy is a beautiful phase and special phase of life, of which each moment is to be enjoyed and cherished to the fullest. This pandemic might make you lazy but remember these nine months or the pregnancy phase is a special one for you and your child, so don't stress just chill, relax and dress!
Stay tuned to HerZindagi for more on maternity fashion and tips for moms.