If you ar a chocolate lover and have no limit when it gets down to munching on them then that is a serious problem as it is nothing but sugar overload. So whatdo you as we choclate geeks feel nothing beats their taste. So if you are planning on embarking the health lane then there are some healthy alternatives to it that you can give a try.
Cocoa Powder
This is a mixture which is left once cocoa butter is extracted from the cocoa beans. It is packed with antioxidants because it is 100% cacao. Just a tbsp of unsweetened cocoa powder has 10 calories and it has no fat, no sugar or cholesterol for that matter. You can mix the powder in milk or make a hot chocolate at home and add some greek yogurt or make a smoothie. You could also dust some of this powder on roasted almonds.
Dark Chocolate (Minimum 70% Cacao)
If you area chocolate lover not able to leave it at all then try having dark chocolate but it should be atleast 70 % cacao. It is healthier and has less sugar.
Cacao Nibs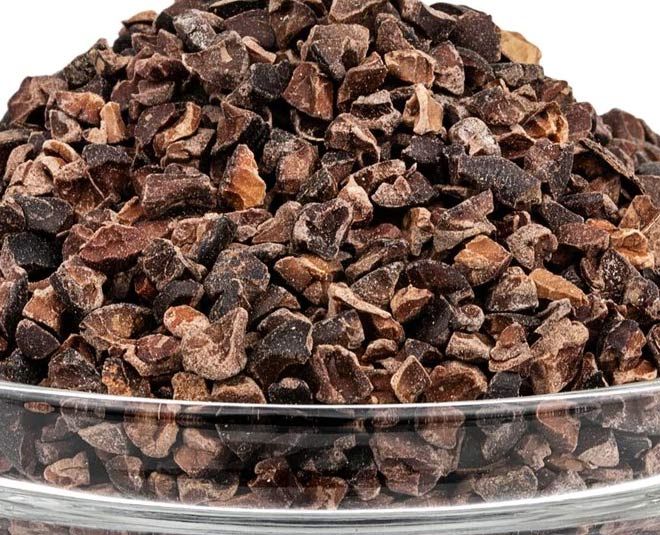 These nibs are cocoa beans themselves which are removed from their husks and have been roastes and broken into small pieces. They are less processed form of cocoa. These nibs are crunch and taste just like unsweetened chocolate. You can have them with yogurt, smoothies, trail mixes or bake something. The are low in calories and a good source of heart-healthy fiber, and have many minerals and antioxidants.
Carob
It is a tropical pod which is derived from a tree in the Mediterranean. The pulp is grounded after roasting which tastes like cocoa powder. Carob is high in fiber, low in fat, has calcium, and does not have caffeine or theobromine. It is less bitter than cocoa, and needs no additional sweetening. It comes in different forms liquid, powder and chips. You can mix them with fruits, curd or make a trail mix with them.).
Don't Miss: Make Vegetable Broth Using Left Over Vegetables For These Benefits
Fruit
Nothng beats healthy fruits as they are high in potassium, antioxidants, vitamin C, fiber, and phytonutrients. If your fruit has sarker colour them it is believed that it has more nutrients! Whipped coconut cream, and strawberries anyone? Mix them with raspberries, blueberries, cherries, and pomegranate seeds.
Stay tuned to HerZindagi for more or on healthier food options.