Baking has emerged as a universal hobby in the pandemic. Everyone has been baking and flooding social media with pictures of their cakes! While all cakes were acceptable and appreciable in the first phase of the pandemic, as the intensity of the virus has gone up so have people's expectations from your cakes! Basic cakes are old news now, people want to know what new can you do with your cakes. Sure, you are no baker, but who doesn't like beautiful-looking cakes? What if I told you decorating a cake to make it look beautiful is actually not that difficult? We can use simple equipment, some of them even easily available in our kitchen and the outcome will surely mesmerize you!
The Aesthetic Mess
This one is easy but you have no idea how beautiful it will look after it is done. All you need to do here is put the icing on your cake, a little more than usual, take a big knife, and randomly spread the icing in all directions. You don't have to even out the icing, let it be uneven, let it look natural. This design works best for chocolate cake as it gives the chocolate ganache a 3D effect!
The Knife Trick
Image Credit: i.ytimg
This is a very easy trick yet will make your cake look gorgeous. What you need to do is cover the cake in white icing. Then, pour six to seven drops of fruit syrup of your choice in tiny circles. After that, place a butter knife, on the syrup and gently pull it back to the center. This trick will make your cake look nothing less than a beautiful rangoli!
The Spoon Trick
This trick can be used to make flower petals or even cover the entire cake with beautiful patterns. All you need to do is take your cake, cover it evenly with your icing, take some ganache of a different colour and pour it on the cake little by little while gently placing the back of the spoon over it to get the impression.
Know More About Cake- Bake Eggless Cakes Using Different Methods Shared By Chef Kaviraj Khialani
Defy Gravity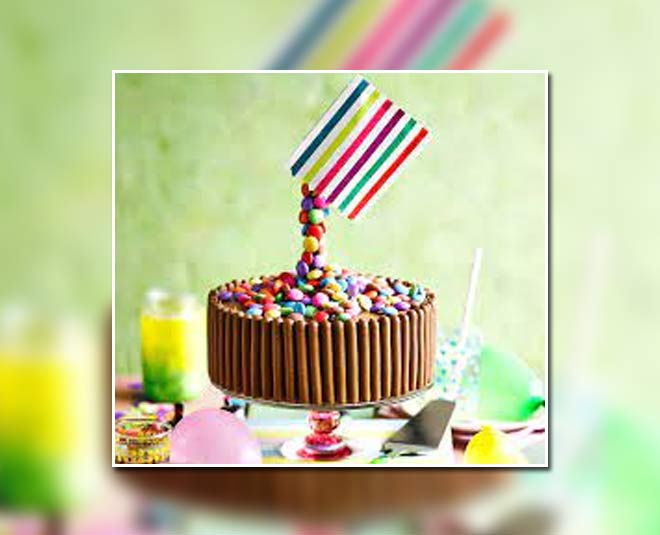 Image Credit: encrypted-tbn0.gstatic
Remember the time you saw a cake with gems pouring over it like there was no gravity? Your jaw dropped, didn't it? Well, get ready because a trick as simple as this can make your cake look outstanding! All you have to do is bake a cake, ice it, take a straw, preferably a strong one(steel), and plant it in the center of the cake. After that, take the ganache that you used to ice the cake and cover the straw with the same. Make sure the straw is not seen at all, stick gems on the ganache all the way till the top and then hang an empty gems wrapper, and voila! Your cake that defies gravity is ready!
Fork For The Forest Look!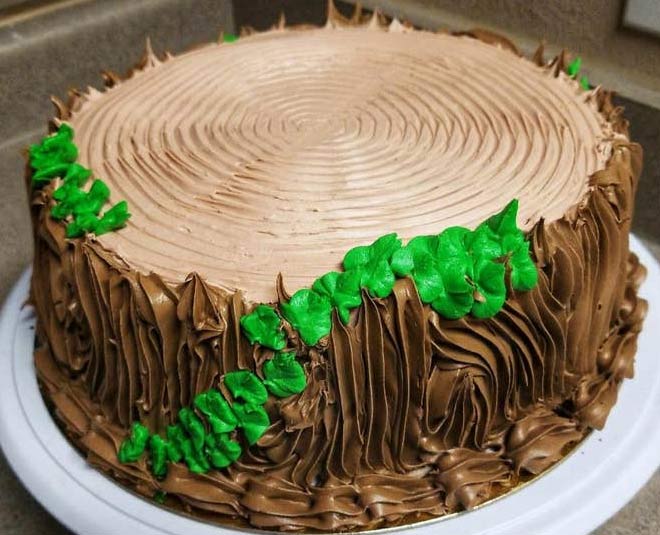 Image credit: img.buzzfeed
Take your cake, after you have iced it use a fork to make patterns on it. Since we are going for a forest look, chocolate icing with some greens would work perfectly! Move the fork in a circular motion at the top of the cake and vertically at the sides of the cake. This will make the cake appear like a log of wood. You can deck it up with some green icing as well. Having different shades of brown icing for the side of the cake and the top will be the best!
Know More About Baking- Stop Making These Baking Blunders Right Now!
How surprised were you to find out such easy cake decorating techniques? Stay tuned to Her Zindagi for more such content!