From earthquakes to the decline in tourism, to the destroyed monuments, this beautiful country has endured a lot. Yet! This affordable, easy on the pocket nation is awe-inspiring and totally diverse. Currently, the conversion rate of 1 Nepalese Rupee equals 0.63 Indian Rupee. Many think that it is just Kathmandu and the Himalayas but that is where you are wrong or rather have half baked knowledge! There are so many other places like the shores of Lake Phewa, Sagarmatha National Park, the birthplace of Gautam Buddha and more. To take you through a quick tour so that I can convince you to pack your bags, scroll down and be amazed!
Nagarkot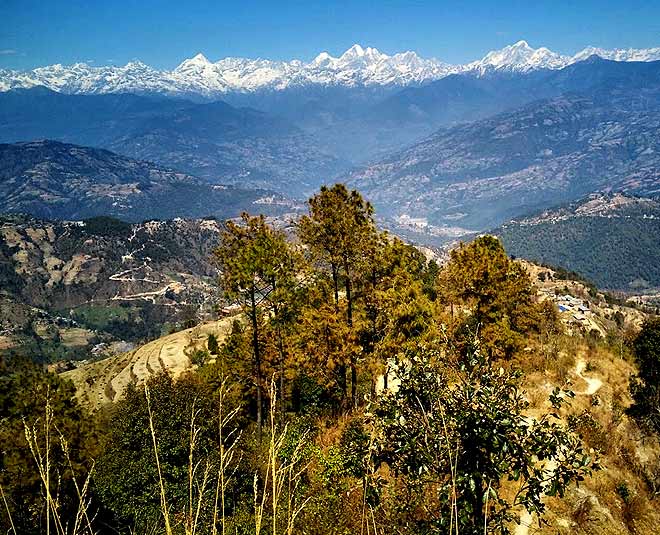 This is the point where you soak up the breathtaking views of the mighty Himalayas. This is hill station of Nepal and rather close to Bhaktapur as well. Nagarkot is the perfect place to relax. You can have an amazing photo session here as you have a stunning view of the eight Himalayan ranges along with spectacular sunrises and sunsets. You can also opt for trekking and mountain biking here. Some daredevils also love paragliding here, but then dear readers this is at your own risk.
Pokhara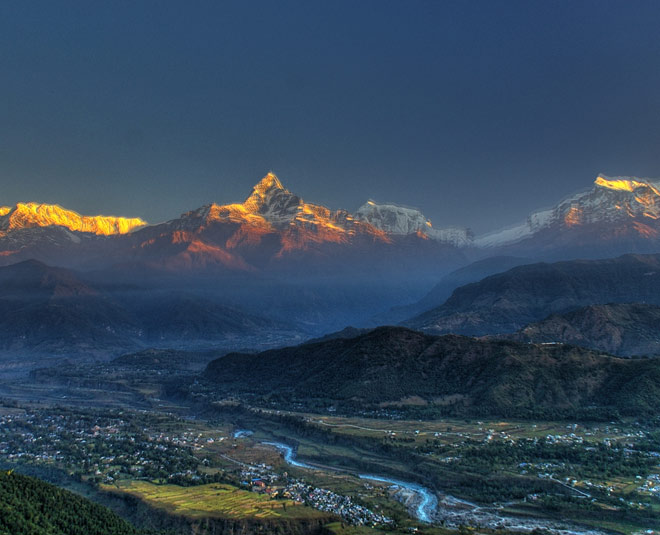 The beautiful city of Pokhara is located on the shores of Lake Phewa and it is well known for the majestic view of the snow-capped Annapurna Himalayan range. It is home to lush green forests, underground caves, the valley of orchids, beautiful waterfalls, the Glaciers... Pokhara literally spoils the tourist. One more thing. If you are a sucker for sunrises then this is where you go.
Don't Miss: Leave Your Visa Woes Behind And Head To These 5 Countries!
Sagarmatha National Park
This place... this is where you get the epic view of the majestic Mount Everest itself! You will also get to see dramatic peaks like Lhotse, Thamserku, Cho Oyo, Nuptse, Pumori, and Amadablam. Other than that, the Sagarmatha National park is home to many animal species like the snow leopard, black bears, red panda, Himalayan tahr, and choral. It really is one of the best places to visit in Nepal – if you're looking for tranquil nature and wildlife.
Lumbini
This birthplace of Gautam Buddha is one of the most significant sites in Buddhism and stunning as well. The beauty, the peace you get here, the tranquillity will not leave you. Visit the Maya Devi Temple, the Lumbini Monastic Site, the Royal Thai Monastery, the World Peace Pagoda here. If not then a stroll as well is enough. You can also relax in the well-kempt gardens here.
Chitwan National Park
This one is a UNESCO World Heritage Site in Nepal. It is home to grasslands, marshes, forests, and wildlife including one-horned rhinos, over 500 species of birds, wild elephants, leopards, sloth bears, and the majestic Bengal tiger.
Kathmandu
This one is like the holy grail as all buses etc stop here. This is the hub of everything. It is like any other city with dust, traffic, and noise... However, it is home to a number of temples, historic sites, shrines, restaurants and bustling streets. Once you reach the city you have to visit the Pashupatinath Temple, the UNESCO site of Boudhanath Stupa, the (monkey temple of) Swayambhunath and the Kopan Monastery.