The white sand and striking blue waters at the Maldives is all you need for a quick beach vacation. If you are planning to head to the destination anytime soon then this guide is for you.
The Maldives is not just about sitting and staring at the clear waters or soaking in the sun but there is so much more that this place has to offer.
There are a lot of things that you can add to your bucket list when coming to the Maldives. We will make it all easy for you! Here are 5 things you should definitely do when in the Maldives.
Snokelling In The Maldives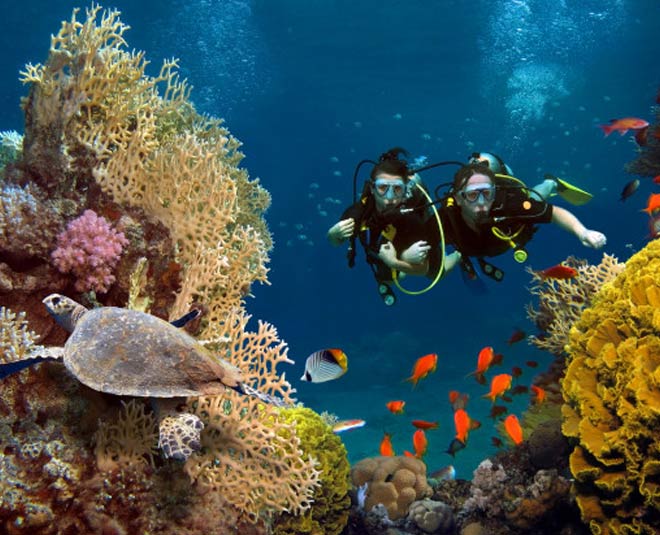 You can't go back home without exploring the marine life in the Maldives. The clear water gives you a chance to witness even the tiniest fish underwater. If you have a thing for diving or snorkeling, you will really enjoy seeing underwater life.
No experience can really beat this one where you actually get to walk on the floor of the deepest ocean and witness marine life so closely
Visit The Local Island
Many people think that travelling to this destination is all about just residing in a water villa and indulging in activities like snorkeling and scuba diving. However, that's not the case. You can take a boat or ferry to a local island where you can witness the regular life of the locals. This will not only give you an idea of the culture of the place but also make you explore some cozy cafes and nice beaches.
Don't Miss: What Is Maldives Traditional Food? Here Is A List Of Dishes You Must Try
Take A Spa Treatment
When in the Maldives, you can't miss taking a luxury spa. Spa treatments here are completely different. You get to experience it all with the beautiful view of the clear waters. If you wish to pamper your mind and body, you can take a spa here. There are some resorts where you get separate romantic private spaces for a couple of spa treatments.
Enjoy Fishing
Another fun activity you can try when in the Maldives is going fishing. It is a great experience to enjoy alone or with friends/family. Most resorts or hotels arrange fishing tours for their guests. You can go for it just before the sunset so that you can enjoy a great view too. Knowing the waters are packed with so many fishes, you can surely capture a lot.
Don't Miss: Visiting Maldives? Here Is A List Of Best Indian & Maldivian Restaurants For Pure Vegetarians!
Have A Romantic Dinner At The Beach
This one is an unforgettable experience! You can get a romantic dinner arranged at the beach. Resorts/hotels do charge for the same but the experience is something you won't forget. A private table is set up on the beach and you can get it decorated with flowers or candles depending on your preference. Enjoy the delicious local cuisine while enjoying the gentle breeze and make memories of a lifetime! (celeb inspired Maldives look book)
Kayaking
Kayaking can get really fun when you are all by yourself amidst the clear and vast waters. If you are an adventure lover at heart, you can't miss experiencing this. Do try this activity if you love water sports.
Have you been to the Maldives before? Share your experience with us. For those who haven't, write to us if you have any questions to ask about the destination. For more such stories, stay tuned!