With the Pushkar Mela taking place from November 4 to November 12, there are many questions that come to mind if we are heading there for the first time. When is it, where is it, what all will we get to see, how to get there, where will we stay and the list goes on. So to answer all those questions, we have come up with a proper guide which will help you decide better on how to go about it.
Rituals
In the rituals of this mela, taking a dip in the holy waters of Pushkar's lake is a mandate for many as it is said to absolve their sins. Also, it is said that if there is a full moon and then you take the dips then you receive special blessings.
What To Expect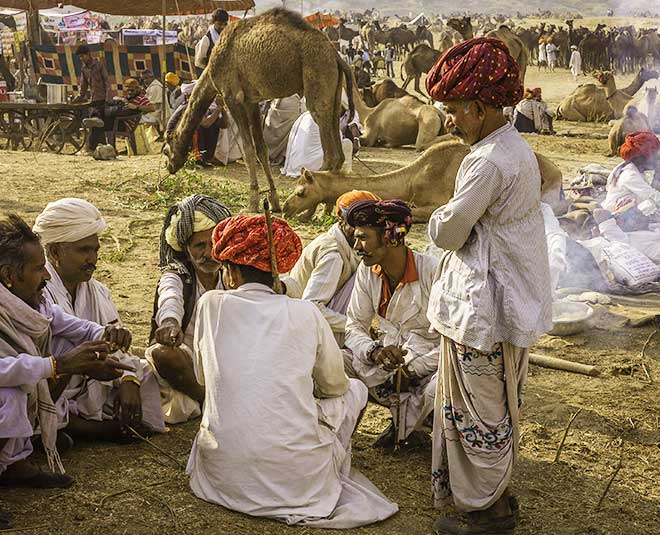 So earlier the fair was actually very genuine where half a lakh camels were sold or gave rides but now it has become very commercialised and tourist-focused. There are camel races, temple dancing, folk and fusion music concerts, heritage walks, bazaar with arts and crafts and more.
Don't Miss: Explore The Golden City Jaisalmer On A Budget With This Guide
Special Activities
You can also witness the camel fair from the hot air balloons in the mornings and evenings. Then take up the Pushkar Fair walking tour which takes place twice a day. On the morning tour, you will even get to see pilgrims taking a holy dip in the lake. Next come the camel handmade products where a lot of wool shawls and notebooks made from camel dung are sold. Also, do not forget the evening maha aarti alongside Pushkar Lake.
Stay
Best that you come to Pushkar a few days before so that you find some place at an affordable price, or you book in advance. You get guesthouses, tented camps, heritage hotels, and farm stays.
Travel
Closest railway station: Ajmer.
Ajmer-Pushkar Passenger departs Ajmer at 9.50 a.m. and arrives in Pushkar at 10.50 a.m. The catch is that the train does not run on Tuesdays or Fridays.
By Road: Ajmer to Pushkar in a taxi.