It's Vidya Balan's birthday on January 1, and we cannot keep calm. The talented and wonderful actor has had a roller-coaster journey in Bollywood, but she has emerged to be one of the most versatile actors in the Hindi Film Industry.
She started her career with a show that was never released, Balan confessed long ago on The Anupam Kher Show. She then became a beloved character Radhika Mathur in Hum Paanch, a family comedy show on Zee TV.
From TV to the silver screen and OTT, the Jalsa actor has come quite far in her journey, playing layered characters and defying patriarchal norms to be at the top. On her birthday, we want to be her biggest cheerleaders for what she represents and stands for.
Works In Malayalam, Tamil, Hindi and Bengali Cinema
View this post on Instagram
Raised in Chembur, Mumbai, Balan had always aspired to be an actor. After Hum Paanch, she refused to do more TV drama because she wanted to be in films. Her first-ever film was in the Malayalam language. She played the lead in Chakram and signed more than 10 films in the regional language.
Later, she shifted her focus to Tamil Cinema. She got her break in the Hindi cinema with N. Lingusamy's Run (2002) but dropped out halfway through the shooting.
Then Balan made her debut in Bengali cinema with Bhalo Theko (2003). Two years later, she auditioned for Parineeti and got the part of the lead. She was a breath of fresh air and won over the Indian audience in no time. People loved her, and soon, we began to see Balan in more illustrious projects.
Body Positive Representation With Dirty Picture
View this post on Instagram
Bollywood or for that matter most film industries have this standard image of a heroine. She is either slim and fair or boasts an hourglass figure. In most opening scenes, the camera focus goes from head-to-toe or toe-to-head while sensualising her face, neck, chest, thighs and waist.
In Dirty Picture, Vidya Balan portrayed Silk Smitha (Vijayalakshmi Vadlapati), an Indian actor who died by suicide. She was one of the few actors who did not fit in the standard body size yet was a big name.
For the role, Balan's first costume fitting included a pair of hot pants that she never wore after people teased her for being fat as a child. Balan said in an interview, "Because there was no expectation of being perfect. I was not expected to have the perfect body in the shorts. Because Silk was big."
Not only did the film give her confidence, but her presence on the screen started a conversation around people's obsession with size-zero figures and representation of all body types on the big screen, not just in supporting roles but as leads.
"Entertainment! Entertainment! Entertainment!" was the most popular dialogue from the film, and indeed Balan is the whole package when it comes to entertainment no matter who she plays on screen.
'Hatke' Roles Played By Vidya Balan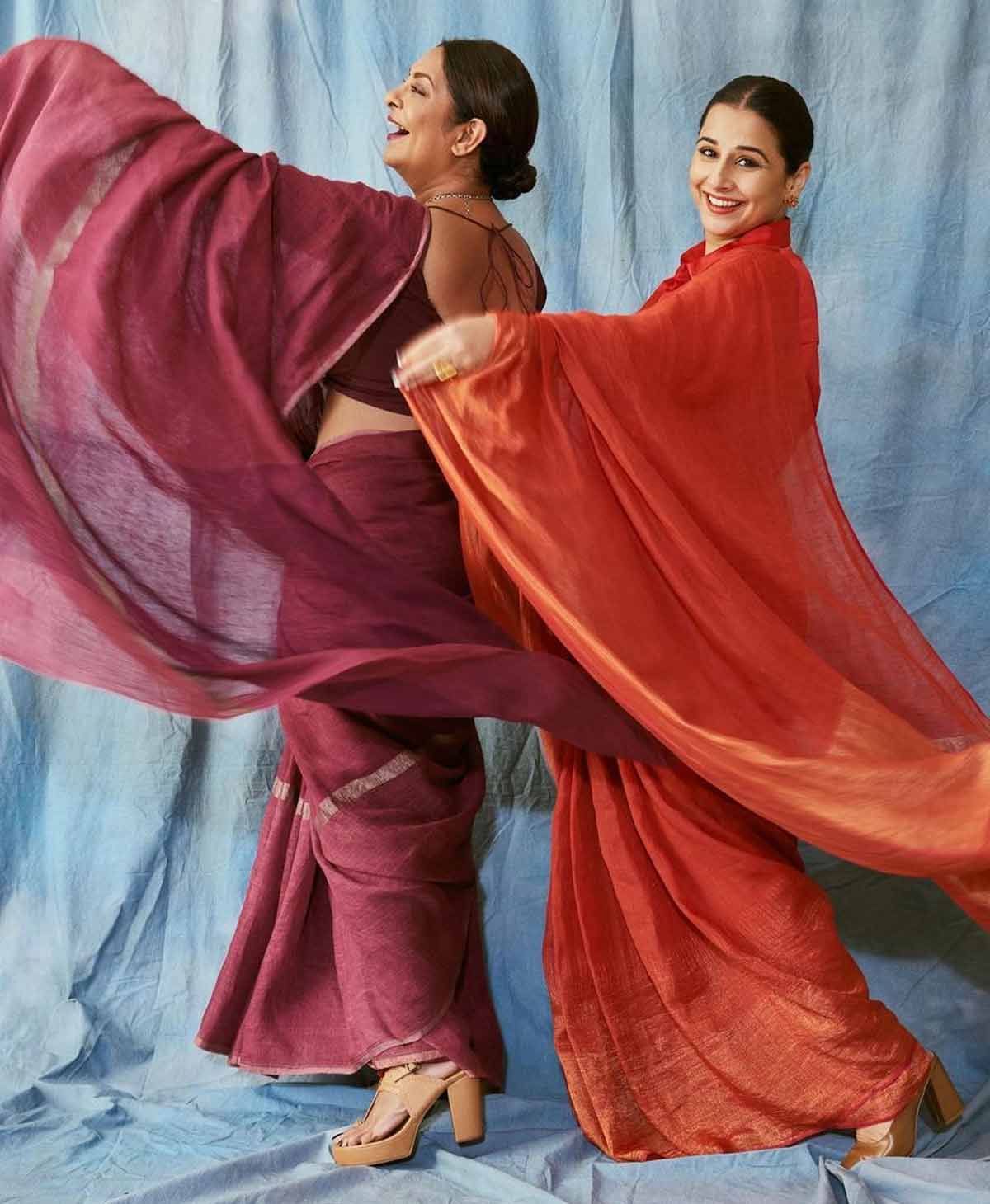 Image Courtesy: Instagram/balanvidya
Balan has always impressed us with the kind of roles she picks and does justice to them. From Bhool Bhulaiyaa and Kahaani to Tumhari Sulu and Jalsa, the actor has always given us fresh, relatable and layered characters.
She has played strong characters in films when most actors were adjusting to playing second-fiddle to the lead. She highlighted the relevance of picking the right script. In Tumhari Sulu, she encouraged homemakers to be unapologetic about their identities outside the home and fight for who they are and what they want. In Jalsa, Balan and her co-actor, Shefali Shah, played on the class divide. They added little details to the character to help the plotline become thick and nuanced.
Don't Miss: Indian Films That Set Fashion Trends & Left Us Impressed
Vidya Balan Challenged Patriarchy
View this post on Instagram
In an interview, Balan emphasised why we never ask a male actor about the kind of films he has been doing. She pointed out that it is only female actors who are asked about their characters or the kind of roles they play.
In the past, the actor opened up about how patriarchy is internalised and remains evident but unrecognised at home. During interviews for Jalsa, the actor said that her house helps often find it convenient to interrupt her in the middle of meetings or work, whereas they would not even think to knock and disturb her husband while he works.
According to the Jalsa actor, only having a conversation around the subject and making people aware of it can bring change in our society.
Don't Miss: Much-Awaited Hindi Films We Can't Wait To Release In January 2023
Vidya Balan On Body-Shaming
View this post on Instagram
In 2022, Balan shared a mirror selfie highlighting the fact that people must accept themselves the way they are. She opened up about experiencing body-shaming and preferring her "left profile over the right."
However, she added that after struggling with body image issues, "What changed is the way I looked at myself, and that changed how I see myself."
"I like me just the way I am," she concluded.
Balan has never shied away from speaking her mind. She has always been bold when it comes to choosing her roles, and we wish her the best in the upcoming year.
Did you like this article ?