The day of love is here again!
Just like every occasion in the COVID era, Valentine's Day is hitting a little different today. With masks still abound this year, the focus will certainly be on your beautiful eyes on your date. As it is believed when one half of the face is covered, the other earns more emphasis. Don't you think?
Every year, for V-Day, we start dreaming about new romantic makeup looks. Whether you're going out on a romantic dinner date with your BAE, making it your Girl Squad celebration, or even watching a rom-com and eating chocolate at your home alone, this day is still the perfect day to try out a new eye makeup look.
There are myriad, gorgeous eye makeup ideas you can try today. If you still don't believe us, then just scroll down and try not to fall in love with these stunning Valentine's day eye makeup looks that will steal the show (and, of course, your partner's heart!).
1Go Bold With Red Smokey Eyeshadow Look
Image Courtesy: Keita Moore
If your go-to eye makeup look is the smokey eye, then you need to try this gorgeous makeup look. But for this look, instead of using a gray or black color, just switch it up and go bold and smoke out a red eyeshadow over your lids. Sounds exciting?
You can start by applying a cool-toned brown eyeshadow shade on your crease. Then, use the black shade and apply it all over your eyelid, leaving a little space right in the middle. After that, switch things up by applying red glitter eyeshadow in the center of your lid and blend till both the shades are seamlessly blended.
2Neon Pink Lids
Image Courtesy: Aashna Shroff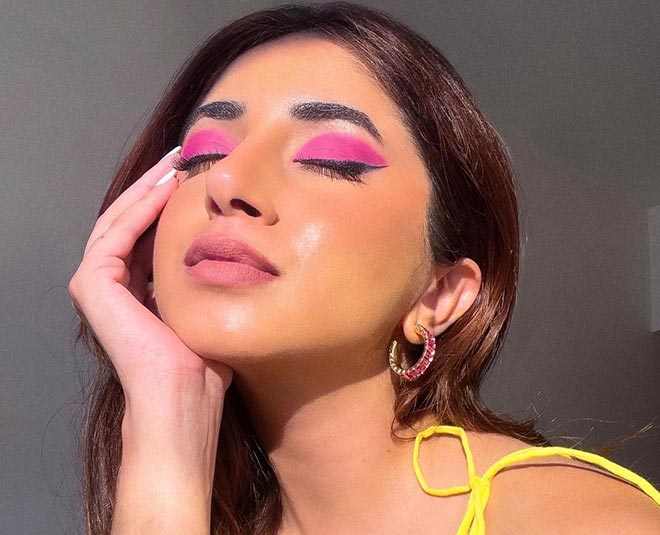 Neon pink matte eyeshadow on the lids is the eye makeup look we didn't know we needed, but now, we can't stop thinking about it! In this look, Instagram Influencer Aashna Shroff has created a playful look while adding a bright wash of color with a statement neon pink eyeshadow that's guaranteed to turn heads.
To complement the bright eyeshadow, you can create a perfect winged eyeliner, just like Aashna. Don't forget to keep the look simple with glowing skin, a nude lip and you're good to go!
3Bronzed Goddess
Image Courtesy: Erin Parsons/Instagram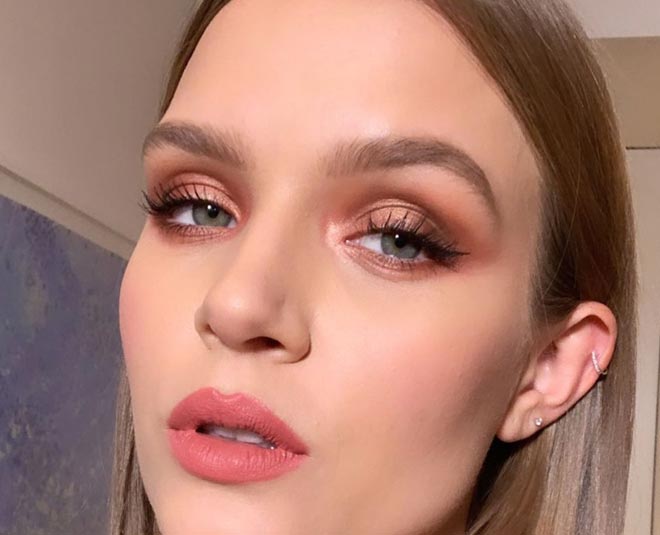 If reds and pinks are not your colours, don't worry. We have something for you!
Try neutral eyeshadow looks with colours like gold and bronze. They are a perfect choice if you prefer a subtle style. This look is absolutely fresh, modern, and ever so wearable.
To achieve this look, you just need to apply a gold creamy eyeshadow shade and then, use a dark bronze shade on the outer half of your eyelid. Then, blend to diffuse both the shades and complete your look with a sleek liner and loads of mascara.
You can pair up these warm neutral shadows with a soft pink lip for a more subtle look or you can use a red lip shade for adding a little glam.
4Colour Block Shadows
Image Courtesy: Debasree Banerjee/Instagram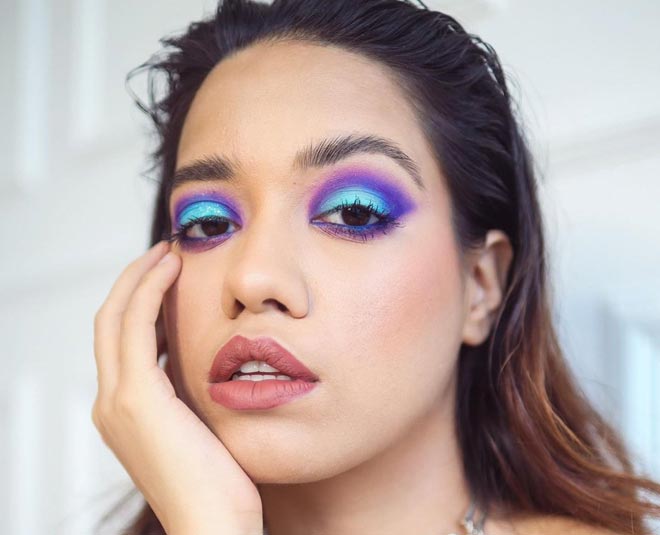 If subtle looks are not your cup of tea, try sweeping a punch of colors onto your lids. The queen of edgy and bold makeup - Debasree Banerjee - is telling you how to do it.
Debasree is always the one who steps out of her comfort zone, we love the stark blue eyeshadow that she has paired with a beautiful dark purple shimmery eyeshadow. And don't miss the trick of blending that adds oodles of drama to this look!
So, go practice your blending skills before you try your hand at recreating this look on Valentine's date night.
5Giving The Metallic Blue Eyeshadow An Indian Twist
Image Courtesy: Daniel Bauer Makeup And Hair/Instagram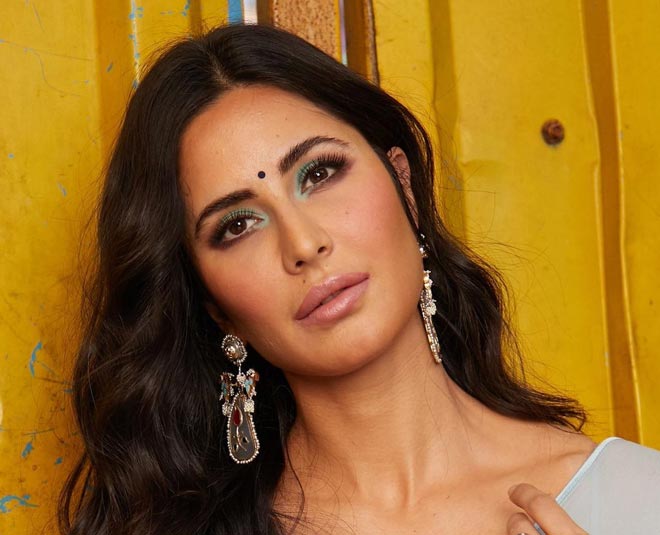 Who said that all the eye makeup magic lies with the social media Influencers? You can take cues from our Bollywood Divas as well.
If you want to wear something traditional or Indo-western on V-Day, then opt for this look. Here, Katrina Kaif has opted for colourful eyes while choosing a metallic blue eyeshadow for the inner corner and middle of her eyes while, the rest of the lid was left smokey in soft brown.
She has given it an Indian twist with kohl-rimmed eyes and mascara-laden lashes. If you are going for a brunch date, you should definitely try this look.
6Heart-Studded Eyeshadow Look
Image Courtesy: Olga Dann/Instagram
Hearts are a symbol of love, right? So, why not wear them on the eye?
This isn't any boring eyeshadow look. If you are longing to go all out with heart-shaped glitter, this is your moment!
For achieving this look, you have to draw a free-floating line with a red waterproof liquid gel eyeliner above your crease. Then, draw a sleek eyeliner but with two wings. Next, decorate it with a few glitter hearts to let everyone know you're feeling the love. For an extra effect, buy the heart-shaped glitter that shines in two reflective hues.
7Adorn Your Creases With A Colorful Collection Of Hearts
Image Courtesy: peachcait/Reddit
There's nothing better than an eye makeup from which you can show your creativity.
If you can draw a heart on a piece of paper, then, we can guarantee you that you can draw some onto your lids very easily.
This is actually a slightly daring look. You can achieve this by first sweeping a rose-gold eye shadow all over your eyelids. Then, draw flicks with eyeliner before lining along your creases to create a negative-space look.
Now, it is time to create the hearts with hot pink, orchid, and burgundy eyeshadow shades. From there, you can also line along your lower waterlines and use the same pink shadow to rim the lower lids. Voila! Now, let your eyes do all the talking!
8Soft Glam Look
Image Courtesy: Malvika Sitlani/Instagram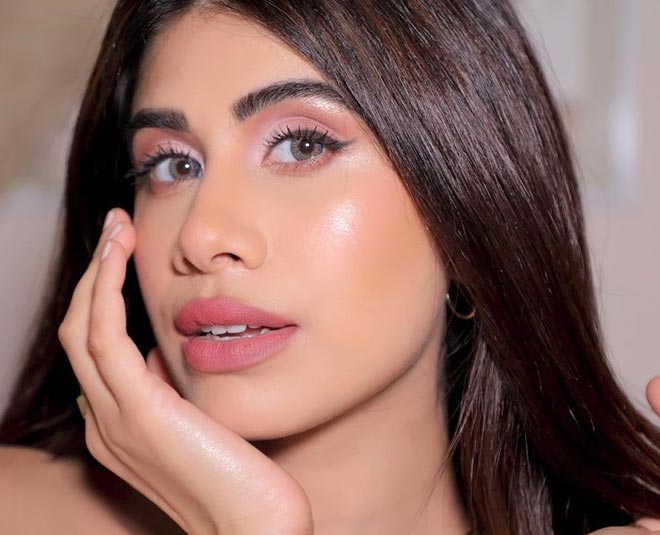 You can create a gorgeous Valentine's day makeup look without going too loud. And no one knows it better than Malvika Sitlani!
This look is still glam at its core, but it is done in a way that feels lighter, airier, and softer, don't you agree?
To achieve this look, you just need a beautiful eyeshadow with pink and brown hues. As you want just a wash of color to shine through, this look will need lots of blending, swirling, and buffing to perfectly melt everything together.
Moreover, this look will work great for a multitude of occasions like on your virtual date night on Valentine's.
9Flower Power
Image Courtesy: Alyssa Coscarelli
With Valentine's, spring is knocking on our door. And to get in the spring spirit while enjoying the day of love, you can give floral eye makeup a go. You won't regret it, we promise!
You can create this look with real dried blooms, petals, and blossoms. We are not joking! To make the look more beautiful, you can complement the flowers with contrasting eye makeup or occasionally coordinating shadow. This delicate touch will add a major punch to any look!
10Bring In The Electric Touch With Graphic Liner
Image Courtesy: Shreya Jain
If you're looking to take things up a notch, you can give the graphic liner a go. It will surely make you stand out from the crowd!
The easiest look you can try is the floating crease graphic liner. For this look, instead of tracing your upper lash line, use your liquid eyeliner to draw a line on the crease instead.
There is so much you can do! You can join the line to the inner and outer corner of your eyes or just leave it floating on the lid, do it as you like. It will amp up the drama and make your eyes pop with a fun streak of color!