Ranbir Kapoor Alia Bhatt Wedding: Stunning Looks Of Bride-To-Be Created So Far By Mickey Contractor
Mickey Contractor is a renowned makeup artist who has worked with Alia Bhatt many times and given her stunning looks. Read on!
Alia Bhatt and Ranbir Kapoor are the talks of the town because of the wedding. The couple is one of the most-talked among Bollywood celebrities. According to a report in ETimes, the famous makeup artist Mickey Contractor will do the hair and makeup of Ranbir and Alia on their big day.
Let's see some of the stunning looks that Mickey has given Alia Bhatt so far,
Traditional Look
In the main image, you can see Alia Bhatt in a traditional gorgeous look. She is donning kohl eyes, which appear dense and had a natural lipstick. This makeup look continuously draws attention to her beautiful eyes.
For the hairstyle, the actress has locks tied in a braid, and the strands in the front are curled. She is wearing a small red bindi in the centre of her forehead, which completes the entire look. The makeup and hairstyle are paired impeccably with the golden jewellery.
Full Glam
Image Courtesy: Mickey Contractor/Instagram
Alia Bhatt walked the ramps of Manish Malhotra in 2017. The above gorgeous look was created by Mickey Contractor for the finale show. The bride-to-be looked not less than a princess.
Her makeup complimented her skin tone and the bright red shade of lipstick elevated her features. She had a golden eyeshadow and a neat bun. Without adding extra highlights or anything, Mickey gave the actress a full glam look.
Natural Look
View this post on Instagram
In the embedded photo, one can see how gorgeous the bride-to-be is looking. This makeup and hairstyle of Alia Bhatt is looking effortless and chic. The style goes back to 2017. From the image, it appears that Alia is wearing a red dress, and her lips in a tone-down shade of pink are complimenting it perfectly.
It appears that she just has a makeup base on her face. The natural look is an impeccable choice for a date or an outing with friends. She is wearing her hair straight, and they are cascading like a waterfall over her shoulders. With minimal makeup, her eye seems to be highlighted with eyeliner and mascara.
Funky & Casual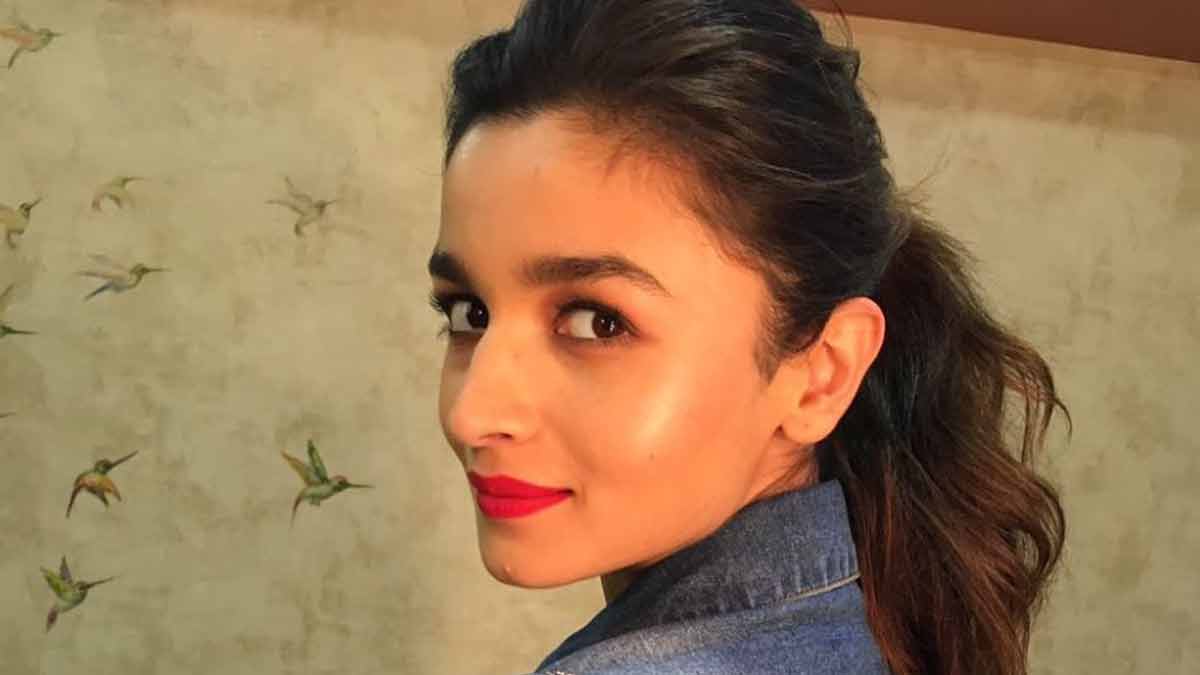 Image Courtesy: Mickey Contractor/Instagram
In the above image, Alia Bhatt is slaying her casual look. You can see the dewy makeup, which is perfect for a day out or gathering with friends. It is neither too loud nor too mallow.
She is wearing her hair in a ponytail where a few strands have been pulled out to add a bounce. The hair tied in the ponytail are wavy and appears effortless. Mickey added a dash of red tint on her lips which amps up the look when her eyes have pastel shadow and eyeliner. It is that one look that women in their 20s and 30s can wear on any given day.
Date Night Look
View this post on Instagram
The above image of Alia Bhatt shows her donning a beautiful dress and complimenting it are makeup and hairstyle given by Mickey Contractor. If you look closely, her dress has various shades of pink, and her makeup is done keeping the contrasts in mind. She has a dewy texture on her cheeks and nude pink lipstick. She is wearing her hair down, making it a perfect look for date night.
Don't Miss: Alia Bhatt Wearing Pink Sabya Lehenga On Her Big Day?
Effortless Look
Image Courtesy: Mickey Contractor/Instagram
The above Instagram image shared by Mickey Contractor shows Alia Bhatt in an effortless outlook. She is wearing a stunning blue dress. She is complimenting it by wearing nude makeup and a mid-high ponytail.
Don't Miss: Ranbir Kapoor And Alia Bhatt's Wedding Festivities Begin In Full Swing!
Her eyelids have a slight pink tint, black thin liner and mascara. She is wearing a dim push-up pink colour on her lips. The chic look should be your choice for any kind of outing and office meetings.
Stay tuned with HerZindagi for more stories on makeup looks and hairstyles.