From the time I can remember, Lakme products have had their own place in my mom's vanity. So it is no wonder that it was a part of my growing years too. My craze for eye makeup had pretty much started with Lakme's signature black eyeliner-without which I went nowhere. I soon started experimenting with different brands that offered variety in different colours.
In the recent past, I had fallen in love with Nyx Professional Makeup Vivid Bright Eyeliner in blue, which was the most striking shade of neon blue I had ever come across. Since it was out of stock for quite sometime now (and having exhausted the only one I had), I was on lookout for a similar shade. That's when I stumbled upon Lakme Insta Liner (blue) and decided to give it a try. And guess what! It didn't let me down. Read on to find out why.
Claims:
Water resistant - to make it long lasting
Light weight formula
Smudge-proof and convenient for everyday use
Doesn't dry instantly
Intense colour and rich colour payoff
Packaging:
It comes in a non-fussy, simple, transparent glass bottle with a screw type lid.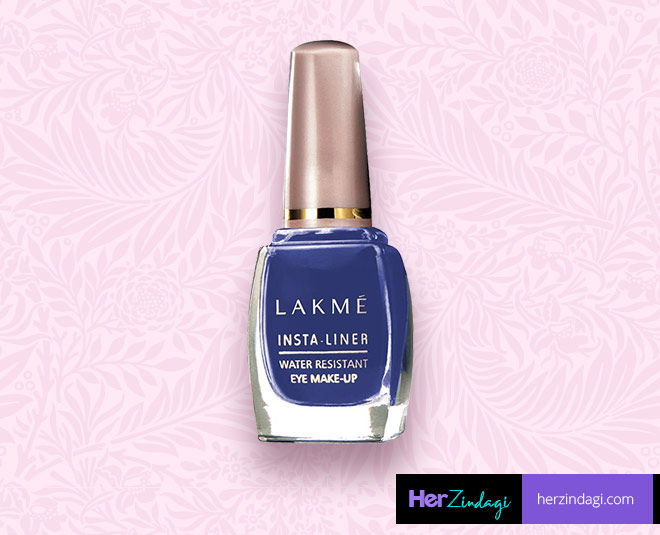 Price:
Rs. 120
Quantity:
9 ml
Texture and colour:
This liquid liner is quite lightweight, and leaves a matte finish when dry. It is more of a bright cobalt blue than neon.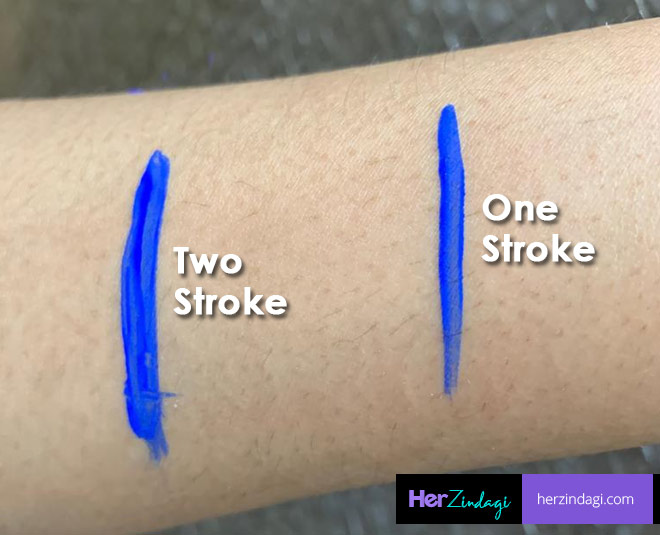 Available Shades:
My Experience:
Well, let me first mention that I have an extremely oily skin and was apprehensive about the staying power of this liquid liner, as most liners that I had tried on earlier tended to smudge or crumble. But with Lakme Insta – Liner in blue, I must say that I was quite impressed with its lasting power. The colour lasted on my lids the entire day without cracking, crumbling or smudging.
However, you may have to build up the intensity of the colour by layering it a few times during application as I did, as just one stroke of it made it look translucent. Also, it doesn't dry instantly and settles into a matte, bright colour on the lids post a minute of application.
According to me, this eyeliner seems like the perfect dupe of Nyx Professional Makeup Vivid Bright Eyeliner, only with the exception that this might be a little less of a neon blue and is obviously a steal deal compared to the price of the former!
Don't miss: Master The Art Of Applying Liquid Eyeliner With These Tips
Pros:
Long lasting
Smudge-proof
Doesn't crack/crumble
Matte finish
Good quantity at a pocket friendly price
Lightweight
Water resistant
Flattering on all skin tones
Cons:
Thick applicator, making it inconvenient to draw a sharp line (especially while winging it out)
Not waterproof (it is quite easy to take it off with water alone)
Verdict:
I'll definitely consider re-purchasing it, since the colour didn't budge from my lids till I took it off. I found the price to be rather reasonable too. Also, it hasn't caused any irritation to my eyes. The only downside maybe the requirement of a separate applicator for precision and the need to apply a couple of coats before you get that opaque bright blue pigment on your lids.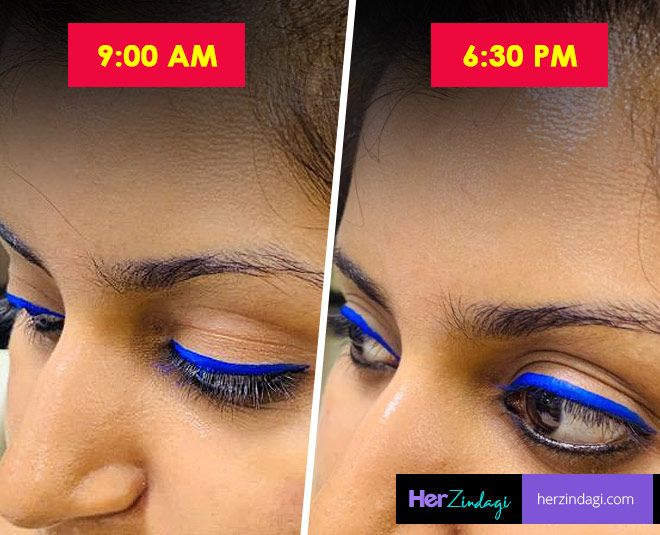 In case you are looking for an eye liner that can turn heads without being too loud and burning a hole in your pocket, then this one is for you. This decently bright blue liquid liner can spruce up any look, and add a pop of colour to a monotone outfit.
STAR RATING:
4/5
In case you want to want to accentuate your eyes and add volume to your lashes, try these volumising mascaras - all below Rs. 500 !