For ages, using ubtans made at home has been a ritual of sorts and moreover when there is a wedding in the house. A bride's natural glow would depend on her diet and the homemade ubtans the elders in the house would give her. It is in fact one of the rituals where the bride and groom are applied haldi on as it is said to be auspicious and a way of bringing instant glow along with a tinge of skin colour enhancement.
When this ubtan is washed off, it helps in removing dead skin cells and softens the skin like no other remedy. It removes the tanning and brightens the skin. Actually, as a ritual, the body should first be massaged with sesame seed or olive oil.
After the oil massage, the "ubtan" may be applied and kept of half an hour and then washed off. The process involves scrubbing as well which also helps in reducing dark patches and blemishes. This is a powerful cleansing procedure that also keeps the pores of your skin free of hardened oil. There are many ready-to-use ubtans packs available online as well these days but make sure they are organic or natural.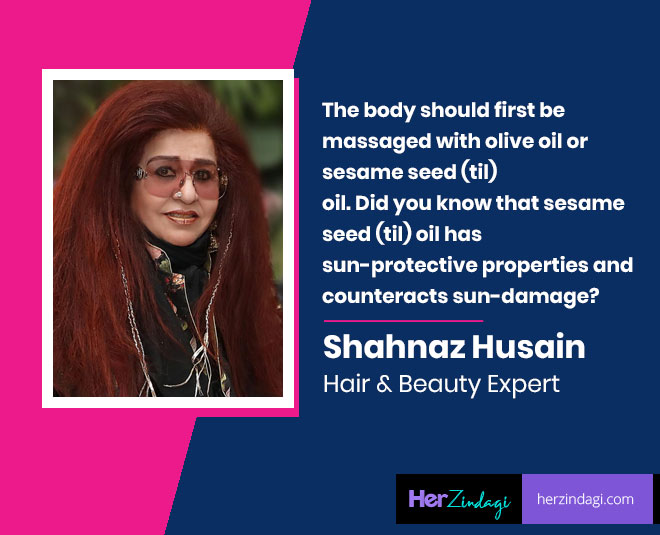 Another way is that you mix the ingredients from the kitchen shelf. One ubtan is where you mix the sandalwood, oats, rose petals, mint, ground almonds, besan and turmeric. This powder can then be mixed with milk or water.
Generally, an ubtan has wheat bran (choker), turmeric, gram flour, yogurt or cream of milk (malai). These would be mixed together and then applied with some oil. The "ubtan" would then be washed off after 30 minutes, while bathing. This ubtan helped in cleansing the skin, leaving it smooth and bright.
You can try out the traditional "ubtan" with these simple kitchen ingredients.
Peels
Take 2 tbsp powdered and dry orange and lemon peels, 1 tbsp ground almonds and 1 Tbsp oats. Mix in 1 tbsp honey and curd. Apply the mix on your skin and rub in with gentle circular movements. The lemon and orange peels must be dried properly in direct sun and you can store them in a tight lid container.
Mint Leaves
Another ubtan can be made with 6 tbsp dried mint leaves, honey, curd, olive oil and 3 cups of sesame seeds. Crush the sesame seeds coarsely and make a powder of the dried mint leaves. Mix the two with oil, honey and curd. Sesame seeds have properties that protect you from the sun and it also soothes sun-damaged skin. Mint has a
stimulating effect and gives a glow to the skin. The organic honey we use moisturises and soften the skin. The oil and curd nourish the skin. So rub the mix on the neck, arms and legs in a gently motion and then wash it off with water.
Aloe Vera
Aloe Vera is a powerful moisturiser. It also has zinc, which is an excellent healing agent for all those blemishes. Add aloe vera to your ubtans. Take 1 tbsp of oats and multani mitti, 2 tbsp of curd and aloe vera gel. Mix well and apply on the skin, washing it off after 30 minutes.
Don't Miss: Apply Almond Oil To Get Rid Of Those Annoying Dark Circles Like This
Flower Ubtan
Soak lotus flowers in 3 to 4 tbsp warm milk for an hour. Crush the flowers and add 3 tsp gram flour (besan) and mix it with the milk and crushed flowers to make a paste. Apply the paste on the face and arms, but avoid the lips and area around eyes. Wash it off after 20 minutes. Lotus is great for taking care of dryness, soothes the skin and removes tan.
You can use rose petals as well for your ubtan. Grind them into a paste and then mix in some honey, curd, sandalwood powder with 3 tbsp orange peel powder. Apply it on the face, neck and arms and then wash it off casually. The fragrance of rose is very calming and it suits all skin types, including sensitive skin and acne conditions.
Stay tuned to HerZindagi for more such tips and remedies by top notch beauty expert Shahnaz Husain who is well known worldwide.