TV actress Anita Hassanandani has gorgeous glowing skin even at the age of 39. Her hair is perfect and her subtle makeup is always on point if you checkout her Instagram posts. From her skincare choices to the makeup products she uses, here is everything you need to know about the Naagin actress.
Skincare
Having a healthy mind and body is the key to look fresh and have glowing skin. This is something every expert stresses on. According to Pinkvilla, Anita Hassanandani as well tries to maintain it by thinking positive as much as she can. Another thing that all actresses stress on is having water and staying hydrated. But one thing that she adds to the water is a pinch of salt in a litre of water.
Anita keeps her skin tight by washing her face with cold water regularly. Also, she never steps out of the house without a sunblock as the absence of its layer adds to the ageing process and also harms the skin in many ways besides unwanted tanning.
To keep her skin dewy, face mists have become a norm in every woman's bag but Anita keeps a specific mist and that is none other than the good old rose water which is recommended by all experts.
Don't Miss: Steal These Blouse Designs From Anita Hassanandani's Closet And Give Your Saree A New Twist!
Haircare
Taking care of your hair is crucial if you are possessive about your crown. So to take care of her tresses, Anita oils her hair regularly. This is one of the reasons how she is able to experiment with different hairstyles as the oil nourishes her hair and keeps it hydrated.
Fitness
A food lover for sure, Anita works out regularly to burn those calories. According to Pinkvilla, her key to fitness is working out and she follows a training regime. The actress practices different combinations of skipping, walking, running, dancing and even weight training. Not really a morning person, she works out in the evenings.
Some of her favourite exercises that she completely believes in is the magic of deep breathing exercises and yoga workouts like sama vrati, and kapalbhati.
Don't Miss: Love Anita Hassanandani? Prove It To Us By Taking This Quiz
Makeup
If you checkout Anita Hassanandani's Instagram pictures, she puts on very subtle makeup and sometimes flaunts the famous no-makeup, makeup look. Here are some of the essentials she swears by and everything she keeps handy if she has to do her makeup. Anita shared what all she carries in her bag on Pinkvilla's youtube channel, where she showed all the products that she uses.
On a daily basis, she puts on some kajal, a little bit of blush and cannot do without a lip balm. She never goes out without her phone, wallet and a hand sanitizer.
For makeup, she likes to use a primer by MAC or a setting spray. Another best friend for Anita is a highlighter. She uses Bobbi Brown's shimmer brick compact highlighter in the shade nector and also uses it as a blush but in subtle strokes.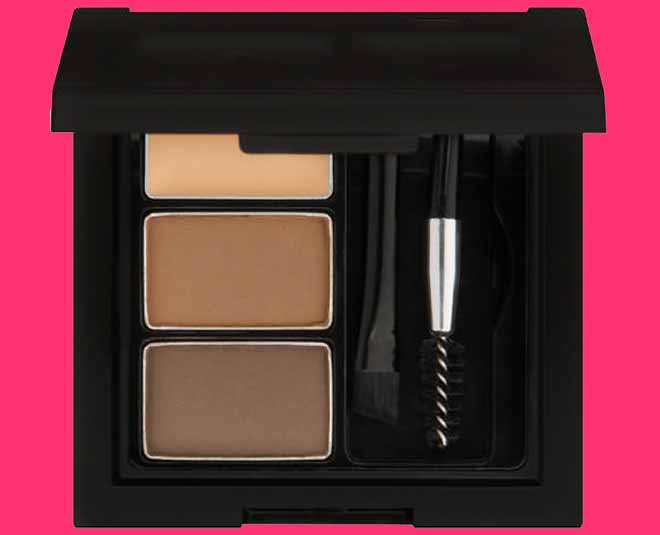 In the eye makeup department, she is an eyeliner lover and is fond of using different colours by Colorbar. In case you haven't noticed, the actress steps out a lot on dark blue or green eyeliner in the day time (pre-COVID 19) and pairs it with subtle makeup. For those perfect eyebrows, Anita uses eyebrow kits and her go-to kits are by Benefit cosmetics and Bobbi Brown.
Channel the lipstick junkie in you by adding these favourites of Anita. Red lipsticks are her first love and she uses the liquid lipstick in the shade dance with me by MAC.
Stay tuned to HerZindagi to know all celeb beauty secrets.