She is beautiful, super talented, and has millions of fans around the globe. In a short span, Alia Bhatt has made it to the top actresses of Bollywood. Alia has around 33.9 million followers on her Instagram handle and this speaks much about her popularity.
More than her extraordinary acting talent, people love her flawless beauty. Her skin has an unusual glow and we wonder where she gets that from. Well, she follows a proper skin care routine everyday. Here are her beauty secrets.
Multi-Vitamins For Skin Glow
Your skin glows, looks flawless when it is fueled with all the essential vitamins. Alia consumes multivitamins everyday. Our skin needs vitamins like vitamin A and vitamin C that prevent skin damage and make your skin healthy from within. Buy Inlife Biotin Advanced Multivitamin Minerals Hair Skin & Nails Supplement here for ₹ 343.
Uses Herbal Makeup Wipes
Alia Bhatt is a star and she just can't do without makeup. But whenever she comes back home, she makes sure that she takes off all the makeup before sleeping. For removing her makeup, Alia uses herbal wipes. Buy Kara Face Wipes, Aloe Mint here for ₹ 90. She also follows a cleanup routine with an organic face wash. Buy Vaadi Herbals Aloevera Deep Pore Cleansing Milk with Lemon Extract here for ₹ 149.
Ice Cubes For Puffy Face
Ice is a key ingredient of Alia's beauty routine. Days when Alia wakes up with a puffy face, she takes some ice and uses it on her face.
Stays Hydrated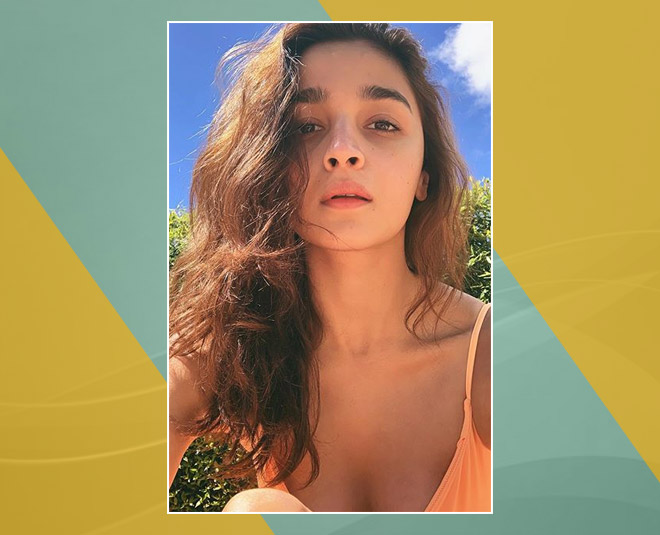 If your body is dehydrated, it will start showing on your face. It is very important to keep yourself hydrated through the day, this makes your skin glow and looks healthy. Alia Bhatt keeps herself hydrated all day. She drinks 8 glasses of water in a day to flush out all the toxins and stay healthy. Drinking more water also helps in the proper functioning of the digestive system that further helps to maintain body weight.
Don't Miss: Look Like Roop! Recreate Alia's Look From Kalank Under 500 For This Wedding Season
Sleeps Well
You just can't expect that glow on your face if you don't sleep well. Your body needs proper 8 hours sleep. Alia makes sure that she sleeps for at least 7 to 8 hours. A proper sleep pattern helps your skin cells regenerate and this prevents the appearance of aging signs.
Let's also talk about Alia Bhatt's gorgeous locks. She has naturally thick and beautiful hair. To maintain her hair, Alia washes her hair every two days to keep them neat and clean. When she is off duty, Alia likes to keep her hair away from any chemicals or styling tools.
Alia's Diet And Fitness Routine
Alia was an overweight kid before she stepped into Bollywood. Before her big debut, Alia Bhatt underwent serious training that helped her lose those extra kilos. Today, she is a total fitness freak and doesn't miss her workout.
Alia workouts for at least 30 to 45 minutes everyday. She likes to do cardio as it the best for burning those extra calories. Alia also does Yoga two times a week that helps her improve flexibility in her body. Squats and lunges are also a key part of her workout regime. Talking about her diet, it is high on protein and low on carbs. Proteins keep her full for long and she doesn't feel like eating in between meals.