He has always been vocal unlike most celebs about his disgust for skin fairness creams being sold in a country like India. India has diverse skin tones and known as brown skin yet most brands sell whitening creams which promote the wrong ideology that fair skin is the best. Dusky skin in India weirdly enough is still considered unfortunate, an ideology which is rather disturbing. Actor Abhay Deo has always been vocal about his disgust for such ideology and the fact that beauty brands have the audacity to sell these products in India and create that thinking wiith their adds that if you are fair you achieve more in life. This time the 44 year old actor took to his social media handle yet again and went savage by calling out and linking all those top brands which have been selling these beauty products.
The actor took to his Instagram and wrote: "Overall analysis Fairness creams in India have evolved over the years, from being fairness creams to now using euphemisms like "skin brightening/ whitening", or "lightening creams". Most brands no longer want to be associated directly with being termed as 'fairness creams'. So now we have brands selling "HD glow", "White beauty", "white glow", "fine fairness", and so on.
Over the years these companies have turned their attention towards the Indian Men, who are now trying to be "fair and handsome", and have dedicated power white ranges for them too.
The hunt for fairness:
Neutrogena fine fairness:
Could not locate it on their global websites but it is available on Amazon and other sellers:https://www.amazon.in/Neutrogena-Fine-Fairness-Cream-SPF20/dp/B00BSPOXMW/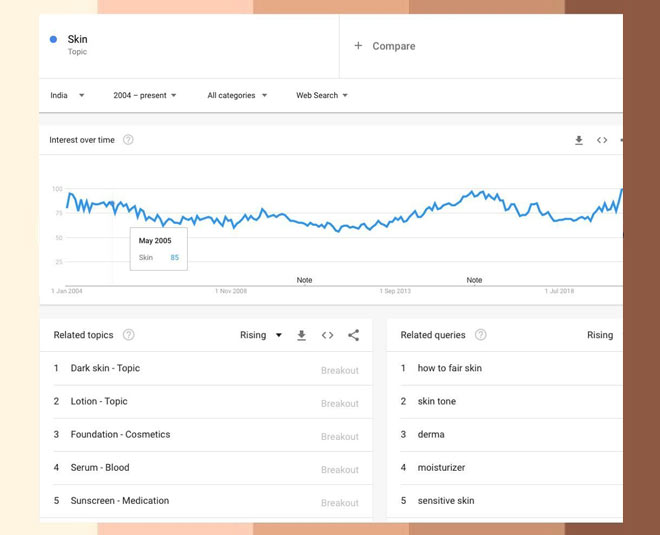 Ponds have a white beauty range: The range includes products like anti-spot fairness cream which is available on affiliate websites like Amazon and Nykaa. On their own website could locate just the White beauty cream. https://www.ponds.com/ph/products/collection/white-beauty/day-cream-for-normal-skin.html*
Loreal white perfect day cream: Apparently reduces the melanin level in the skin, gives a rosy appearance to your skin and is suitable for all Indian skin types. "reduce skin darkening and boost anti-spot whitening for a brighter & younger look"https://www.lorealparis.co.in/products/skin-care/day-cream/white-perfect-clinical-day-cream/
Recently, Procter & Gamble skincare brand Olay announced that it will no longer retouch skin in its advertising by 2021 because it reflects an idea of beauty which is almost impossible to achieve.
The statement was made during an event in New York. In March 2019, Olay also came up with a creative campaign #FaceAnything with @masabagupta @kubbrasait , @lilly, @bikewithgirl and @_payalsoni_#Fairandlovely #prejudice #racism #fairskinobsession #fairnesscreams #kalagora #flawlessskin #hdglow #whiteness #complexion #skintone #shades #pearlextracts #microcrystals #ayurveda."
Celebrities like Kubra Sait too supported Abhay for posting this and calling out brands. She said: "Thank You @abhaydeol for this post. I can speak for me, when the brand Olay approached me to be a part of their campaign, I was excited. When I saw the list of products, we spoke amongst ourselves. Masaba, Kusha Kapila and I. We spoke to the brand as one team and refused to be tagged with the products that had anything related to brightening/ lightening of the skin. Even the digital cover we did was not a retouched photograph."
Don't Miss: Looking For Lipsticks For Dark/ Dusky Skin Tones? These 4 Shades Are A Must Have
It is very disheartening when just a few celebs say it out loud. There are many actors who have in the past endorsed these creams and that included our very own much respected Shah Rukh Khan, Shahid Kapoor, Deepika Padukone, Illeana D'Cruz, John Abraham and every time their ads came out, Abhay has outrightly condemned them. Here is one tweet by a fan who shared the images of Abhay's post which also have the ads in them as proof.
just abhay deol being a king pic.twitter.com/5RyCzfeTrd

— mannie²⁸ | bearded jeetu enthusiast (@xorthogoddess) June 5, 2020
It is not just about these creams, Abhay just recently panned all celebs when they joined the #BlackOutTuesday protest on social media, sharing blacked-out screens condemning the death of a man of colour, George Floyd, who died after being pinned down by an officer in the USA.
View this post on Instagram
He outrightly, without mincing words wrote: "Maybe it's time for these now? Now that "woke" indian celebrities and the middle class stand in solidarity with fighting systemic racism in America, perhaps they'd see how it manifests in their own backyard? America has exported violence to the world, they have made it a more dangerous place, it was but inevitable that it would come back karmically. I'm not saying they deserve it, I'm saying look at the picture in it's totality. I'm saying support them by calling out the systemic problems in your own country, because they turn out to be one and the same thing. I'm saying follow their lead but not their actions. Create your own actions, your own movement, relevant to your own country. That is what the black lives matter movement is all about! In the larger picture, there is no "us" and "them". There is not a country that's real. But a planet in peril. #migrantlivesmatter #minoritylivesmatter #poorlivesmatterBlack Lives Matter (find out why not to use the hashtag and still support the movement)."
The actor has a great fan following not just for his work but also for speaking up against the wrong. He never minces his words and calls out celebs who may have been his co-workers as well, for not being vocal when it is necessary.
For more on beauty news and updates, stay tuned to HerZindagi and do let us know your take on this step taken by Abhay on our Facebook Page.