Ever thought of living in a place that looks right out of a fairytale or a place so secluded that you are the only person living there for miles and miles? Well, you may not have the money to buy such a place but you can surely stay at some crazy properties on your next holiday. Properties that are so outrageous that people won't believe you stayed there unless they see your pictures. Yes, we are talking about Airbnb rentals that look so crazy that you'd think twice about what was going through the mind of the person who designed them or decided to rent them out on Airbnb. These properties also redefine luxury and are the stuff that dreams are made of.
The Sea Shell House Or Casa Caracol
Image Courtesy: www.popsugar.com
Located in the Mexican Island of Isla Mujeres, this iconic property is the perfect place to escape the tourist bubble, says its advertiser Michelle. Just one look at this world-famous pristine white beauty and you will have a feeling of living in a water world and the interiors will simply blow your mind.
Earth House Underground Hygge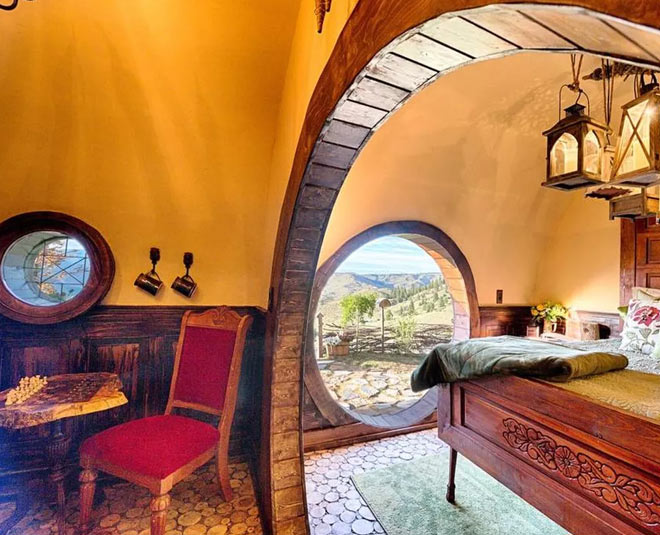 Image Courtesy: www.airbnb.com
If you want to whisk your beloved into the fairytale land of Hobbits from The Lord Of The Rings, take them to New Zealand but if you want to live like hobbits then take them to this Airbnb in Washington. The Earth House Underground Hygge located in Orondo is located near the beautiful Columbia River Gorge mountainside and it has been designed in and out to totally give you the feel of living in the 'Middle Earth'.
Chateau Ker Nelly
Image Courtesy: www.airbnb.com
Ahem, so this may not be anywhere near your budget but so what, we can dream on. This 19th Century French castle, located along the Côte De Granit Rose coast in Brittany, has views of the coast from every room. Renovated recently, the castle may look decadent but has all the modern comforts that a family could need.
Read More: Khatron Ke Khiladi To The Trip-Top Travel Shows That Will Ignite Wanderlust In You
Bird Island
Image Courtesy: www.airbnb.com
Yes, you read it right! Among the weirdest properties available for stay on Airbnb, this is one that takes the cake. You literally get to love in the middle of nowhere as you have an island all to yourself when you rent this. Located in Palencia, Belize, the Bird Island is described as magical by the guests and living there a once-in-a-lifetime experience.
The Shark Aquarium
Image Courtesy: www.airbnb.com
If living underwater on your vacation is your dream then this Airbnb rental is your best bet at having an out-of-land experience. The submerged underwater bedroom is Airbnb's first aquatic accommodation and a wonderland from where you can see sharks roaming around. It's certainly not for the faint hearted!
To read about celeb vacays to decide your travel goals, travel booking tips, best places for solo trips and more, stay hooked to HerZindagi.