In the 90's there were a handful of actresses who were loved by the nation. Their acting skills, their beauty and persona, and no to forget their fluid dance moves, all of these were noted and raved about. So much so that the younger generation had a crush on them and those heroines were figures many of us looked up to. One such actress was and is Madhuri Dixit who is "perfect" in almost all aspects. Her tuning with Anil Kapoor is well known but it was the alleged affair with Sanjay Dutt that is still discussed. Although neither of them have ever admitted to it, other people in the industry have always backed the rumours including the content in the book written by Yasser Usman who has also penned the biographies on late megastar Rajesh Khanna and Rekha. Not just that, there are a few excerpts as well, from different interviews, that Madhuri gave a long time back, which point us in the same direction. Scroll down to know what she said and other directors spoke on their rumoured affair.
There is a director from one of the duo's film (name not taken) who was quoted in Yasser Usman's book 'Sanjay Dutt: The Crazy Untold Story of Bollywood's Bad Boy'. He said: "He was always following Madhuri around and whispering I love you."
If this was not enough, in an interview at the time, Madhuri had said that Sanjay is the "only guy who makes me laugh all the time", which sparked the ongoing rumours.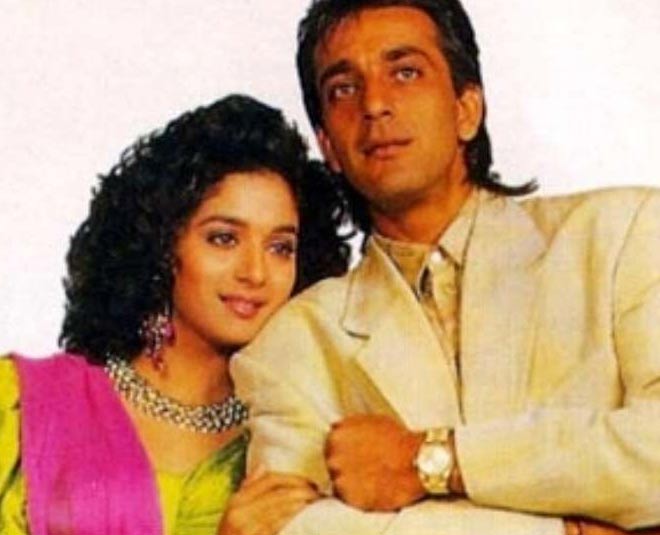 She had said: "My favourite partner is Sanjay Dutt, he's a real joker… and his stories make me laugh all the time, but he is also a gentleman. Sanju is a fantastic person. He has a loving heart and, in contrast to the widely held view, a good sense of humour. He is the only guy who makes me laugh all the time. He does not play games. He is open and uncomplicated."
However, the two actors denied their offscreen relationship.
What Led To Their Breakup?
It was in 1993, when Sanjay Dutt was arrested under the provisions of the Terrorist and Disruptive Activities (Prevention) Act (TADA) for illegal possession of arms during the Mumbai serial blasts. In an interview, when he walked out for a brief time in the month of October that year, he denied any relationship with Madhuri.
He said: "I wish I had a scene going on with Madhuri. But I don't. Look I get friendly to every co-star of mine. If you see me with Raveena Tandon, you will feel I am having an affair with her too."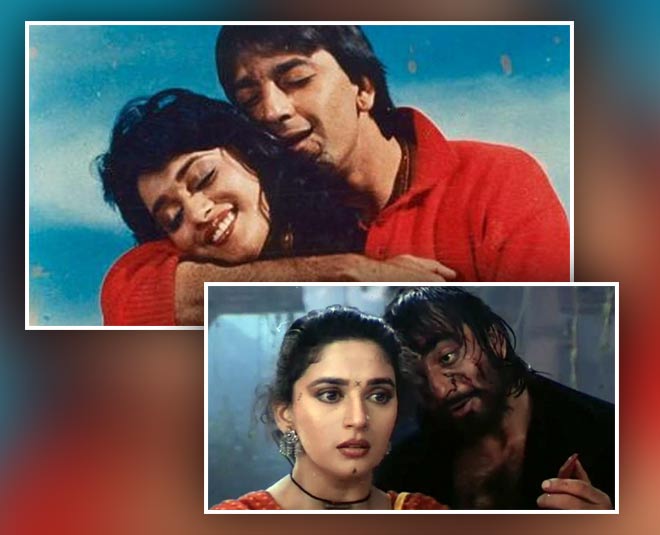 Sanjay Dutt also added that he had in fact walked up to Madhuri to apologise for the rumours she got tangled in.
"This story broke out around the time of 'Saajan'. In fact, when the story broke out in the press, she was shooting for Khel in Kenya. So, when we had a schedule of Saajan after that, I went up and said sorry to her. Because she was under public scrutiny for no fault of her," he said.
According to a story in Stardust, Madhuri had refused to take Sanjay's calls and told his sister, "Please tell Sanju not to call me up ever. Tell him that it's all over".
Their rumoured love affair had come to halt when Madhuri decided to cut off from him due to his arrest and involvement in the case.
His Late Wife Richa's Reaction
The two never admitted but the insiders in the film industry from that time said that they were quite serious about each other and were in fact planning to get married.
Filmmaker Subhash Ghai, who directed Khalnayak, had once said that he was "100 percent sure" that Sanjay would not marry Madhuri because apparently, Sanjay never wanted his partner to work post marriage.
When asked about the same in an interview, Sanjay replied, "He knows me very well, no doubt, but not that well enough to know what's going on in my mind. But why should the press ask Subhash Ghai the questions pertaining to my personal life in the first place? There has to be something on between us for me to marry her."
Sanjay, amid the affair, was married to Richa since October 1987. During the time when the rumours floated everywhere, she was in New York for her cancer treatment and returned to India in 1992 with daughter Trishala. At the time, she gave an interview and said: "We've been apart for so long, we're not totally in tune with each other. But it is nothing serious, we can overcome it. I did ask Sanjay if he was going to divorce me and he said absolutely not. As for me, I don't want a divorce. I've come down because I want to be with him again."
Don't Miss: Unseen, Childhood Pictures Of Bollywood's Dance Queen, Madhuri Dixit
But, within a few days, she returned to New York and gave another interview which was quite a contrast to her previous interview. She said: "I love him with all my heart. Whatever happens, I will always stand by him. He treated me very shabbily when I came down to meet him."
In an interview with CineBlitz in December 1992, her sister Ena Sharma, blamed Madhuri for her sister's separation with her husband Sanjay.
She said: "Madhuri is so inhuman…I mean Madhuri can get any man she wants. How can she go for a man who's behaved in such a way with his wife?…I know they are good friends because he's called her from our house. And he does talk to her brother and her sister here. But we never looked at it as if "okay the guy's involved with Madhuri". We're very open, we've always given Sanjay his space," she was quoted as saying.
Richa, who was at the time, still married to the actor, said in an interview: "At every point in his life, he needs someone he can lean on emotionally. Like he was dependent on Madhuri. Now that she has ditched him, he is going to be a shattered man."
When Sanjay Said For Madhuri: "Abhi Kya Acting Karni Hai"
The two never spoke to each other after that, well at least not for the public eyes. Madhuri went for an arranged marriage with doctor Ram Nene and had two kids with him. In 2010, Sanjay Dutt appeared in an episode of "Koffee With Karan" where he was asked by host and filmmaker Karan Johar whether he had met Madhuri after her return to Bollywood. The star said: "No, I have heard she is. But I just want to tell her to go home and take care of the kids. Be with the children, abhi kya acting karni hai."
Don't Miss: 20 Years Of Togetherness: Madhuri Dixit Nene, Shriram Nene Have Been Giving Couple Goals & Here's Proof!
Making Of Sanju: Madhuri's Strict Instructions
When Sanjay Dutt's biopic 'Sanju' was being made with Ranbir Kapoor stepping into the actor's shoes, it is said that Madhuri had asked director Rajkumar Hirani to remove all reference of her from the movie. Many comparisons were also drawn between her and Sonam Kapoor's character in the film as her character chose to get married to a doctor in the film.
However, Madhuri later cleared the air and told Mid-Day in an interview, "For where I am today, this topic has become redundant. Life has come a long way since then. I don't know where these reports are coming from. In any case, it doesn't make a difference to me."
Release Of Kalank, Their Comeback After 20 Years
Amid the promotions of Kalank, which marked the duo's comeback after 20 years on screen, Sanjay expressed his pleasure on working with her and showed all admiration for his beautiful co-star with whom he had given us "Khalnayak"
He told a media house: "Yes, working with her is a pleasure (smiles). What is the time frame that we hadn't met or seen each other? Two decades, perhaps a little more. Madhuri is such a great actor. I've done many films with her - Thanedaar (1990), Saajan (1991), Khalnayak (1993), Mahaanta (1997)... I can't even recall in one go. So, to work with her again in that one scene that we did together in Kalank was amazing."
"She's got that command as an actor. It's a pleasure to share screen space with her after so many years. So much has gone past, people have matured. She herself comes across as such a matured actor,'' he added.
Well whether their relationship was real or rumoured, both the actors have come a long way and have their own respective families. What we wish for right now is that Sanjay Dutt recoups from his illness and gives us another grand film, soon.
Stay tuned to HerZindagi for more on Bollywood gossip.