Do you know that your simple toothpaste can be put to 'n' number of different uses. Apart from making your teeth shiny and squeaky clean, it can also be used to perform several quick hacks. Read on to how you can use toothpaste to clean or fix things, and save yourself both, time and efforts.
To Remove Permanent Marker
Permanent marker stains are hard to remove and can spoil the look of anything. No matter how much you scrub it or wash it, these stains seldom go away. The best way to remove them in a jiffy is by using a toothpaste. Just rub some toothpaste on the stain and scrub it with a damp cloth. Leave it for 5 minutes and wipe it clean. This trick will work wonders on surfaces like wood, tiles, and walls.
Whiten Soles Of Your Shoes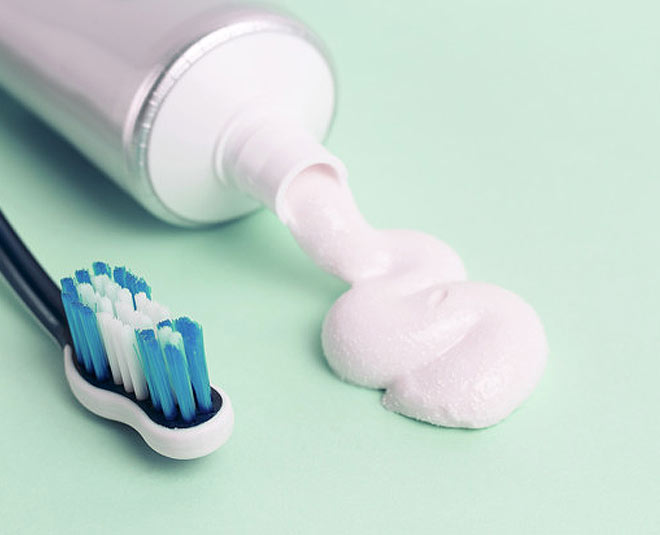 The white rubber lining near the sole of shoes tends to go dirty within a week of usage. It gets dirty and yellow with time and seems impossible to clean. Just grab some toothpaste and apply on the white rubber lining. Use a damp old toothbrush and scrub it for a while. Wash the shoes properly and leave them in sunlight, until dry. You will get squeaky clean shoes, which will seem as good as new.
Don't Miss: Right Way To Wash Hair To Avoid Hair Breakage
For A Shiny Mirror
To keep your mirror spotless and shiny, use toothpaste as a cleaning agent. Squeeze out some toothpaste and spread it all over the mirror. You won't need more than 3-4 drops for the purpose. In circular motions, use a damp cloth to rub the mirror. Wash off with water, to get a polished mirror.
Hair-Styling Tools Cleaner
From curling iron to hair straighteners, your hair-styling tools collect a lot of gunk over time. Cleaning them with toothpaste will make the gunk loosen its grip, which will help in hygienically cleaning the appliance. Just rub some toothpaste on it and rub off with a damp cloth. Make sure the appliance is unplugged and cool, before doing the cleaning.
Clean Headlights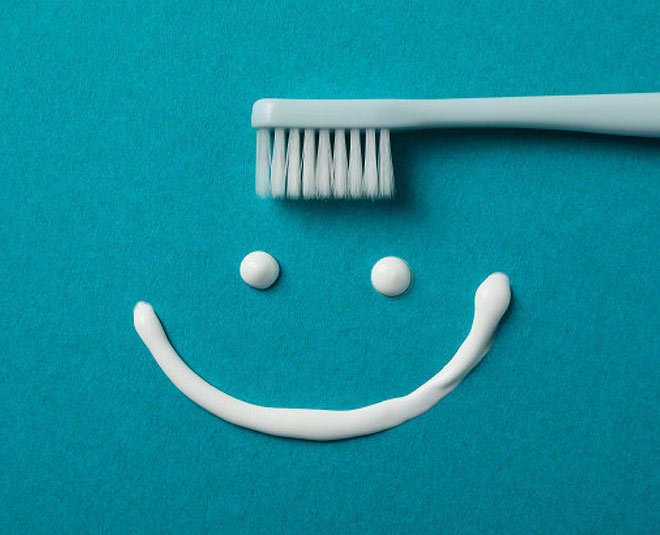 Have your car's headlights gone yellow and hazy with time? Fret no more, and use a toothpaste. Just spread a pea-sized drop of toothpaste on both your headlights and rub lightly. Leave for 5-10 minutes and wipe it off with a clean cloth. Your headlights will become clearer now, with all the grime wiped off.
Revives Dull Nails
For people with dull and yellow nails, toothpaste can do your much-needed manicure. Just spread some toothpaste on your nails and scrub them lightly, using an old toothbrush. Repeat the process 2-3 times, for effective results.
Don't Miss: Maternity Fashion: Exude Glamour In These Celeb-Approved Salwar Suit Sets During Pregnancy
Remove Mug Stains
Coffee and tea usually leave behind stubborn stains on mugs, which are very tough to clean. If you can't scrub off these stains using your normal dishwashing soap, take the help of a toothpaste. Just spread some paste on these stains and leave for 10 minutes. Wash off under running water and give a final rinse with soap water. This hack will not only remove the stains but also make your mugs as good as new.
One couldn't even imagine all these smart hacks, you can do with a toothpaste. So, the next time you need to clean a stain or remove some scratches, make sure you grab a tube of toothpaste.
For more such tips and cleaning hacks, stay tuned to HerZindagi.com