India is become unsafe by the day for women and we do not see it getting better in the near future at all. I for sure do not. I don't know 'achhe din kab ayenge' as I have faced, hearing stories and ordeals of women who are still facing sexual assault of some or the other degree, every day! Did you know that more than 32,500 cases of rape were registered with the police in 2017, about 90 a day, according to the most recent government data. According to the National Crime Records Bureau, Over 12800 rape cases were pending for trial in Indian courts by the end of 2017 as per the last available government data. It has been 7 years since Nirbhaya and nothing seems to have changed!
Indian courts disposed of only about 18,300 cases related to rape that year, leaving more than 127,800 cases pending at the end of 2017.
People, organisations are trying to make the world a better place for women but how much can they really do? Well, one amazing initiative taken recently was the launch of The Sayfty Survivor's Toolkit by Sayfty Trust, in collaboration with UN Women India, Twitter India, Manupatra & Jagran New Media, on November 9 in New Delhi, which is a resource for survivors of sexual assault in India. It strives to support the survivors in helping out with the legal, mental health, judicial, medical, and all other systems, which are major challenges for the survivors. At this event, there were two sets of panelists that shared experiences, tips and more on the safety of women in India today. One of the panelists was Advocate Nipun Saxena, who spoke at length on How inadequate witness protection can stand as a barrier for survivors! Here is a bit of what he shared and you will be stumped, which also reflects on how little we know and that includes me!
He said: "I think it is a much more nuanced problem. Rather than just limiting it to only witness protection. There are three stages at which it operates. First is at the registration of an F.I.R itself. Because that is the moment when you have already revealed the identity of a person. The moment you do that, it is the moment all hell breaks loose. What usually happens is that that person is approached. The witnesses who have rendered their testimonies under Section 161 are also exposed. All the material evidence which is to be taken is immediately exposed. You know where the person is staying, you know where the witnesses are located, you can track them down to their locality and that is precisely where the problem is.
View this post on Instagram
"The second thing with witness protection is, at the time of the trial, there are multiple statements that are to be recorded. Say under 161, when a woman is taken to record her statement under 164 before a magistrate, then she has to further add on to the testimony under Section 232 when the trial begins.
"That 161 statement is then matched with her statement under 164 which in turn is matched with her statement under 232, to bring out a clearer picture. So any inconsistency, any improvements any altercations, are sort of vultured upon by the defence counsel. So this multiplicity is also something that goes to the rule of case. And in any of these cases if the identity of the victim or the survivor in case she is alive comes out, then that leads to further complications. What then happens is that with respect to witness protection program there is no law as it currently stands."
Don't Miss: Sayfty Survivor's Toolkit For Survivors Of Sexual Assault, Launched In India!
"There are policies that exist and which differ from state to state basis and this is where the greatest problem lies. The greatest problem lies as much as these are state subjects. Where there are state subjects there is lack of uniformity, there is no common minimum ground, there are no effective ways and means to secure.... just, for example, say there is a one-stop crisis centre which is established in every district, in terms of the order of the supreme court."
The one-stop crisis scheme came somewhere in 2015 and the honourable ministry of women and child development had been making systematic budgetary allocations and when we decided to the raise the question to the supreme court of India, we got to know that out of a total of 729 districts there were less than 200 districts where one-stop crisis centre was actually functional.
Budgetary allocation, sure in all 729 districts, but actual implementation where there was an infrastructure in place? ZERO!.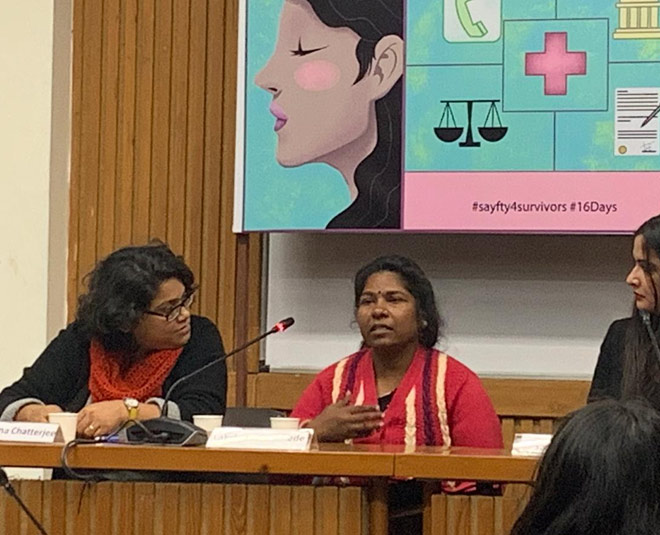 The panel at the event also included Lakshmi Wankhede, Community Leader at Jagori, Rashmi Anand, author, counsellor & social worker, Rituparna Chatterjee, Editor & MeToo India Twitter handle curator, Suneeta Dhar, Senior Advisor at Jagori, Anju Pandey, Program Specialist at UN Women India, Dr. Bharti Sharma from Shakti Shalini, Anuradha Shankar, IPS & Dr. Jupaka Madhavi, One Stop Centres, Ministry of Women & Child Development.