Long wedding films have given way to 30-second reels and posed photographs have morphed to candid moments, as millennials get married in 2023. With social media flooded with wedding reels and moments, it's become important to couples that their big day looks perfectly 'like, comment & share' worthy.
With so many trends and transitions to take note of, it might get daunting to make a mark on social media with your wedding shenanigans. You need to know the secret sauce. And who better to ask than the photographers who gave us the most shared celebrity wedding shots of the last year. HerZindagi spoke to three celeb-wedding photographers to understand how couples can plan their weddings, so that they're perfect for the gram. From lighting to decor to remaining stress-free, they touched upon everything that can help couples plan their shoots, moments and event days.
Tip 1: Know Your Photographers
They will be following you around on the most important day of your life. You'll be giving your photographers access to the most private moments. It makes sense to get to know them beforehand.
"Know your photographers personally, by their name and ideally hangout with them at least once. This breaks the ice and helps you to be a lot more comfortable around the camera," said Dhiraj Sanil, Producer at ReelsAndFrames.
ReelsAndFrames, a wedding photography and film company, has shot several celebrity weddings, including that of Sonam Kapoor, Rhea Kapoor, Shloka and Akash Ambani.
View this post on Instagram
Tip 2: Be Real
Without trying to blindly copy trends or what's in vogue, do your own thing.
"Just be real! Don't follow a trend otherwise your wedding will look like any other wedding on Instagram. If you are yourself, then your wedding will look unique, just like you!" said Ankita Asthana, photographer and founder of WeddingNama.
WeddingNama, a wedding photography and film company, filmed cricketer Zaheer Khan and actor Sagarika Ghatge, and fashion influencer Masoom Minawala's weddings among others.
View this post on Instagram
Tip 3: Pick The Right Photographer
Picking out the right photographers who understand your "vibe" and aesthetic is crucial.
"Make sure to see their full wedding works rather than just some good looking photos from multiple weddings. Through social media, it is extremely difficult to filter out photographers. It is very important to engage with the photographers in an elaborate conversation, if feasible set up a physical meeting or if not do a video call. Try to understand the photographer's perspective, express your views, provide some visual reference if possible," added Harry Verma, Co-founder of Luxe Captures. Luxe Captures shot a wedding that featured in the popular Netflix show on Indian weddings called The Big Day.
On being asked what couples today want their films and photos to look like, Dhiraj of Reelsandframes said that there isn't one defined trend as everyone wants something different.
"With each couple having their own unique story and personality, we love working our way backwards and understanding them to get a mood board out. Sometimes we love exploring. Sonam kapoor did not want any sound bites but her story was so unique , we had to convey it in her own words. So we got her chatting with her make-up artist and got the most candid conversation, which eventually became the narrative of her wedding trailer!" said Sanil from ReelsAndFrames.
Tip 4: Delegate and Take Less Stress
Photographers agree that stress may be the worst accessory for a bride on her wedding day. You know that nothing escapes the camera, don't you? So delegate the work! Your friends, cousins, bride's maids are there to help and are usually eager to do so!
Ankita of WeddingNama said, "Enjoy the day to the fullest, if you want happy fun photographs, please ensure you are happy and you have fun during your wedding. Delegate as much as possible and try not to get upset if things don't go according to plan on the D-day. Stay stress free and give time to your photographer."
Harshita Anand, co-founder of Soko weddings is a photographer in high demand and has shot many influencer weddings. She corroborated that as much as it might sound difficult, it's important to not take too much stress, as no matter how much one tries to fake-smile their way through photos, stress does show. "Try to delegate. We've seen brides take on so much on their own shoulders, that it really does have the potential to ruin big days," she said.
Tip 5: Pick Vendors That Cater to Your Taste
The entire aesthetic of the wedding will depend on many different elements coming together seamlessly. These include decor, food, makeup artists, your outfits and even the location of the wedding. Picking these vendors carefully and explaining your moodboard, wishes and expectations to them early on plays a crucial role in making weddings look good.
"Take out the time to find the right vendors, makeup artists and photographers. Get people who you can trust. Try to meet your vendors too, because it does play a role," said Harshita. "Clothes and fittings also determine how you look on your wedding day, so take out the time to go for the fittings and get alterations done in time. Also go for decor that matches your taste. Compare the rates of decorators, understand what different people do, as decor can be a game-changer."
One of the big weddings they covered was that of content creator and plus-size influencer Diksha Singhi. Several of her wedding reels garnered lakhs of views, with people appreciating the raw joy and cheer that her wedding exuberated.
View this post on Instagram
Tip 6: Lighting Can Be a Game-changer
It's no secret that lighting plays a huge role in how photos from a wedding look.
"Lighting can change the whole game, nothing like pictures clicked in natural daylight. Opt for a day wedding if you can and book an open-air venue," said Bharat Birla, from Twosome Weddings, a wedding photography agency based out of Delhi NCR.
Najmus Saqib, co-founder at Soko Weddings adds how even the timing of the wedding itself plays a role. Couples today even choose their wedding timings, regardless of what mahurat others suggest, in a bid to recreate celebrity moments like that of Ranbir-Alia or Vicky-Katrina's sundowner ones. That's usually around 5pm, during the golden hour," he said. These were pictures of the couples with the sun between them, in a lovely sundowner golden glow, which are indeed perfect for the feed.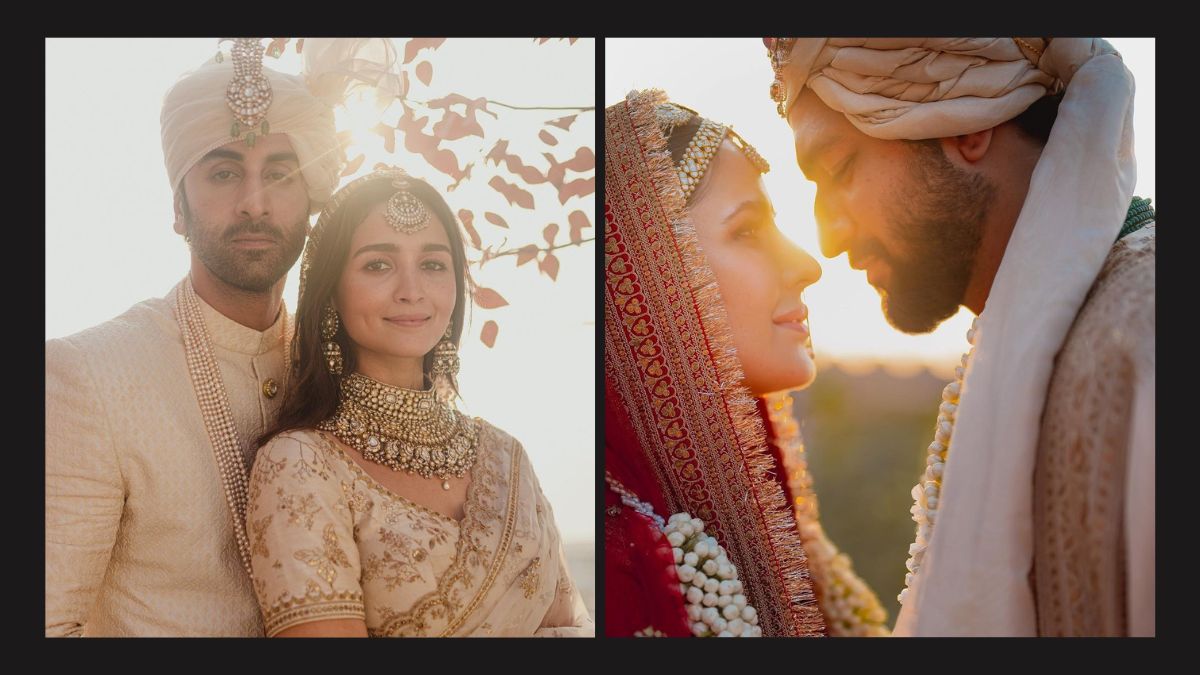 Tip 7: Decor Binds Everything Together
Decor is that one element that is likely to be omnipresent in all wedding shots, which makes it all the more important to get the decor right. Today, from the colourful and quirky to the muted and pastel-themed, decor options are plenty. To stand out in a crowd of innumerable wedding posts, this is the key element.
"See if you can book a wedding planner who will help you get quirky elements instead of traditional decor. I have covered weddings where couples have reference pictures and videos handy all the time. Avoid sticking to specific wedding trends, plan your wedding just the way you like, be original and it will naturally make your pictures stand out," said Birla from Twosome Weddings.
Weddings are chaotic, fun, elegant and a mix of all kinds of emotions. Photographic moments play out effortlessly, leading to photographers having quite a bit that they can freeze in time.
"Weddings are full of stories. Generally we see fathers of the bride keeping a very strong demeanour throughout but at the vidai they cannot stop their emotional outbursts. Sometimes the crazy bunch of friends tear apart the groom's clothes and throw them into the pool. A lot of masti happens at the joota ceremony when one party wants to grab the groom's shoes and the other party puts their best effort to protect. End of the day every wedding is an opportunity to capture moments as they unfold and become timeless," said Harry Verma, of Luxe Captures.
Ankita of WeddingNama adds that in spite of evolving trends, what matters are the memories. "When they sit back and remember their wedding it should be about the emotion they felt during the wedding rather than any trend. The nostalgia that a good wedding photograph triggers is what we aim to capture. Reels, digital medium, etc are just that, they are mediums to express what we truly want to express, so the content does not change. The core values of the art of capturing weddings remains the same," she said.
Last but not the least, make a unique hashtag that grabs eyeballs and helps all photos be tagged by a common thread!
Did you like this article ?