Don't let this Holi go as a dampener and celebrate the festival of colours with a lot of love and happiness. Take your pick and wish your family, friends and colleagues with the appropriate message or image and play safe!
Let's Welcome The Vibrant Festival Of Colors With Joy & Jubilation!
Lal "RANG" suraj se,
nila "RANG" asma se,
hara "RANG" hariyali se,
gulabi "RANG" gulab se,
tamam khushiya mile apko,
ye dua karte hai hum dil se.
"HAPPY HOLI"
Red, Green, Yellow & Blue… The Colours of Holi remind me of you… Because just like them you are so vibrant & full of fun!
"Wishing you and your family success, happiness and prosperity this Holi and always! Have a colourful and joyous Holi!"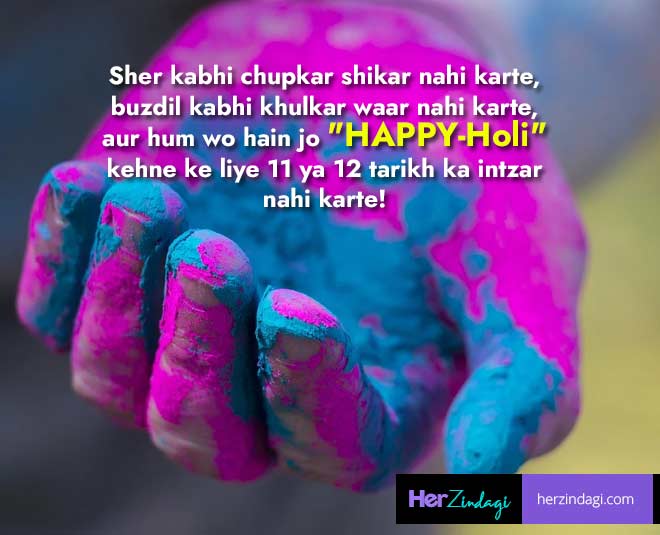 Sher kabhi chupkar shikar nahi karte, buzdil kabhi khulkar waar nahi karte, aur hum wo hain jo "HAPPY-Holi" kehne ke liye 11 ya 12 tarikh ka intzar nahi karte!
Gunjiya aur Thandai ki ho bharmar.
Gubbaro aur pichkari ke saath milkar manaye holi,
is tarah ki aaj har dil mein bass pyar ho.
Wishing you a Happy Holi.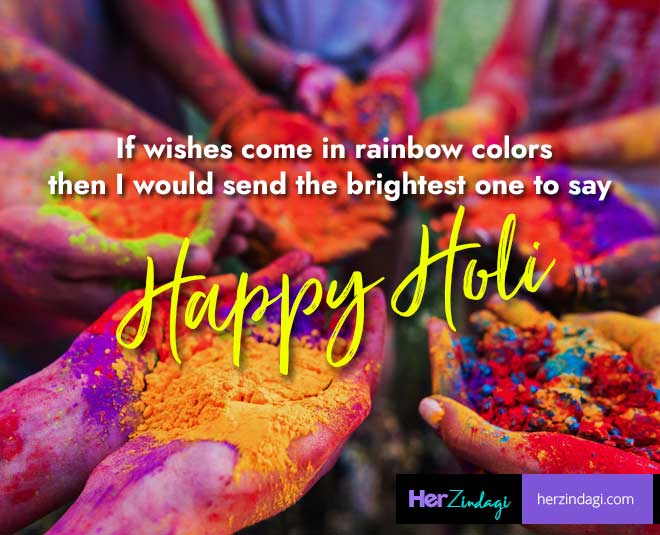 May God gift you all the colours of life, colours of joy, colours of happiness, colours of friendship, colours of love and all other colours you want to paint your life in. Happy Holi.
Whenever you come across darkness in your life do falter. Always remember that there is always light at the end of the tunnel. Happy Holi!
Faagun ka ye pyara sa tayohaar...
Aap ka jiwan khushiyon or rango se bhar de...
HOLI ki Shubh Kaamnayein!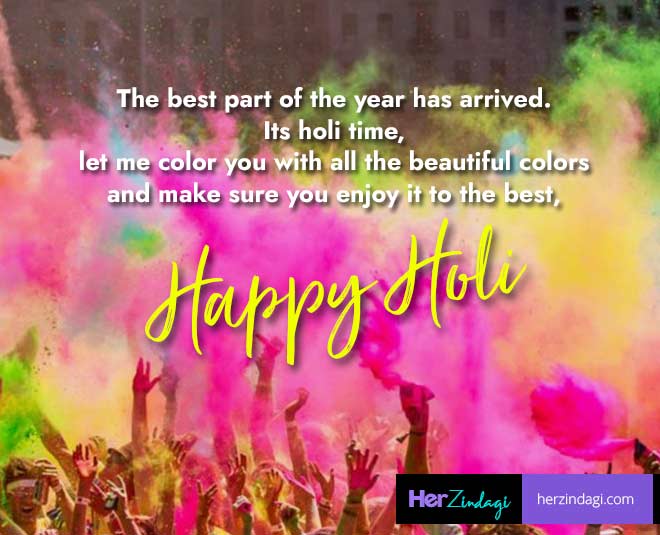 H - Happiness
O - Opulence
L - Love
I – Integrity
Now that you know the meaning, let me wish you a happy Holi
If wishes come in rainbow colors then I would send the brightest one to say Happy Holi.
Don't Miss: This Is How You Can Avoid Weight Gain During Holi
Happy Holi from mine to yours. Hope you have a colourful day and a colourful life with all kind of right twists in the colour.
It is the day to express love with colours. It is a time to show affection. May all the colors that are on you are of love! Wish a very happy and colorful Holi to you and your family.
May all the 365 days of the year be as merry as the day of Holi. Happy Holi!
May the day be bright and sunny so that wee may be able to play our holi with peace and joy. Happy Holi!
Paint the canvas of your life with the most beautiful colours of nature. Happy Holi!
May God guide you in your journey towards success. Wishing you a very happy Holi.
The best part of the year has arrived. It's Holi time, let me color you with all the beautiful colors and make sure you enjoy it to the best, happy Holi!
Don't Miss: Easy Remedies To Take Off Holi Colours From Nails
May the auspicious occasion of Holi fill your life with the colours of joy and happiness.
Oh, thank god the day is not Sunday. Happy Holi everyone, have a safe and colorful Holi with your family. Best wishes!
Don't get too much into colors that you forget to come office the next day. Happy Holi guys, wish you the best!
Stay tuned to HerZindagi for more on Holi care and how can you make the day special!