Seven years after Delhi's Nirbhaya was brutally assaulted and gang-raped in a moving private bus in the heart of the city, it might be pertinent to ask- Has anything changed for women in public spaces? Or what all initiatives the government has taken?
To get all the answers, Team HerZindagi willed itself to investigate the matter and uncover all the dark spots in Delhi.
Karol Bagh Market
Recently, North Delhi Municipal Corporation (NDMC) organised a two-day street carnival for women in Karol Bagh, urging them to fearlessly reclaim Delhi streets with celebrations and music in the night. But as soon as the event ended, the market snapped back to reality and the roads were left with only glooming darkness, with no security or help in sight.
On being queried about the police security, a local resident said, "There's no security here. And if something happens and we report it to Police, they ask us bizarre questions."
"Police forces were there only for 2 days", quipped another bystander.
Satyaniketan Bus Stand
Adding further to similar claims, a college student, who takes bus from Satyaniketan, said, "The problem is that policemen are present only at checkpoints. Also, there's a stretch road that has no lights and security."
According to a survey conducted by social welfare department officials, SafetiPin, it was found that there are 421 stretches with around 40,000 dark spots in Delhi, out of which only 331 stretches have been fixed.
Don't Miss: 6 HZ Users Recount Their Terrifying Stories Of Being Stalked, Sexually Abused & Molested
Security At Metro Stations
After realising the questionable state of security on busy roads, we decided to investigate the matter further and took to the nearby metro stations for clarity on such claims. On reaching the Jangpura metro station, that's considered one of the most crowded stations of the city, we found out that while none of the exit gates had a streetlight, the lanes evoked a spooky feel with not a single soul around. Forget woman, this area did seem safe even for a man.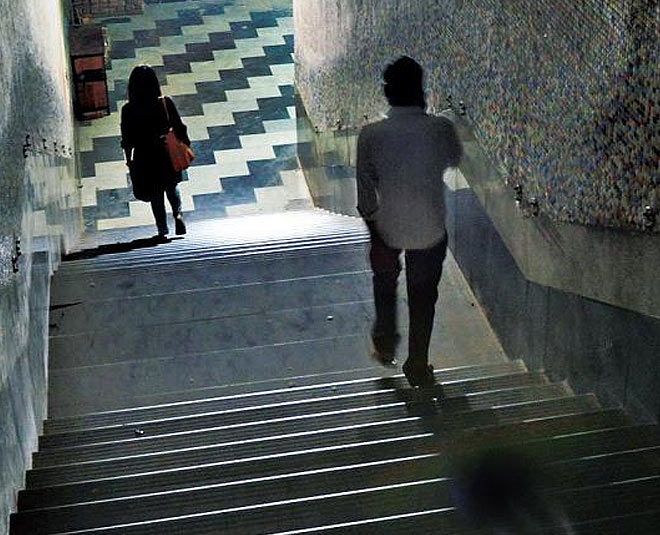 Last year, Bhavya Singh, a city-based architect, through an online petition at change.org, pushed for lighting up dark spots within a kilometer's radius of all metro stations. In response, Delhi Minister Satyendar Jain had committed to light up dark spots around metro stations.
"I have taken note of the campaign regarding dark spots around metro stations in Delhi. It is very unfortunate that she [Ms. Singh] was made to feel threatened and unsafe near a metro station only because there was no light. To make you all feel safer while travelling by the Delhi Metro, my Ministry will ensure the commissioning of a fresh survey on dark spots," the minister said.
However, the government has still not addressed these issues and taken strict actions. We wonder what will it take for the authorities to realise the gravity of the matter.
Stay tuned to HerZindagi for more such articles.