Akshaya Tritya 2021 is just a few days away, the exact date being May 14 and we are super excited. Amid this pandemic, it is these few festivals that bring in some occasion of happiness. This Hindu festival falls on the Lunar day of Shukla Paksha in the month of Vaisakha. Akshaya Tritya is a Sanskrit word where Akshaya means the never diminishing sense of happiness while Tritya means third. Hindus invest in gold to this day as the belief is that buying gold on this occasion brings in prosperity.
Auspicious Timing
The festival is falling on a Friday this year with the muhurat being:
05:38 to 12:18.
Tritiya tithi begins on May 14, at 05:38
Tritiya tithi ends on May 15, at 07:59
Gold Purchase Timing
The auspicious time to buy gold is between 05:38 on May 14, to 05:30 on May 15.
What To Do
Begin the day with an early morning bath and then do the puja. Offer incense sticks, basil leaves, flowers, sandalwood paste and yellow clothes to Lord Vishnu. Next, recite the Vishnu Chalisa or Vishnu Sahasranama and then the bhog.
Significance
As per mythology, Akshaya Tritya is marked by Treta Yuga. Usually, Akshaya Tritiya and the birthday anniversary of the 6th incarnation of Lord Vishnu --Parashurama Jayanti-- falls on the same. However, sometimes the tithi can fall a day before Akshaya Tritiya.
Wishes For Your Loved Ones
On this pious occasion, wish your loved ones and spread the messages of positivity with these quotes.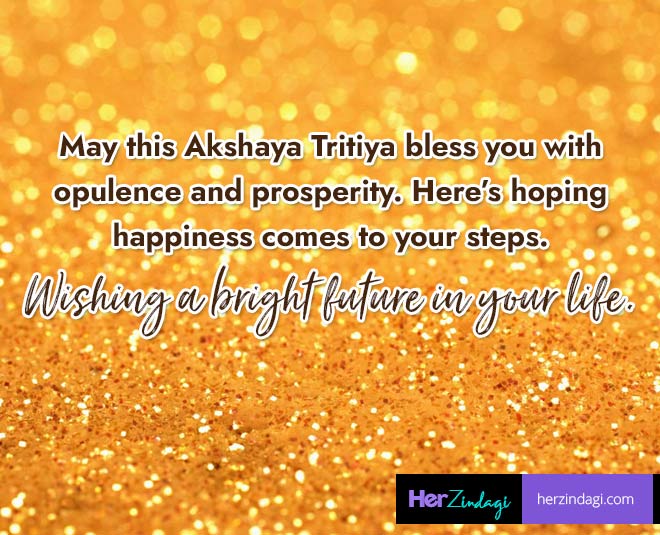 May this Akshaya Tritiya bring the hope of happy times for you are your family!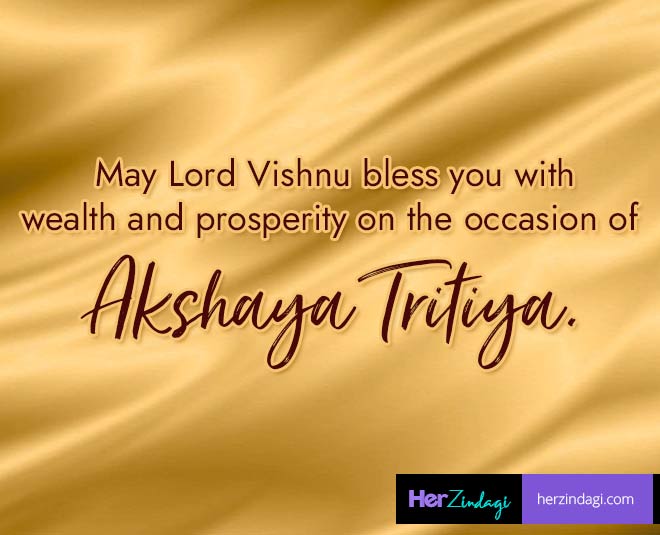 May this Akshaya Tritiya bless you with opulence and prosperity. Here's hoping happiness comes to your steps. Wishing a bright future in your life.
Buy gold, go shopping.
Akshay Tritiya is on its way
May you be blessed with health and wealth
These are my wishes today and every day
Happy Akshay Tritiya
Don't Miss: Wear Gold Jewellery To Reduce Stress, Boost Immunity With A Few Rules
Welcome to the festive season
All celebrations have a reason
This Akshay Tritiya enjoy and smile
Because life is beautiful and worthwhile
Happy Akshay Tritiya
Let's celebrate the day of success and good luck
Never diminishing fortune and fun
Here's wishing you a Happy Akshay Tritiya
Because you are a special one!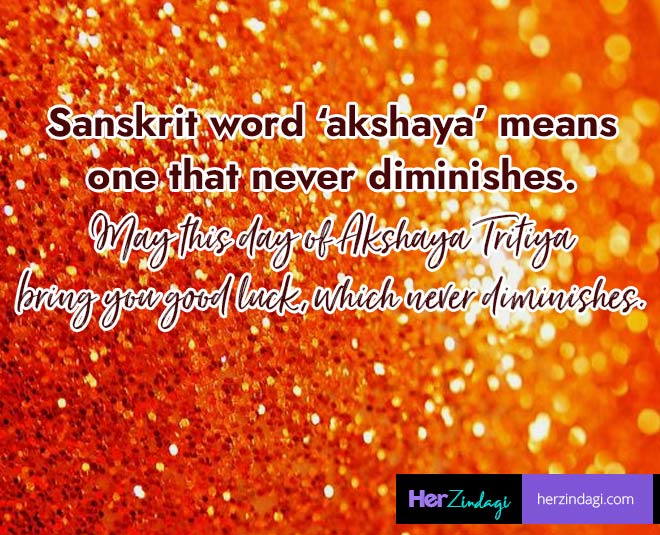 Sanskrit word 'akshaya' means one that never diminishes. May this day of Akshaya Tritiya bring you good luck, which never diminishes.
Health, wealth and prosperity
Are here to hold
May you celebrate this Akshay Tritiya
With tons of Gold
Happy Akshay Tritiya
Don't Miss: Save Yourself From Being Cheated While Buying Gold This Festive Season
Here's wishing you a spiritually-blessed year — one that brings you great inner satisfaction and aligns you with the Almighty himself. Happy Akshaya Tritiya to you and to your family.
Take care of yourself and your family and celebrate the occasion with love and laughter at home. Stay tuned to HerZindagi for more on Lord Vishnu and other religious texts and occasions.