Hudson Lane is one of the hotbeds for Delhi's foodies and those who want a place to chill out in the evenings without burning a hole in the pocket. The entire lane is lined with quirky cafes with myriad themes and a plethora of foods to choose from. So if you want to catch up with friends for coffee and pasta or want to grab a pizza and shakes, head to these cheap cafes and restaurants in Hudson Lane in Delhi's GTB Nagar to have your fill while saving some money to splurge later on.
QD's Restaurant
My first visit to the Hudson Lane area was for a friend's birthday party at QD's which, I got to know, was famous for its signature dish – Tandoori Momos! While I enjoy a plate of piping hot momos every now and then, this dish took my breath away. With a generous filling and a smoky outer layer, the Tandoori Momos are a must-order dish at QD's. While the veg momos are priced at Rs 175 per plate, the non-veg ones are priced at Rs 185, which is a pretty decent price for a plate full of dimsums. Their oriental stuff and fresh drinks are also great. The ambience is pretty perky and the place is very popular with the young crowd as well as families.
Rico's
Rico's is one the cutest cafes in Hudson Lane. The ambience is done up in pastel hues and one wall has a tasteful arrangement of books that you can read if you have landed up there with loads of time. Their Chocolate Brownie Sundae with a generous dose of hot chocolate sauce, nuts, and ice cream is to die for while the Red Velvet Shake was simply awesome! I had the Hummus with Pita, which was tastefully drenched in olive oil and priced at Rs 155. They also have a variety of egg dishes that are priced at just Rs 140 plus an interesting mix of Mexican and Italian snacks to choose from.
Read More: Now Prepare Cafe Style Coffee At Home With These Easy Recipes
Big Yellow Door
Amongst all Delhi north campus cafes, the one that stands out is Big Yellow Door. Because you literally have to stand outside and wait for your turn! With an interesting continental menu and attractively done interiors, you do understand after your visit here that what's the hoopla all about. My friend and I had their Baked Nachos With Cheese (Rs 180) which has crispy nachos drenched in cheese and corns (gave me a cheesy high!), Green Apple Ice Cream Soda+Chocolate Brownie Shake(Rs 120+Rs 145) to wash it down and a Greek Salad (Rs 135) which made for an interesting meal.
Cafeteria and Co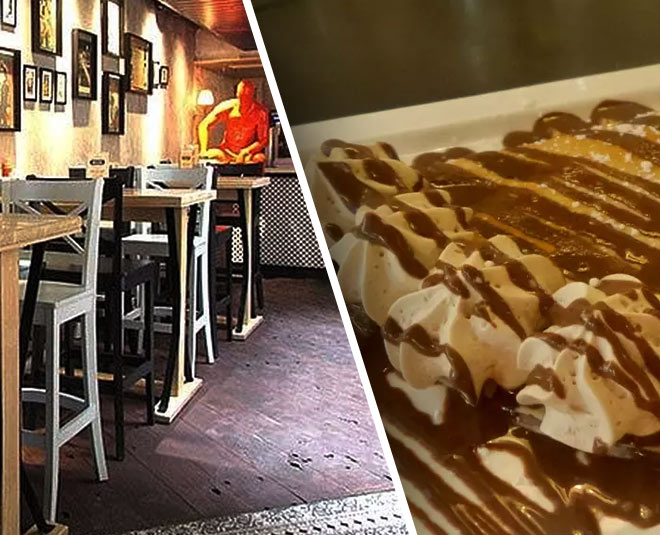 I can surely count Cafeteria and Co amidst the classy Cafes in GTB Nagar where you can take a whole bunch of friends and order a large variety of food with the bill coming well withing just Rs 2000 to Rs 3000 including drinks, sides, main course, and dessert. My friends and I ordered their pizza, pasta, prawn rice, burger, noodle bowl and more. But what stood out for me was their creamy Tiramisu Crepe which had a dash of espresso, layer of tiramisu and mascarpone cream, priced at Rs 199 only.
Phonebooth Cafe
The ambience of the Phonebooth Cafe attracts you with its many opportunities to click quirky photos. The menu is pretty diverse and service is cool too. Their Masala Momos and Butter Chicken are worth trying out.
If these bites at the cheap cafes in Delhi are not enough for you, you can also try out full, hearty meals at one of the cheap state bhawan canteens in Delhi and do let us know.
Did you like this article ?