In episode two of our 'Tasty Adda', we will acquaint you with a restaurant in Delhi-NCR where you can devour delicacies specific to Kashmiri Pandit community and taste the authentic flavours from 'The Paradise on Earth'.
This time, we went all the way to Gurugram to find a restaurant run by two Kashmiri Pandits - Surender and Nalini. Their passion for food and vision for the restaurant has helped them build Matamaal.
Take a look at what delicacies our host, Namya Saxena, tried and what has been her experience.
Ambience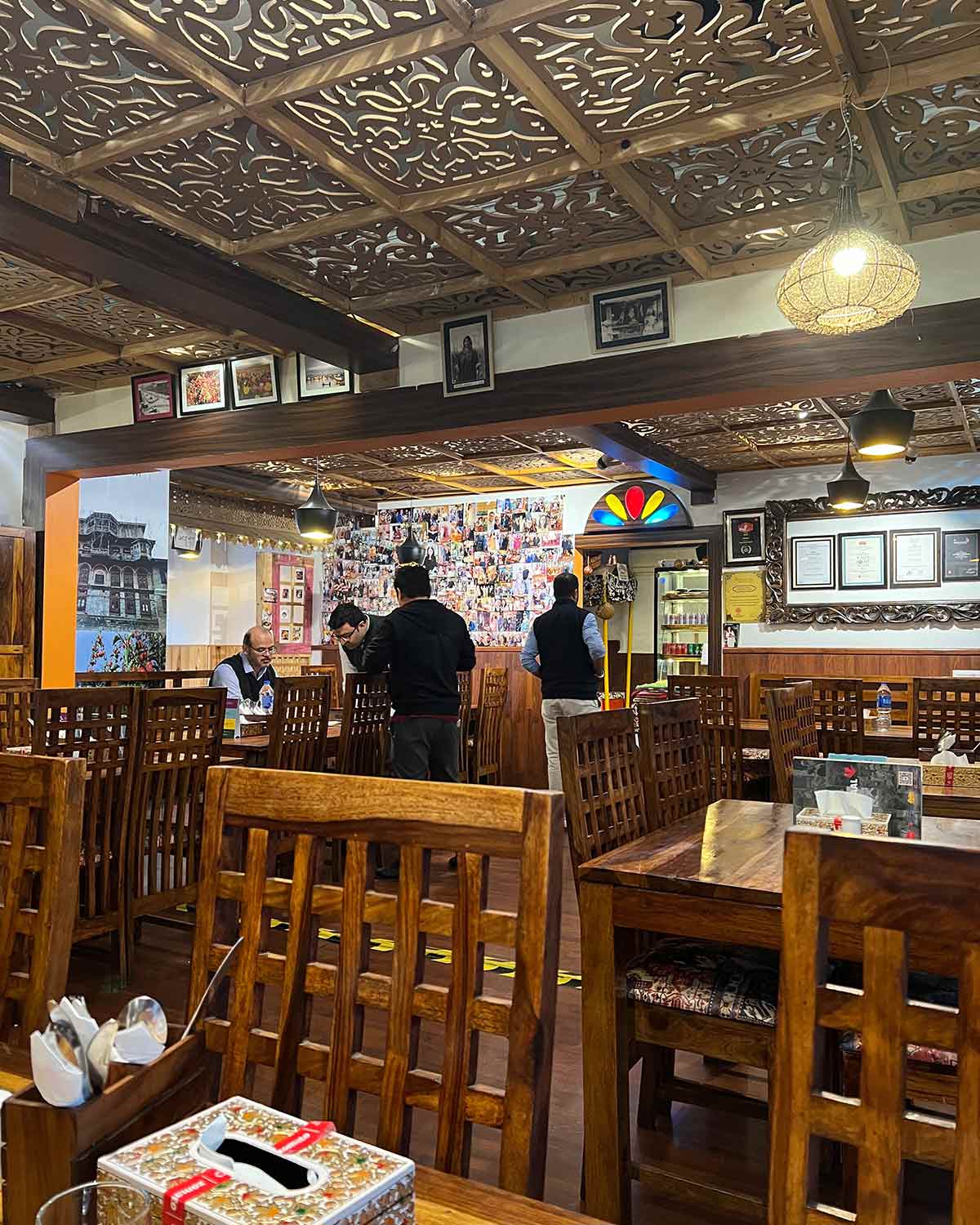 Located in Gurugram City Court, Matamaal has aesthetic interiors. The entrance has rustic showpieces, and the opposite wall is decorated with frames. The sitting area has wooden furniture. The ceiling is also made of wood with intricate designs carved into it.
One of the walls has pictures of people who have visited the place in the past. Nalini and Surender started this restaurant in 2016. They were the first ones to establish a food joint where people could taste the flavours of Kashmir.
Nalini is an expert in cuisine. Her forefathers have lived there, and the owner has inherited the charisma that the Kashmiri Pandits add to their delicacies.
The two restaurateurs not only have Kashmiri food on the menu but also sell clothing and artefacts that reflect the weaving and art of the land.
They have a steady shikara where you can sit, eat and imagine what it would be like in reality. The place also has a section where you can sit on the floor and devour the food.
Matamaal Means Nani's Home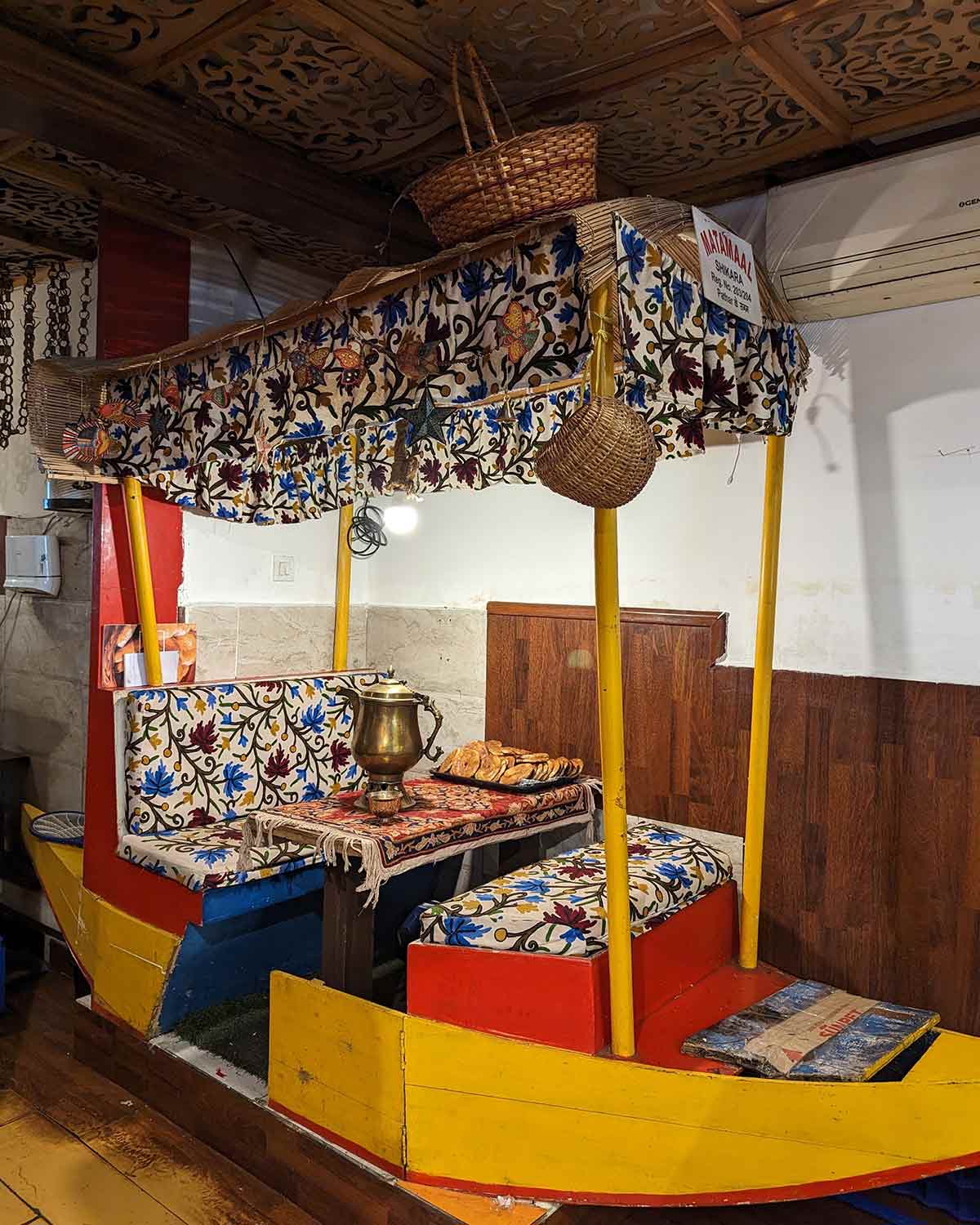 Nalini explained that Matamaal means Nani (maternal grandmother) Ka Ghar (Nani's home). Most of us have fond memories of going to our grandmother's home during summer and winter vacations. It used to be all about playing throughout the day and eating sumptuous delicacies prepared at home to pamper our bellies.
Nalini said that Surender and her have built a 'mini Kashmir' amid high-rise buildings and fast-running metros of Gurugram.
What All You Can Try
Matamaal specialises in preparing food that Kashmiri Pandits eat. It is prepared without onion, tomato, and garlic.
Kahwa
Kahwa is a unique tea from Kashmir (places to visit in Jammu & Kashmir) prepared using saffron, green cardamom, almonds, cinnamon, and other flavourful ingredients. It has a refreshing taste.
Katlab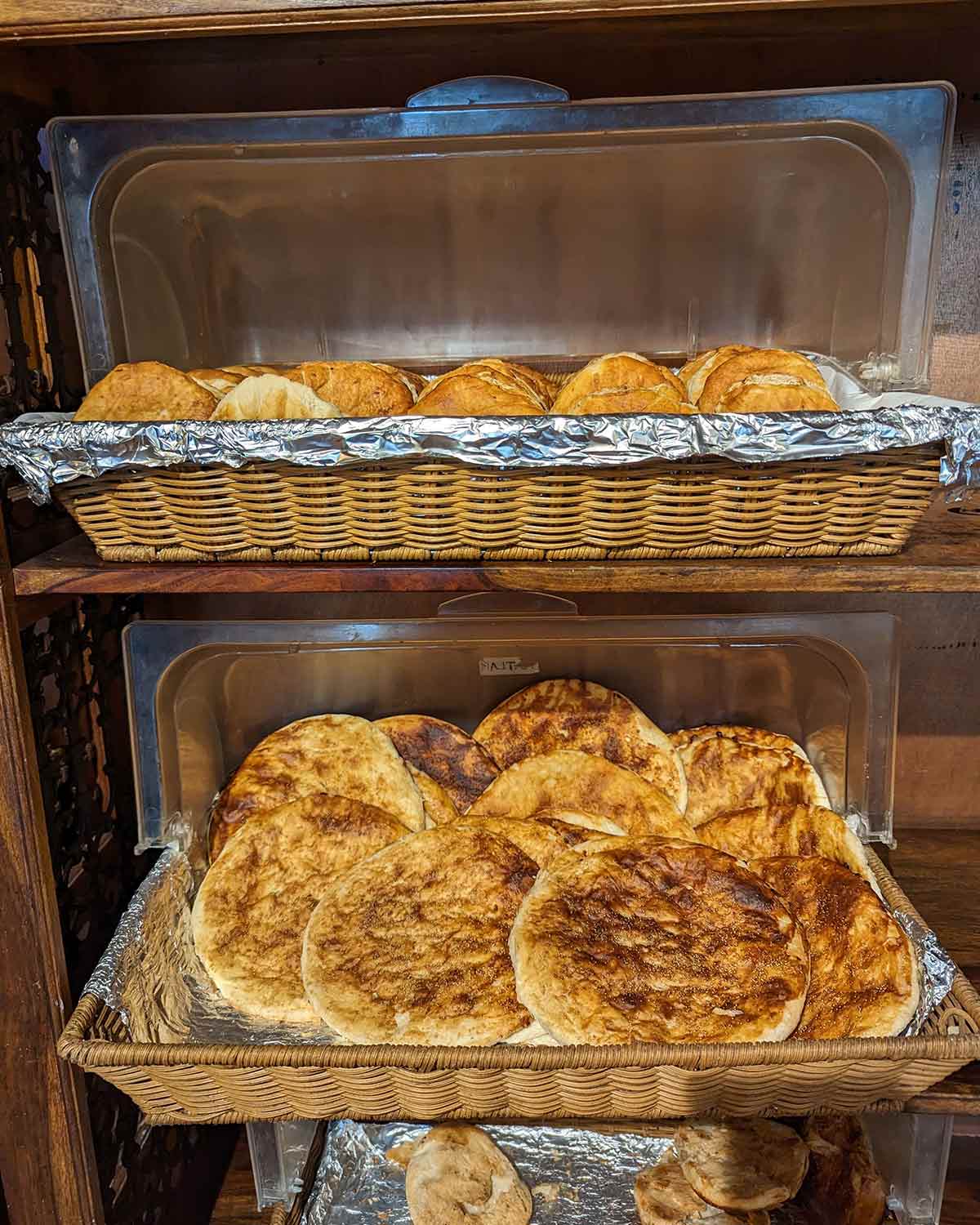 Our host Namya tasted Katlab, an afternoon or tea-time snack that is quite famous in the land covered with snow. It is a crispy dish that looks like bread and has several layers, much like a puffed pastry or you can call it a desi croissant.
Kabargah
Kabargah refers to mutton ribs that are first poached in raw milk and herbs (khada masala). When they become tender, they are pan-fried in ghee. It is often eaten with rice.
Mutton Rogan Josh
Kashmiri Pandits make rogan josh in a slightly different way. They cook a red chilli-based paste and cook mutton in it. It is the chilli that adds the crimson colour to the dish and makes it appear lip-smacking.
Masc
Masc are hand-rolled oblong mutton balls that are cooked in a red chilli gravy prepared in Kashmiri style.
Yakhni
You must have heard of yakhni. Kashmiris refer to it as mutton prepared in fennel and yoghurt-based gravy. The garnishing of freshly ground mint powder is what adds a kick to it.
Dum Aloo
If you go searching for the dish on Swiggy, Zomato or any other food application, you might find that some restaurants list it as Kashmiri Dum Aloo. The dish requires potatoes to be cooked in a gravy rich in nuts, spices, and red chilli paste.
Don't Miss: Try 3 New Recipes With Winter Vegetables
Haak
Haak is collard greens boiled and sauteed in mild spices. It is a dish that you must try out in winter.
Paneer Kaliya
Paneer Kaliya is a special dish prepared in milk and turmeric-based gravy. It has other spices added to it. However, in other parts of India, you would have a paneer gravy containing onion, garlic and tomatoes.
Kashmiri Rajma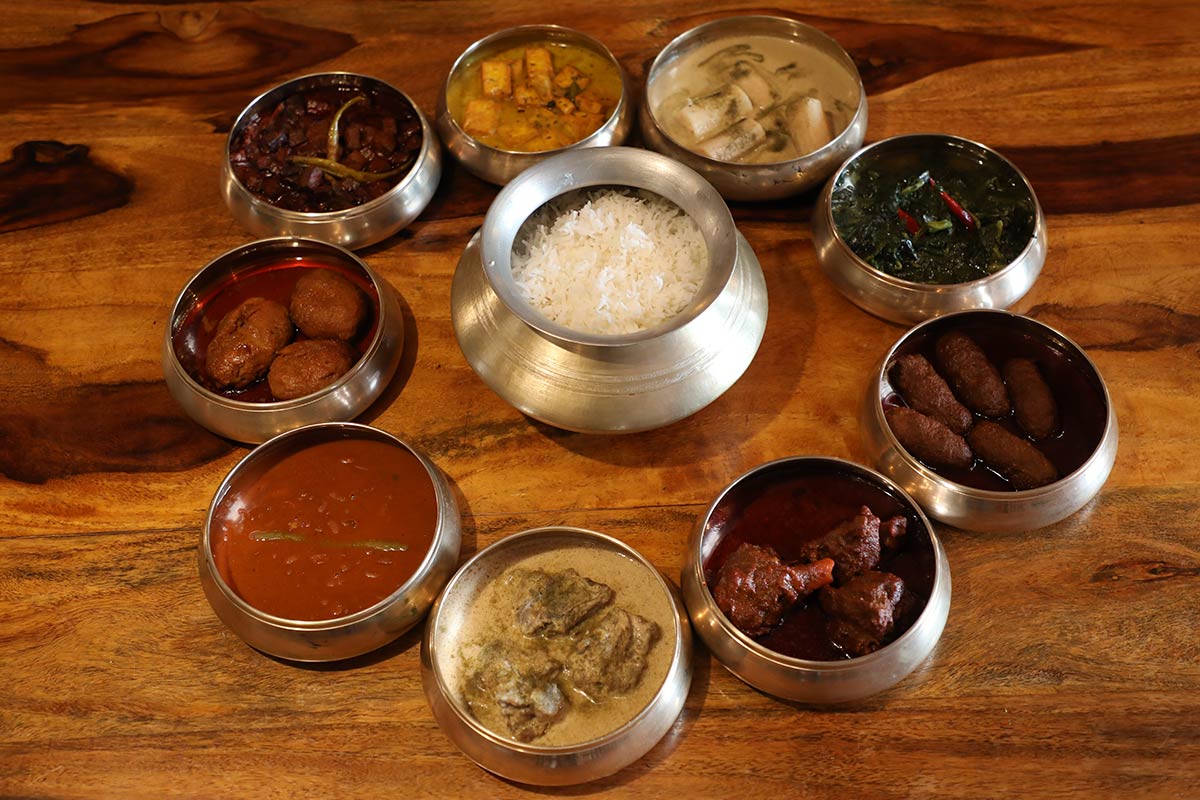 Kashmiri Rajma is different from what we are used to eating on most days. It is cooked overnight with spices to add a creamy texture and enhance flavours.
Don't Miss: 5 Holiday Drinks For A Refreshing Time
Nadur Yakhni
This is a dish made of lotus stems. They are fried and cooked in gravy containing fennel seed powder and yoghurt.
Shufta With Ice Cream
It is a mixture of caramelised nuts, paneer, and dry fruits served with ice cream. Jaggery is used for caramelisation.
Our host rated it five on five. Try it yourself and share your thoughts with us. Stay tuned to HerZindagi for more.
Did you like this article ?